Join Date: May 2016
Posts: 4
Thanks: 0
Thanked 0 Times in 0 Posts
Rep Power:
0
Can Anyone Identify this Parrot Type or Breed?
---
Wasnt sure what type of Parrot this was but would love to know.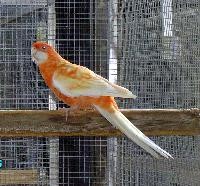 Join Date: May 2015
Location: Ontario Canada
Posts: 3,961
Thanks: 1,406
Thanked 615 Times in 529 Posts
Rep Power:
11
That's a beauty! its an Australian "ino orange rosella."
There is a breeder site who has a bunch of different mutations of these beautiful birds so give it a look.
crimson rosellas
Original site with more info.
parrotmutations
---
SPRING!
Coming soon....
I hope