Socks
---
What a horrible easter i had....
I noticed my socks had not touched his food while i was sorting out my clothes for work , i offered him some treats and he wouldn't take it. I took him out the hutch and he seemed lifeless and didn't have the energy to move, me and my bf looked online to see what was wrong as this was at 10.30 and vets was closed.
We gave him water by syringe as it says it might be dehydration with the heat, but he had water i don't understand. He had difficulty breathing slow short puffs at a time and then he died in my arms.
He was fine his usually self and later on he died
Socks was born on the 13th october 2009 and he was the runt of the litter
he loves his dog toy rope and hop into room to room with it
socks was always was up to no good
he loved being out and would follow me about
now he is gone
We are going to bury him tomorrow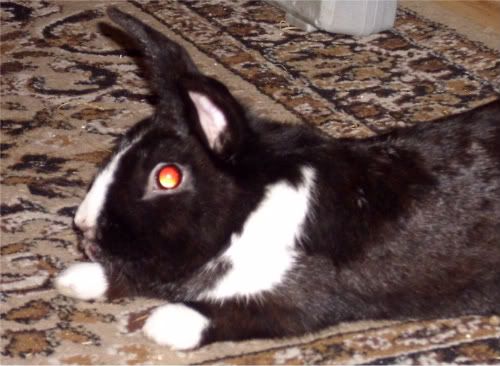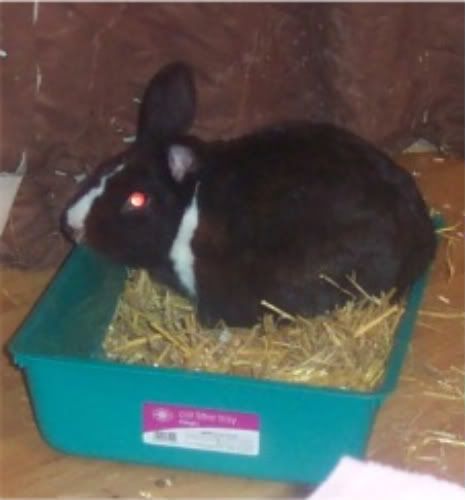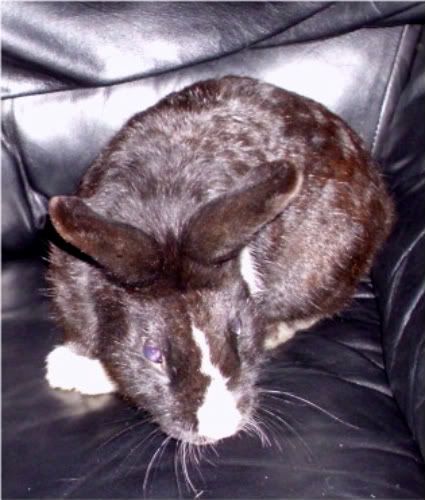 Left to Right - Fatty, spot, socks, speedy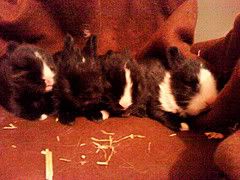 ---
Thank you DallyTsuka for siggy
Join Date: Dec 2010
Location: Ohio, USA
Posts: 5,750
Thanks: 734
Thanked 474 Times in 379 Posts
Rep Power:
43
I'm so sorry. That's so sad. He was so cute. Goodbye, Socks.




---
DIGBY
4-year-old male Congo African Grey
Join Date: Dec 2010
Location: UK
Posts: 17,661
Thanks: 1,593
Thanked 2,007 Times in 1,575 Posts
Rep Power:
100
I'm so sorry
my bunny died the other week too so I share the feeling, he'll be crossing the rainbow bridge with Knoxville
rest in peace little furry one
---
- Alexandrine parakeets Kona, Peaches, George (missing), Holly (RIP), &
Orange winged Amazon parrot Paulie
Join Date: Nov 2009
Location: Indiana, USA
Posts: 3,142
Thanks: 0
Thanked 2 Times in 2 Posts
Rep Power:
40
I am sorry for your loss.
---

Thanks Shivani for the awesome siggy!
X2
Stanley (bourkes), Roni (senegal), Elisa (lineolated parakeet) and Doug (pacific parrotlet), Daisy (maximilian pionus), Shira (green cheek conure), Ashlynn, (grey), Taylor (princess of wales parakeet), Joelle (quaker), Benny (cockatiel)
Join Date: Feb 2011
Location: Oshawa, Ontario
Age: 28
Posts: 914
Thanks: 2
Thanked 1 Time in 1 Post
Rep Power:
16
oh no
Im so sorry Lindsey.
---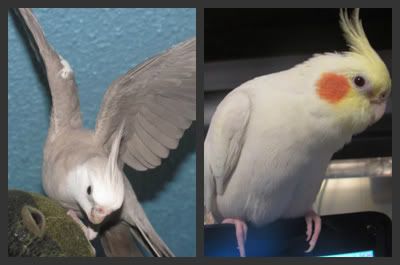 My Tiels
Cupid-Male Whiteface Cinnamon
Aero- Female Cinnamon Lutino
Thank you so much
---
Thank you DallyTsuka for siggy
Join Date: Nov 2010
Location: cape town south africa
Age: 24
Posts: 2,386
Thanks: 24
Thanked 85 Times in 69 Posts
Rep Power:
24
im so sorry for your loss
---
I'm so sorry
he was very cute
---
He was the baby out of all my pets even if he is a bit older then some
---
Thank you DallyTsuka for siggy