Join Date: Dec 2010
Location: UK
Posts: 17,661
Thanks: 1,593
Thanked 2,007 Times in 1,575 Posts
Rep Power:
100
My new 'adopted' fids!
---
So I've finally stsarted college, and my timetable is awesome! I have Mondays and Fridays off, leaving me with a 4 day weekend, Tuesdays I have a full day of 8:50am - 4:30pm but I have a 10 minute break between each lesson and for lunch I have a 2 hour break. On Wednesdays I only have half a day and each lesson has 10 minutes between it. I start at 8:50am and finish at 12:40pm. Thursdays are the same as Tuesdays. I also get the free college coach every morning from the top of my road, which is awesome!
I'm doing an extended diploma in animal management and I have MANY animals to look after in the animal unit. The majority of the work I do is theory and is split up into different units, but I do have to look after the animals. And I am lucky to be spending so much time with 3 parrots over the next 2 years and I don't know how on earth I'm going to say goodbye when I have to leave.
Cadbury is a quaker parrot (green) and absolutely adores me. She runs around and chases me from perch to perch in her cage (it's a very big cage!) and lets me tickle her through the bars. She loves me being around her and always makes the cutest grumbles. She's also got really good vocabulary and she always says hello whenever I see her
she's so adorable. I never used to stand them because of that breeding pair I once had but she really is something special. She's also super super chubby looking which just makes her look so sweet! I call her name and she waddles over to me really fast and looks up with those little eyes and guys "helloooo"
she can get VERY loud though, I have to admit!
Rosie is an orange-winged Amazon parrot and is one of the lovliest I have ever seen. Her plumage is stunning. And her eyes... well they're just gorgeous. They're BRIGHT red with the bluest center! And when she pins her eyes she looks kinda demonic, but oh well! Still beautiful. She's really shy. She does come right up to you to look at you but she wants nothing to do with your hands what so ever. She dislikes any hands on contact and went to give me a very nasty bite when I tried to touch her. Never mind, I have 2 years to work with her. She can say the odd word but usually she's pretty silent. She occasionally grumbles and if she wants your attention she'll call out for you. So far she's really enjoying me sitting by her cage and talking to her. She tilts her head to listen to me and it is ever so sweet. She shares one of those huge double macaw/cockatoo cages with the devider removed with a grey.
Arnold is a Congo grey. He is so plucked he looks like a little poof ball. He only has his shoulders and his head not plucked. He has little red stumps where his tail once was and I've given him stern words about his little habit. I really want to make him stop it and I'm going to speak to them about letting me have more interaction with him. He's so curious, always tilting his head at me and creeping up to me trying to listen. He loves scritches. But nobody hardly gives him them so I'm always at it
His vocabulary is amazing and he can say a whole ton of words. He loves to talk real loud when my lecturer Mark is trying to teach haha! He also knows a ton of words he shouldn't know, I guess that's what happens when you live in a college, but oh well. He's the sweetest guy I've ever met and I'm really enjoying being his new carer!
I'll post pictures soon when my internet is working, I'm currently using my boyfriends laptop at his place, as my internet has completely gone, as has our phone! Urgh!
---
- Alexandrine parakeets Kona, Peaches, George (missing), Holly (RIP), &
Orange winged Amazon parrot Paulie
Aww, it sounds like so much fun!!!!!
---
Sounds like you are going to have a very fun filled busy 2 years... enjoy!!
Join Date: Dec 2010
Location: UK
Posts: 17,661
Thanks: 1,593
Thanked 2,007 Times in 1,575 Posts
Rep Power:
100
Thanks guys
I will, I love it so far and it's only my second day. I am really tired though, being as like the last 3 months and a few weeks I've just sat on my butt, dyed my hair and played with the fids haha!
---
- Alexandrine parakeets Kona, Peaches, George (missing), Holly (RIP), &
Orange winged Amazon parrot Paulie
Join Date: Dec 2010
Location: Ohio, USA
Posts: 5,750
Thanks: 734
Thanked 474 Times in 379 Posts
Rep Power:
43
I just skimmed through this, but what exactly are you studying? I am trying to figure out my own college plans; I know this is in the UK but it seems very interesting.
Congratulations! Love you, Daisy!
---
DIGBY
4-year-old male Congo African Grey
Join Date: Feb 2011
Location: Oshawa, Ontario
Age: 28
Posts: 914
Thanks: 2
Thanked 1 Time in 1 Post
Rep Power:
16
Thats awesome Daisy! What a cool program! I agree with Erin, I think Id enjoy class alot more if I had adorable birds to look after! Are you on residence or living at home?
---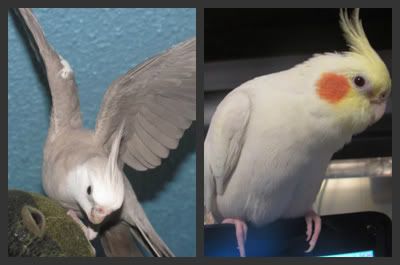 My Tiels
Cupid-Male Whiteface Cinnamon
Aero- Female Cinnamon Lutino
Join Date: Jul 2011
Location: Minnesota
Posts: 2,434
Thanks: 0
Thanked 0 Times in 0 Posts
Rep Power:
24
Sounds awesome!!!!!!!!!!!!!
---
Kona-Green Quaker
Fred (so far)-Blue Quaker
I'll miss you
, Scully-African Grey
Ruby-Chocolate Labrador
Mylee-Black Toy Poodle
16 fish in a freshwater 38 gallon aquarium
Join Date: Dec 2010
Location: UK
Posts: 17,661
Thanks: 1,593
Thanked 2,007 Times in 1,575 Posts
Rep Power:
100
I'm living at home, it's like 20 minutes on the coach from my place so it's nothing bad haha! I love it though
LOVE YOU TOO ABBY
I'm studying Animal Management I do loads of units. I wont remember them all but I can try. Uhm, biology, feeding and housing, nutrition, safety, behaviour, health, physiology, anatomy. I also have to do a project or 9 months and I have to have a work placement of 200 hours haha.
---
- Alexandrine parakeets Kona, Peaches, George (missing), Holly (RIP), &
Orange winged Amazon parrot Paulie