Join Date: May 2015
Location: Ontario Canada
Posts: 5,459
Thanks: 1,414
Thanked 665 Times in 578 Posts
Rep Power:
17
18th Century Swan Automaton
---
Designed and built by John Joseph Merlin
The swan which is life size is a clockwork driven device that includes a music box.
The swan sits in a stream that is made of glass rods and is surrounded by silver leaves.
Small silver fish can be seen "swimming" in the stream.
When the clockwork is wound the music box plays and the glass rods rotate giving the illusion of flowing water.
The swan moves its head from side to side and also preens.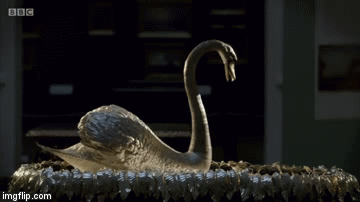 Check out the video its really amazing to see something like this made in the 1800's.
Join Date: Oct 2009
Location: Outer Sydney Australia
Age: 68
Posts: 887
Thanks: 135
Thanked 235 Times in 170 Posts
Rep Power:
37
Such a truly beautiful thing. To think that it is still function after more that 2 centuries and the ingenuity required to design and construct it in the first place is truly amazing. I don't think today's modern robots come anywhere near the ingenuity of this swan and certainly not the beauty.