Meet the Fosters!!
---
Hey all! I have some new "additions" to the family
We had a client call in, she's been trying to trap and treat a feral cat with ear cancer for over a year with no luck... and momma had a litter. She finally caught momma because she was so weak, she couldn't run anymore
She took her to the humane society, but they wanted to euthanize both momma AND her 3 day old kittens because they had no one to foster the babies as long as they needed bottle fed. The client couldn't leave them with momma because she was so sick she would nurse them but really couldn't care for them and asked if anyone at the clinic could foster them until they were old enough to find homes thru the humane society/petsmart. So me and a coworker have volunteered to foster the litter. We both have 2 we're caring for out of the litter of 4, but will share responsibility on days off and to give eachother breaks
Narrative aside, the important part... pictures!!
The kittens are Manx mixes - there are three whites with some grey, then one grey with a little white on him. The three whites are all white except for a grey spot on the head and they are each a little different, one is light, one is medium, one dark
The grey has no tail at all, just a nub. One has a kinked tail, which is common in manx cats, and the others have stumpy tails. They are three boys, one girl. They are super adorable and very sweet
I'm in love with the grey!!! More photos to follow!!
How sweet , you could name them ... Eneey , meeny, miney and the grey could be moe...lol.
Join Date: Sep 2011
Posts: 456
Thanks: 0
Thanked 0 Times in 0 Posts
Rep Power:
12
How cute!! You're going to be busy.
Kim
Eneey, Meeny, Miney, Moe.... catch a kitty by the toe.... if he hollers love him so... ENEEY, MEENY, MINEY, MOE!!!
Thanks!! Right now, their names are "Storm" for the grey, "Rainy Days" for the one with the darkest spot, "Partially Cloudy" for the one with the mid grey spot, and "Mostly Sunny" for the lightest colored one
I am responsible for the grey and the lightest one, so Storm and Mostly Sunny aka Sunny, my coworker is responsible for the "twins" which are Rainy and Cloudy. We will be sharing as we can - today she's off, I work from 2-8 so she's going to take them for the afternoon. They're eating every 2-3 hours. We also want them used to other pets and well socialized, so since she has big dogs and I have cats/birds we want them to be exposed to it so they're not too scared and are used to different people and different places.
Of my two, Storm is finicky with the bottle and I have to kind of force feed a bit, a few drops at a time, but he's also the most active, loud, and mischievous lol. Sunny is a good little eater and a lot more reserved, will just lay and sleep more but when picked up or unhappy man he lets you know!
i just love the little grey kitten - his fuzzy nub of a tail, the spots on his paws
He's so sweet, even if he's a brat!
---
Last edited by Jenny; 04-13-2012 at

02:46 PM

.
They are so stinkin cute Jenny. Hand raising kittens is so much fun, I miss it. I had one kitten that I trained to lay on her back, being held just like a baby and hold her bottle with her paws and drink, god I loved that cat.
Join Date: Dec 2010
Location: UK
Posts: 17,637
Thanks: 1,593
Thanked 2,007 Times in 1,575 Posts
Rep Power:
100
Oh they are cute! Will you keep them?
---
- Alexandrine parakeets Holly, George, Koda &
- Crimson rosella Kasumi
Orange winged Amazon parrot Paulie
I'm not sure, Daisy. Probably not - we're in a 2 bedroom apartment and are pretty pet packed, but if one really steals our hearts we may




http://youtu.be/zCsS4pRPw2k
Here are two of the kittens being cute. Any tips from anyone on how to stop one from suckling on himself and siblings pretty much 24-7? His front legs are going bald! And he JUST ate so much his belly is super tight
such a brat!
Also, super cute video of Seph dreaming!!
http://youtu.be/zGlHr4Hl6FA
Well, it's been a few weeks, but here's some updated photos and video of the foster kittens. Sorry I've not been too active, 4 kittens have kept me really busy!
We've decided to keep the little grey one, hoping it will help with Tiberius' separation anxiety. So far, even with the little guy kept in a different room when no one's home, it seems to be helping quite a bit, they get along great! It's hard to believe how quickly they have grown, they're almost 5 weeks old! No more bottle feedings, they eat canned food mixed with formula and softened kibble. They also use the litter box, more or less reliably, on their own too!
Pics, and a video!!
This image has been resized. Click this bar to view the full image. The original image is sized 800x600.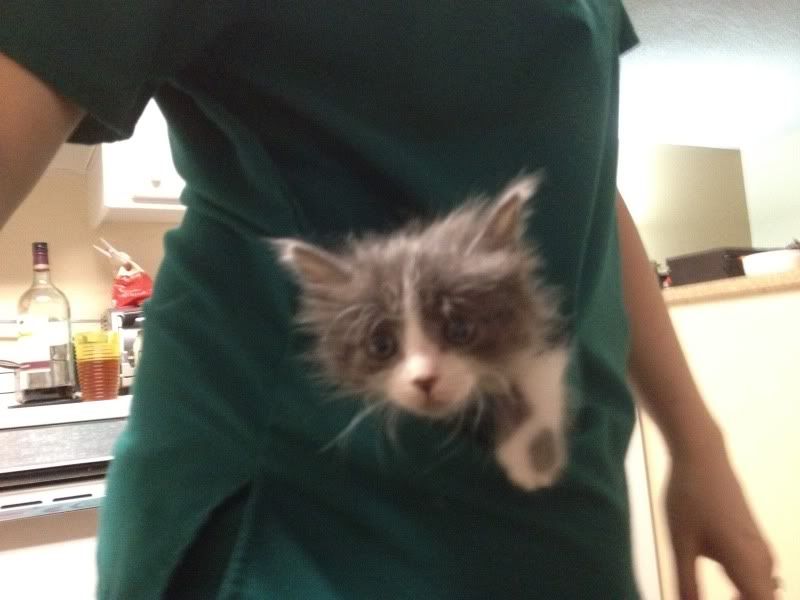 I make chainmail jewelry, so I put one of the bracelets on him as a "collar"
He looked so cute!!
Click this bar to view the full image.
Click this bar to view the full image.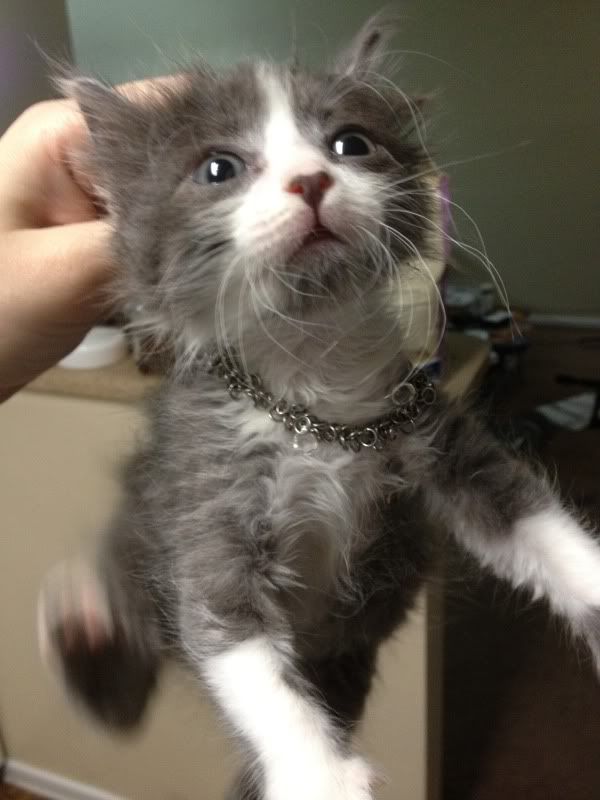 This image has been resized. Click this bar to view the full image. The original image is sized 800x600.
Click this bar to view the full image.
Click this bar to view the full image.
This image has been resized. Click this bar to view the full image. The original image is sized 800x449.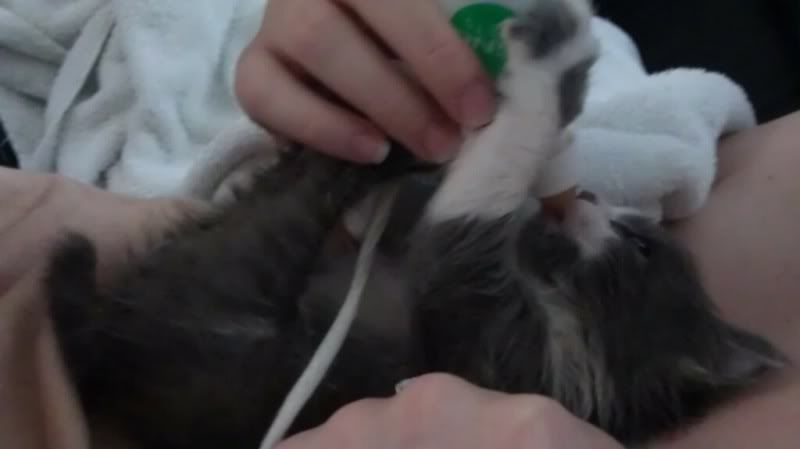 This image has been resized. Click this bar to view the full image. The original image is sized 800x600.
http://youtu.be/MydeCAn81CA
Sadly, we did have to euthanize one of the little ones, Cloud, the only white one with a stubby tail... He was starting to act a little lethargic, but he was living with my coworker so I didn't think much of it... I babysat him one night, and all the sudden he wouldn't use his back legs. I called the vet I work for, described his symptoms, and since they closed in about 20 minutes she said he should be ok, watch him thru the night and bring him in first thing in the AM. About 15 minutes later, he crashed - open mouth breathing, low pulse, temperature dropped, couldn't even hold his head up. So I rushed him in to work for the doctor to check him out - his urinary tract was blocked. She said he likely had some congenital problems, birth defects. He was in massive kidney failure, his system had already gone septic, he had an underlying urinary tract infection, and was still recovering from the upper respiratory we were treating them for. The doctor said there was nothing we could have done differently - he'd already been on antibiotics for 2 weeks for the upper respiratory, so the urinary tract infection must have been a really strong one to still be lingering. We discussed treatment options, but if he's blocked and having kidney problems at 4 weeks then he'll likely have recurring issues all his life and never lead a fully healthy, happy life. So we elected to euthanize the poor dear. I was so heartbroken, the poor little one
He's in a better place now, but it's still hard to lose them. The vet said it's common in kittens for birth defects to show themselves when they start to wean, so that's why we never noticed it before.
little Cloud
Jenny you did a great thing for these kittens, thats whats important. We fostered an orange and white male cat once named Earl, and he was in our care because he wouldnt eat from shelter depression. So when we got him to our house, we assumed he would start eating again. Well he didnt. He was still the same cat, and when checked out at the vet, had feline lukemia. Poor guy, He was in failure just like your kitty was.
The important thing is that you were there to give him a fighting chance. I've seen a lot of little kitties that wouldnt survive if it wasnt for people like you and me.
Also, you have a knack for getting attached to the bratty ones, hence Goobs lol
---
A bird doesn't sing because it has an answer, it sings because it has a song.
- Lou Holtz
Join Date: Dec 2010
Location: UK
Posts: 17,637
Thanks: 1,593
Thanked 2,007 Times in 1,575 Posts
Rep Power:
100
I'm so sorry you lost one
Jack lost a cat just under a year ago from kidney problems and he was a couple of years old. He didn't show any signs and suddenly he just collapsed. Got him in to the vet and they said he didn't have much chance due to what it was. They're just as bad as birds at hiding how poorly they are
congratulations on keeping the little grey one though! Very cute indeed haha
---
- Alexandrine parakeets Holly, George, Koda &
- Crimson rosella Kasumi
Orange winged Amazon parrot Paulie