Join Date: Nov 2011
Location: Edmonton
Posts: 3,259
Thanks: 22
Thanked 362 Times in 298 Posts
Rep Power:
25
Yay, Weight Gain!
---
I just weighed my baby BP since tomorrow is feeding day and I'm glad to report that he's gained weight!



*does happy dance*
He's pretty skinny so I am understandably anxious to put some weight on him and I'm happy about his progress.

I last weighed him on Tuesday, the 12th, and he weighed 46 grams. Today, the 17th, he weighs 53 grams.

Woot!
Anyways, just thought I'd share.
Ps- this kind of proves that the pet store wasn't feeding them enough because I've only had him for 2 weeks and he's already gained.
Join Date: Dec 2010
Location: UK
Posts: 17,637
Thanks: 1,593
Thanked 2,007 Times in 1,575 Posts
Rep Power:
100
That's brilliant!
---
- Alexandrine parakeets Holly, George, Koda &
- Crimson rosella Kasumi
Orange winged Amazon parrot Paulie
Thats great news
---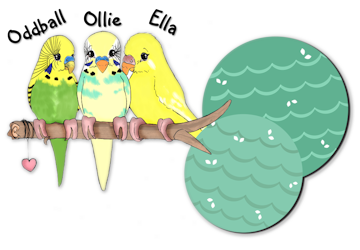 The Outdoor Flock - Sunny, Violet, Harry, Flash, Lime, Coconut, Elvis, Scarlett, Iris and Nala.
The Indoor Flock - Oddball, Ollie and Ella
The Cockatiels - Lucky, Poppy, Luke and Star
The Canaries - Quasi, Modo and Hetty.
The African Grey - Jaz
The Rosella - Ron
The Kakariki - Kiki
The Indian Ringneck - Bertie
The Puppy - Holly
+Aviary Canaries, Quail, Rabbits, Leopard Gecko and Fish.
Join Date: Nov 2011
Location: Edmonton
Posts: 3,259
Thanks: 22
Thanked 362 Times in 298 Posts
Rep Power:
25
Yay! Go Loki!
---
A bird doesn't sing because it has an answer, it sings because it has a song.
- Lou Holtz
Join Date: Dec 2010
Location: Ohio, USA
Posts: 5,750
Thanks: 734
Thanked 474 Times in 379 Posts
Rep Power:
43
That's great.