Join Date: Dec 2013
Posts: 16
Thanks: 7
Thanked 0 Times in 0 Posts
Rep Power:
0
cherry toms
---
hi all am new to this site so hello to all,just made my grey her fruit/veg bowl and I know to avoid seed pips ect but what about cherry toms they seem to have seed like things in them are these ok????
Join Date: Nov 2011
Location: Edmonton
Posts: 3,259
Thanks: 22
Thanked 362 Times in 298 Posts
Rep Power:
25
Join Date: Dec 2010
Location: UK
Posts: 17,661
Thanks: 1,593
Thanked 2,007 Times in 1,575 Posts
Rep Power:
100
I believe that tomatoes in general are not recommended and that the plant is toxic. I avoid them
Sent from
Petguide.com Free App
---
- Alexandrine parakeets Kona, Peaches, George (missing), Holly (RIP), &
Orange winged Amazon parrot Paulie
Join Date: Mar 2011
Location: UK
Posts: 2,115
Thanks: 275
Thanked 407 Times in 256 Posts
Rep Power:
25
I have not seen or read that anyone has fed their parrot tomatoes, I would avoid them all together
---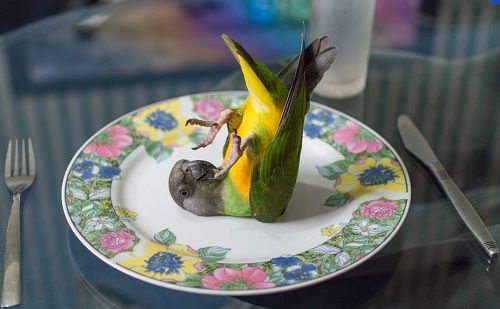 The tomato itself is fine for most parrots, there is always a chance you have one that is sensitive just like in humans, in which case do not feed them.

The plant itself is completely toxic so no leaves, stems etc.

My guys loves tomatos, cherry tomatos, big tomatos etc. they enjoy it raw and cooked. However they can be quite acidic so not something I feed mine everyday.
Join Date: Dec 2013
Posts: 16
Thanks: 7
Thanked 0 Times in 0 Posts
Rep Power:
0
mmmmm I think I will leave them out from now on but thanks for your help guys.
Join Date: Jun 2013
Location: Germany
Posts: 1,647
Thanks: 1,255
Thanked 933 Times in 718 Posts
Rep Power:
13
German bird forums tell the same as Amelia does.
The tomato fruit is fine, but the rest of the plant is toxic.
Join Date: Sep 2013
Location: SF Bay area California
Posts: 686
Thanks: 843
Thanked 420 Times in 280 Posts
Rep Power:
8
Hello and welcome to the forum!
---
owned by linnies:
Levi,
Skyler
Karma, and
Bindi
Join Date: Dec 2010
Location: Ohio, USA
Posts: 5,750
Thanks: 734
Thanked 474 Times in 379 Posts
Rep Power:
43
Welcome to the forum!




---
DIGBY
4-year-old male Congo African Grey
Join Date: Dec 2013
Location: New Jersey, USA
Posts: 462
Thanks: 133
Thanked 222 Times in 170 Posts
Rep Power:
8
Correct, all green parts are a no-no so, when you get a tomato with the calyx (the little green 'crown') still attached to it, you should remove it same as you would do for human consumption but tomatoes are perfectly fine for birds. As a matter of fact, there are few veggies that are as nutritious as a tomato because they are not only high in betacarotene (vit A precursor) and vit C, they also have the antioxidant lycopene, which destroys free-radicals and contributes to bone health, as well as enzymes that lower bad cholesterol, triglycerides and prevent clumping of platelets (all related to cardio-vascular health).

My parrots, canaries and finches have been eating tomatoes (cherry, grape and regular) both fresh and in paste (I add it to the water where I cook their whole grains in) for over 20 years without a single problem.