Join Date: Dec 2013
Posts: 45
Thanks: 0
Thanked 22 Times in 11 Posts
Rep Power:
0
Odd couples?
---
Does anyone else keep or know about an "odd couple" of birds? Like, two different species that bond? I'm just curious because I'm actually adopting an odd couple today-that would be a budgie and a cockatiel. So how common are "odd couples" among pet parrots?
Join Date: Dec 2010
Location: Ohio, USA
Posts: 5,750
Thanks: 734
Thanked 474 Times in 379 Posts
Rep Power:
43
You should always be careful when mixing two birds that aren't the same species. Sometimes the same species doesn't even get along! I personally don't think there is much of a problem with say, your cockatiel and budgie out playing together. I'm not sure if I would house them together or not; it would really just depend on their particular relationship.
---
DIGBY
4-year-old male Congo African Grey
Abby, he is adopting an already bonded tiel and budgie... Brett I have an odd couple.. A male parrotlet and a female budgie... They don't live together.. He has a man cave and she lives in the budgie cage, but they feed each other, preen each other, mate together and he is VERY protective of her. One of my budgies would also love to pair up with my tiel but she wants nothing to do with him...lol... poor fella.
Join Date: Dec 2013
Location: New Jersey, USA
Posts: 462
Thanks: 133
Thanked 222 Times in 170 Posts
Rep Power:
8
I currently have a male sun conure bonded to a female quaker (the male sunnie also loves and protects a female gray from me but she doesn't really care much for him) but I've also had a quaker and a lovebird pair, a nanday and two quakers (the quakers came to me already bonded and the nanday 'attached' himself to them), a male Senegal and a female nanday, a female jardine and a female nanday. I've also had threesomes of two male lovebirds to one female and two female tiels to one male as well as two male tiels, two female umbrellas that were mate bonded.
Join Date: Jan 2013
Location: Syracuse, NY
Posts: 921
Thanks: 12
Thanked 450 Times in 340 Posts
Rep Power:
10
I have a male English Budgie and a female Cockatiel that enjoy each other's company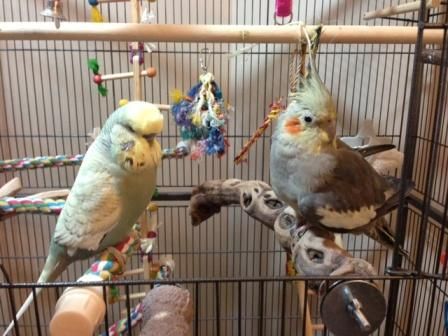 They don't preen each other or anything, but they share a large flight cage and don't mind being with each other. They started out in two separate (smaller) cages and shared out of cage time, and I would always catch her in his cage with him, so I decided to upgrade and just let them live together! Sometimes he likes to get in her face, because budgies don't understand personal boundaries of course, and she will run away but they are never aggressive towards each other. I got lucky with these two!
| | |
| --- | --- |
| The Following User Says Thank You to BirdCrazyJill For This Useful Post: | |
Join Date: Feb 2011
Location: Minnesota
Posts: 493
Thanks: 117
Thanked 35 Times in 21 Posts
Rep Power:
11
My blue head pionus is completely in love with our dogs. As soon as they walk in the room he starts begging for them. And when he is out he will regurgitate for them. One of the dogs knows that is his bird.
| | |
| --- | --- |
| The Following User Says Thank You to Sally For This Useful Post: | |
Join Date: Aug 2013
Location: California
Posts: 1,616
Thanks: 1,109
Thanked 903 Times in 591 Posts
Rep Power:
17
I have a female linnie and a female budgie that are great friends. They play, snuggle, share food, feed each other, preen each other, etc. They have separate cages but go into each others all of the time. I got lucky too. Neither are aggressive.
---
"Until one has loved an animal, a part of one's soul remains unawakened." ~Anatole France
Owned by & slave to:
Oliver,
Gemma,
Cozette, & the English Budgie Crew
Join Date: Dec 2010
Location: UK
Posts: 17,661
Thanks: 1,593
Thanked 2,007 Times in 1,575 Posts
Rep Power:
100
I don't, but there is a pet store not too far from me that has a sun conure and a disabled Senegal parrot who are constantly loving on each other
---
- Alexandrine parakeets Kona, Peaches, George (missing), Holly (RIP), &
Orange winged Amazon parrot Paulie