Join Date: Apr 2011
Location: Sacramento, CA
Posts: 127
Thanks: 0
Thanked 0 Times in 0 Posts
Rep Power:
10
Playful or scared?
---
Here is a video of Gracie (GCC). I am not sure if her body language means she is being playful or if she is scared/aggressive and she is telling me to back off? Please let me know what you think. I want to play with her but don't want to be traumatizing her by misreading her body language.
http://youtu.be/793PL1zER_c
---
('>
/)) Stacie
/""
Join Date: Feb 2011
Location: Oshawa, Ontario
Age: 28
Posts: 914
Thanks: 2
Thanked 1 Time in 1 Post
Rep Power:
16
I have no idea but that was super cute
---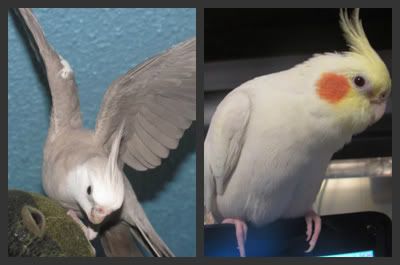 My Tiels
Cupid-Male Whiteface Cinnamon
Aero- Female Cinnamon Lutino
Join Date: Mar 2011
Location: UK
Posts: 2,115
Thanks: 275
Thanked 407 Times in 256 Posts
Rep Power:
25
She is definitely playing and loving it. My baby Green cheek does it too, covers his face with his wing and looks like he's laughing and giggling and nipping my hands just like yours in the video. Very cute video
---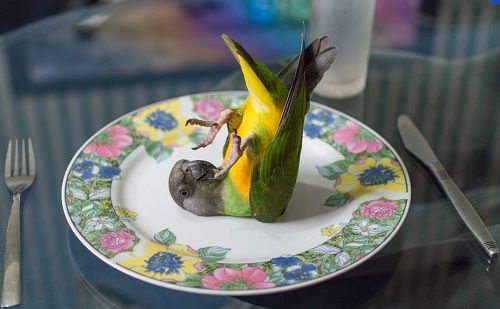 Join Date: Dec 2010
Location: UK
Posts: 17,661
Thanks: 1,593
Thanked 2,007 Times in 1,575 Posts
Rep Power:
100
that does look quite playful
---
- Alexandrine parakeets Kona, Peaches, George (missing), Holly (RIP), &
Orange winged Amazon parrot Paulie
Join Date: Nov 2009
Location: Indiana, USA
Posts: 3,142
Thanks: 0
Thanked 2 Times in 2 Posts
Rep Power:
40
I think she was scared. The biggest indicator to me was when she rolled over and put her feet up. When my senegal is absolutely terrified and knows she cannot get away, that is what she does. Also, I've seen the linnie and the bourkes do that when my daughter was littler and she didn't read their body language well enough and swooped in to pick them up too fast. It is, to me, their last fear filled move when they think a predator is about to scoop them up from above.

I am aware that conures love to roll over and play with their toys on their backs, and that they will bench press their toys that way, but that is an inanimate object over which they have total control, and they feel safe in their environment before they do that. Your hands are huge in comparison to your conure, and coming over the top of her that way easily mimic a large bird swooping in for a kill.

My vet has taken in a cockatoo who was traumatized in her first home by an owner with long hair who used to "play" with (tease) the cockatoo with her hair. She misread the body language and thought the bird's reaction was funny. In her mind she was playing with the bird like one plays with a puppy. She so traumatized the cockatoo that today that bird will fly toward anyone with long, dark hair and attack their face.

Conures do wrestle with one another in play, so I appreciate that others will have different opinions about your video. This is my opinion, but I feel strongly about it.
---

Thanks Shivani for the awesome siggy!
X2
Stanley (bourkes), Roni (senegal), Elisa (lineolated parakeet) and Doug (pacific parrotlet), Daisy (maximilian pionus), Shira (green cheek conure), Ashlynn, (grey), Taylor (princess of wales parakeet), Joelle (quaker), Benny (cockatiel)
Join Date: May 2010
Location: Arnold, MO
Age: 75
Posts: 1,997
Thanks: 0
Thanked 0 Times in 0 Posts
Rep Power:
31
I think she's playing with you and having fun. Libby doesn't pull her wing over her face though, but she does roll over on her back like that so she can play with both feet. She trusts me at this point and knows I'm not going to hurt her. I only do it when she's in the mood though.
---
JoAnne, Libby (2/10),Angelina (12/07), and Charley (11/10)
Also owned by Essie,Minnie & Oscar
I think she's playing - Goober plays exactly the same way, rolling a bit on her side and sticking her feet up. Every bird is different, but the clue to me she wasn't scared was she stopped to preen along the way and charged right back in. However, if you're unsure, just go slow. See how she reacts. Maybe refrain from going in over her head for a bit and see how she does




Join Date: Feb 2011
Location: welland,ON
Age: 29
Posts: 993
Thanks: 33
Thanked 44 Times in 34 Posts
Rep Power:
15
I think playing her body language is very forward Russ plays like that of hes scared hes more likely to stay still, eyes dilated and neck elongated
---
H
Join Date: Mar 2011
Location: UK
Posts: 2,115
Thanks: 275
Thanked 407 Times in 256 Posts
Rep Power:
25
If that is scared then my Green Cheek has got a funny way of showing it. He is like velcro, fully flighted, flies over to me all the time and play just like that, like in the video. I can't get him away
. i know both of my Green Cheeks are not at the slightest scared of me.
---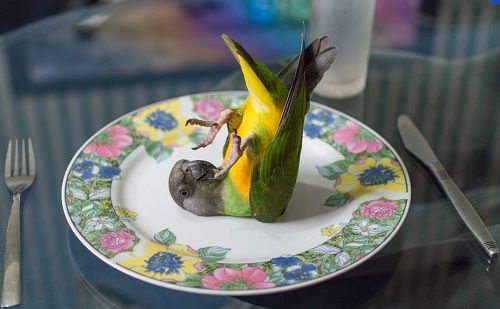 Join Date: Apr 2011
Location: Western Iowa
Age: 53
Posts: 623
Thanks: 0
Thanked 0 Times in 0 Posts
Rep Power:
15
you know, i am no expert, have only had my yellow sided GCC for about 3 weeks but it looks like he is playing and having fun with you. I think and i could be wrong but i don't think a terrified bird would roll over on their backs with thier feet in the air, i think they would try to get away from you. You are being gentle with him, i think it was soooo cute and I don't think you are scaring him.
---
Join Date: Apr 2011
Location: Sacramento, CA
Posts: 127
Thanks: 0
Thanked 0 Times in 0 Posts
Rep Power:
10
I have spent some more time observing her and I feel confident now that she is playing. She will do the roll-over thing even if my hands are nowhere near her. It is like she is inviting me to "get her". After she is done playing she climbs up on my lap for some cuddles
Thank you all for your input!
---
('>
/)) Stacie
/""