Hawk Home Invasion!
---
Okay, you're not gonna believe this: I'm in Austin, Texas, and the local mockingbirds were recently in the middle of a major egg-hatching season. This attracted some unsavory characters from the animal kingdom to our neighborhood, all looking to make an easy meal out of a fallen baby bird.

I was at a friend's house when my gf Betsy called up out of breath and told me about something she and our conure had just experienced. She was upstairs and Krikkit was in the downstairs cage when Betsy started hearing horrible noises and ran down the stairs. Somehow, BOTH the back door and Krikkit's cage door had come open, and there was a freaking HAWK in the condo getting ready to have a go at making some conure stew! In the process of defending our bird from the invader, my gf recieved several hawk bites and claw slashes in the process before she managed to chase the predator out!

As I said, I wasn't there, but when I got home I found leaves from the bush by our back door strewn all over the kitchen, living room and bathroom (how the hawk's entrance resulted in so many leaves getting spread around the floor is beyond me). Even though the two birds had never actually come into contact with each other, my gf told me to keep Krikkit close to me for the rest of the day and make sure she wasn't traumatized; I really never saw any signs that she'd been upset by the fracas at all.

Since then, we've had no hawk sightings, apart from a single "fly-by" a week later that we spotted through the upstairs "budgie/conure leftovers wild bird feeding window". it took almost a week for my gf's wounds to all completely heal -- the worst of it was a pretty nasty bite on her left forearm.

I gotta admit, I wish I had been there to see this all in person! And if you're waiting for a punch line, there ain't one -- this really happened!

- MF
Join Date: Apr 2011
Location: Western Iowa
Age: 53
Posts: 623
Thanks: 0
Thanked 0 Times in 0 Posts
Rep Power:
15
wow, she had a heck of a fight on her hands. Poor little bird. Will probably have birdy nightmares now. Gonna have to sleep next to the cage!
---
Join Date: Mar 2011
Location: Somewhere in Canada
Posts: 2,644
Thanks: 51
Thanked 104 Times in 64 Posts
Rep Power:
40
how did it get in? open the door.... creepy. wow! lucky your conure is ok!
---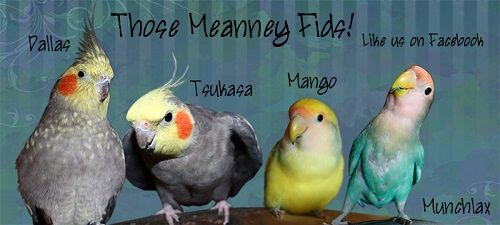 Those Meanney Fids FB Page:
http://www.facebook.com/pages/Those-...284656?fref=ts
Bird Information Photo Gallery:
http://s1282.photobucket.com/user/Me...?sort=3&page=1
All posts and photos of mine posted here are copyrighted by Casey Meanney. They are not to be reposted elsewhere without my permission.
---
Last edited by MeanneyFids; 07-02-2011 at

08:57 PM

.
Quote:
how did it get in? open the door.... creepy. wow! lucky your conure is ok!
The locks on the door and the cage both had... issues. But the odds of the two of them being open at once are slim enough without factoring in the likelihood of a hawk actually flying in through the open BACK door to attack a bird whose cage was located right by the FRONT door?!?
Then again, Krikkit is so loud she could probably attract PENGUINS! (That's why we have the alternate cage downstairs so she can listen to music and screech her head off while we take a TV break upstairs.)
-- MF
Wow - that's terrifying. Glad everyone came out (relatively) unscathed and your GF's wounds have healed




Join Date: Dec 2010
Location: UK
Posts: 17,661
Thanks: 1,593
Thanked 2,007 Times in 1,575 Posts
Rep Power:
100
Ouch! I have some nasty hawk scars and they do come pretty sharp. Chalkie (my Harris' hawk) has his aviary right next to one of my mixed finch, dove, budgie and quail aviary but that one side is solid so he can't see the birds. We do however have a feeding ledge and Chalkie can see them through the fist sized hole I use for others to feed him if I am not home. Chalkie manages to peep his head right through the hole and attempt to catch the little birds between the mesh. He can't get to them but it is very comical to watch
I hope everything is okay!
---
- Alexandrine parakeets Kona, Peaches, George (missing), Holly (RIP), &
Orange winged Amazon parrot Paulie
Join Date: Jul 2011
Posts: 2
Thanks: 0
Thanked 0 Times in 0 Posts
Rep Power:
0
It's not funny at all...
---
http://TheParrots.info
- Everything about parrots life.
"She is not refined. She is not unrefined. She keeps a parrot." Mark Twain