Join Date: Jul 2011
Posts: 1
Thanks: 0
Thanked 0 Times in 0 Posts
Rep Power:
0
Advice on ring necked parrot please
---
Hi I am the new owner of a 2 year old male ring necked and every time I go near the cage or try to talk to him he squarks really loud.
I've hand fed him some monkey nuts which he took but then bit me 3 times
Any advice would be great
Thanks
Bekki, welcome to the forum!! We have many members with IRN's so hopefully they can give you some good advice. My advice is to go slow, sit by the cage and read a book or watch TV, get him used to you being around him without interacting. Once he's comfortable with that, start talking to him thru the cage. Then work on feeding him out of your hands, and keep taking it from there. With a shy or scared bird, the best way is to work in baby steps and build up their trust




Join Date: Nov 2010
Location: cape town south africa
Age: 24
Posts: 2,386
Thanks: 24
Thanked 85 Times in 69 Posts
Rep Power:
24
hey bekki , i have a male indian ringneck who is 11 mounths old. how long have you had you ring neck ?
---
Join Date: Mar 2011
Location: UK
Posts: 2,115
Thanks: 275
Thanked 407 Times in 256 Posts
Rep Power:
25
I agree with all that Jenny have said. If you only just had your Ringneck, give him about 3 weeks to settle in and get used to the surroundings. Stay at a distance during the settling in period, only approach the cage if it's a must, such as recplacing food & water, etc.

Then after the 3 weeks period when he is comfortable with his surroundings and seeing you around, you can then do baby steps and inches foward. If you want to feed him then I'd suggest you feed from a spoon or anything you can use to feed him at a distance from his beak to start off with, then when he is used to you feeding him maybe then you could try and feed him out of your hands. Good luck and let us know how you get on.
---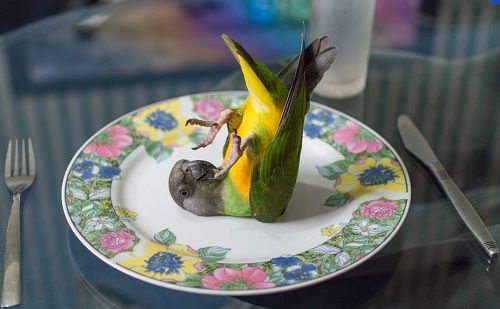 Join Date: Dec 2010
Location: UK
Posts: 17,661
Thanks: 1,593
Thanked 2,007 Times in 1,575 Posts
Rep Power:
100
welcome to the forum, the above members gave you great information, I'm sure everything will be fine
---
- Alexandrine parakeets Kona, Peaches, George (missing), Holly (RIP), &
Orange winged Amazon parrot Paulie
I'd love to help but sadly I have no experience with them. I hope everything goes okay for you
---
Join Date: Dec 2010
Location: Ohio, USA
Posts: 5,750
Thanks: 734
Thanked 474 Times in 379 Posts
Rep Power:
43
Welcome to the forum.
---
DIGBY
4-year-old male Congo African Grey