Join Date: Jul 2011
Posts: 44
Thanks: 0
Thanked 0 Times in 0 Posts
Rep Power:
0
Interacting with new pair of GCC
---
Hi All,

I have just brought home my baby pair of green cheeks, Ricky and Lucy. They are very tame and sweet. I'd like them to stay that way. I am completely OK with them belonging to each other (it makes my heart happy to watch them snuggle and play) - but I don't want to lose the ability to interact with them.

So how do I accomplish this?

I let them crawl all over me and practice hop on with both of them. I took them one at a time into my room, but they did a contact call and seemed more anxious though both did their step ups and played with toys. Then I sat on the couch with some toys on my belly and they played happily, then Ricky came over to my laptop and rested by my hand, so I gently scritched his head and he dropped his head forward and shut his eyes and fluffed up, and seemed to enjoy it. Lucy isn't fond of scritches, but likes to stay close and is less likely to nip.

Do I continue to just bring them with me on their playstand to different areas and talk to them and handle them together or should I be also doing one on one time?

How have you that have two kept both tame? I have two cages but I really don't want to separate them - they are very happy and content with each other. Their breeder said with daily handling they will not lose their desire to interact with me, until they choose to breed - do you find that to be true?

Thanks, Kris
Join Date: Mar 2011
Location: UK
Posts: 2,115
Thanks: 275
Thanked 407 Times in 256 Posts
Rep Power:
25
I have 3 Conures and I interact with all 3 of them together as a team. I find I do not have to separate them and interact with each one individually to keep a close bond with them. They are so well bonded with me that when I go out the room they would all flies to the top of the door waiting till i'm back in the room (sometimes screaming alot till i'm back). I have cut down the time I spend with them down to about 1 and half hour's a day and still they are very clingy. My Conures are out nearly all day and if for any reason I need to put them in a cage, they would all be in 1 cage.
If I were you I would spend time with both of them together. This way there is no stress to them and less work for you 'cause you wouldn't have to spend time with each individually. You can keep them in separate cage if there isn't any stress to them when separated. I personally like to keep all mine in the same cage, they then can have the comfort of eachother. Hope this answer some of your queries.
---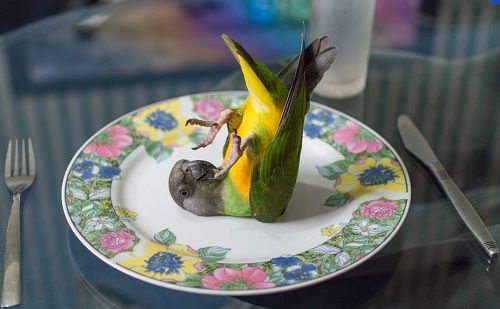 Join Date: Jul 2011
Posts: 44
Thanks: 0
Thanked 0 Times in 0 Posts
Rep Power:
0
Thank you Tippa, that was just the answer I was hoping I would get
- I think they do find comfort and happiness in being together - they always sit right up against each other and play rather hard together as well.
Is that a Meyers in your sig? He/She is adorable!
Join Date: Mar 2011
Location: UK
Posts: 2,115
Thanks: 275
Thanked 407 Times in 256 Posts
Rep Power:
25
Thanks, he is a Senegal. Here is the pic I used to make the siggy
---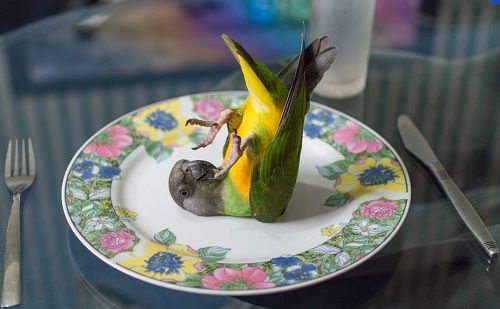 Join Date: Nov 2009
Location: Indiana, USA
Posts: 3,142
Thanks: 0
Thanked 2 Times in 2 Posts
Rep Power:
40
I only have one green cheek; however, I do have a linnie and a bourkes parakeet who live together in one cage. (I wouldn't suggest buying these two species with the expectation that you can have them live together, but these particular two birds are very gentle with one another and a very good pairing.) I do not find it beneficial to try to work with them separately. They are both as friendly to me together as they ever were when they lived alone, and they both have lived alone. (In fact, they are separated right now because the linnie is recovering from an injury.) At any rate, this might not apply to green cheeks, but these two birds are much happier together, so I let them be together.

I love your siggy, too, Tippa.
---

Thanks Shivani for the awesome siggy!
X2
Stanley (bourkes), Roni (senegal), Elisa (lineolated parakeet) and Doug (pacific parrotlet), Daisy (maximilian pionus), Shira (green cheek conure), Ashlynn, (grey), Taylor (princess of wales parakeet), Joelle (quaker), Benny (cockatiel)
Join Date: Dec 2010
Location: UK
Posts: 17,661
Thanks: 1,593
Thanked 2,007 Times in 1,575 Posts
Rep Power:
100
I don't have green cheeks but its the same with 2 of our kakarikis. The male, Chewee, is like super hand tame and currently he is raising chicks. He never changed one bit and its great
---
- Alexandrine parakeets Kona, Peaches, George (missing), Holly (RIP), &
Orange winged Amazon parrot Paulie