Join Date: Aug 2012
Location: Auckland NZ
Posts: 464
Thanks: 129
Thanked 287 Times in 179 Posts
Rep Power:
15
Flock Update
---
Life has had to move on after the death of Dexter and his mates.
I have yet to receive the court date for the dog owners prosecution.
Fids I have right now are Sophie (Eclectus) Alex (Alexandrine. Zinny & Gabby (Cockatiels) who lived through the carnage. Bubbles & Indy (Cockatiels) Who have become partners in crime. Always getting into trouble. Where one goes the other is not far behind. I must tell a little story about them, but later. And now CooCoo (Ringneck). Alex. It is strange how things happen. He turned up advertised on the Friday after the Monday morning raid on my aviary. He was advertised as too humanised to use for breeding as he did not want anything to do with any of the females he was introduced to. So after 10mts the breeder gave up and offered him up. Insisted he had to go to someone who would take good care of him. Lets cut to the point I have now had him 3mths and he is over the top with his sexual advances and trying to feed me. He also suffers a bit of jealousy. Three issues I need to work on. He is flighted and so far not liking the harness. But his condition is stunning he has this iridescent glow that Dexter never had. Zinny was the baby Tinkerbell had and due to what had happened did not want to move her on. Funny how things go she has only recently decided I am ok and two day she flew to be on me three times. Gabby (Gabriela) is a recessive pied, but you would not know looking at her. Her siblings all had grey in them. She has also become semi tame recently! Indy normal gray my attack parrot, or at least was,when he came back in. A long story. he was one that came in for rehoming and I found a home for him.They ended up bringing him back as they could not deal with his mood swings. The first week he flew at and attacked both me and Jay, even bit me on the face in one attack and gave me a black eye. You would not know this is the same bird, now he is horny as. Very tame. Bubbles came in for rehoming. Was only 6mths old and super hand tame. Sophie (Eclectus) needed a new home, so I went and got her. Not sure if I have posted her details here yet. But we are getting along well enough,when you consider she was parent aviary raised, and her owner had her for 12mths before handing her on to me. CooCoo the Ringneck came in for rehoming, is 12yrs old and reasonably tame. And I have a Cockatiel come in and am trying to find her owner. At this stage I may keep them all.
Sorry I need a shave in some of the photos. taking opportunistic photos is like that. you only get one chance.
Alex
Zinny
Indy
Bubbles
Gabby
Sophie
She gets two photos as u have to show you this one.
I call this trust
CooCoo As you can see he needs a bit of work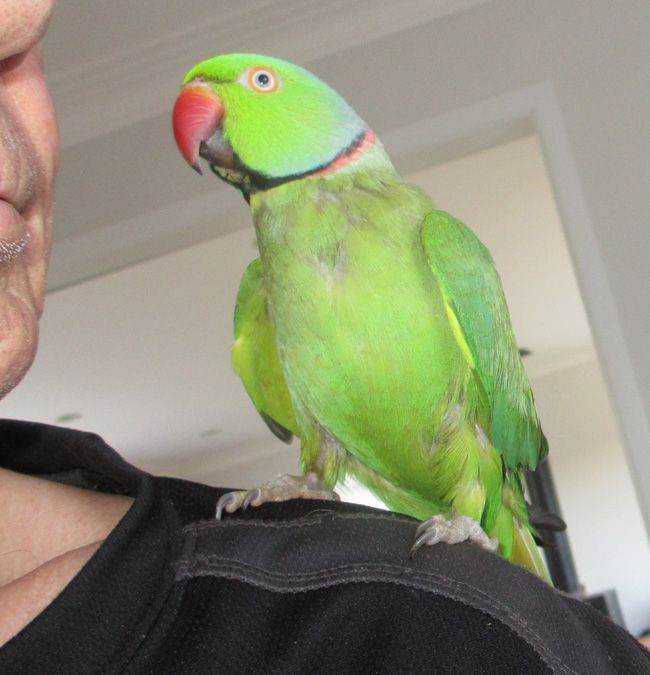 The Girl who needs her owner to turn up.
---
A tribute to my lost ones. RIP.
| | |
| --- | --- |
| The Following 3 Users Say Thank You to clawnz For This Useful Post: | |
Join Date: May 2015
Location: Ontario Canada
Posts: 5,132
Thanks: 1,410
Thanked 656 Times in 569 Posts
Rep Power:
16
I'm sure you will have Coo Coo looking well and get him to settle down with your bird whispering charm.

You have quiet the flock and they are all beautiful. Please keep us posted of more updates regarding your new feathered friends.
---
Join Date: Dec 2013
Location: USA
Posts: 31
Thanks: 0
Thanked 14 Times in 13 Posts
Rep Power:
0
It was such a terrible tragedy when you lost many of your flock members, due to the dog attack. I know it has to be very difficult every day to move forward from that grief. But you are doing well, Clive. You have replaced several of those that you lost, and every one of them is beautiful and happy. You have a natural gift of loving and caring for birds of all kinds. And their welfare is your utmost goal. I love all the pictures you have posted. Each one of them are special. All of them look very healthy and I can bet that within a few weeks max, CooCoo and the "new gal", will look even better after the diet you feed your flock.

Thanks for sharing the update with us. I look forward to seeing the progress of all of your flock, anytime you wish to post about them.
Join Date: Oct 2009
Location: Outer Sydney Australia
Age: 68
Posts: 887
Thanks: 135
Thanked 235 Times in 170 Posts
Rep Power:
37
CooCoo must be getting close to his annual moult, so a few weeks on a good diet and the moult should see his new feathers positively gleaming.

Gabby would be what we call a 100% Reverse Pied. I have seen mostly yellow Cockatiels like this and when showing it can be very easy to think you have a Lutino and put it in the wrong class. With some the only way you can pick them is with the eye colouring.

The new girl is a really lovely Pearl. I have a big soft spot for Pearl Cockatiels. They are just so pretty.

Thank you for the update Clive, you have such a beautiful flock.
Join Date: Aug 2012
Location: Auckland NZ
Posts: 464
Thanks: 129
Thanked 287 Times in 179 Posts
Rep Power:
15
Thanks Kate. Here is a picture taken when I went to take DNA samples of them, so I was sure to get a female.
Don't ask which one she is in the picture. One of the top three.
I picked on two of them which I thought maybe girls. We put leg bands on them so I would know. The first one was a male. When I got hold of Gabby she did her his and scream, and I said to the breeder 'That's a girl for you'. Sure as heck no 33 was female and I went and picked her up. You would not know she was parent aviary raised. She was always interested in me and calm enough. Weird! She has come so close to landing on me, but just turned at the last moment.
It is looking like nobody is going to claim 'Pearl' the pearl Tiel. I have her posted everywhere I know. I had a few inquires, but no match. You have to wonder why it is so hard to reconnect some birds. She must of been someones pet. All she has done the first week was eat and sleep. She is moving around a lot more now. They all ahve to move when Big Flappy Wings fly over.
Thank You Xmasholly and Mr. Peepers.
---
A tribute to my lost ones. RIP.
---
Last edited by clawnz; 08-29-2015 at

07:32 PM

.
| | |
| --- | --- |
| The Following 2 Users Say Thank You to clawnz For This Useful Post: | |
Join Date: Dec 2013
Location: USA
Posts: 31
Thanks: 0
Thanked 14 Times in 13 Posts
Rep Power:
0
I think the name Pearl would be perfect for the new one! She is beautiful! I love all tiels, and especially the mutation of anything "cinnamon". She will be a great addition to your flock!
Join Date: Sep 2013
Location: Calgary, AB
Posts: 620
Thanks: 75
Thanked 339 Times in 268 Posts
Rep Power:
9
wow all gorgeous you take such wonderful care of your birds.
---
Thanks ~Drini~ (Other Forum)
Rest in Peace...
(Trixster) 03/17/2000
| | |
| --- | --- |
| The Following User Says Thank You to colbon2 For This Useful Post: | |
Join Date: Dec 2010
Location: UK
Posts: 17,637
Thanks: 1,593
Thanked 2,007 Times in 1,575 Posts
Rep Power:
100
So glad to see you're still enjoying your birds regardless of what happened. After my gas leak I found it difficult to even talk to people about them. Congrats on the new additions. Asiatics are terrible moulters, all mine look awful at the minute. In a month or so he'll look like a new bird!
---
- Alexandrine parakeets Holly, George, Koda &
- Crimson rosella Kasumi
Orange winged Amazon parrot Paulie
| | |
| --- | --- |
| The Following 3 Users Say Thank You to catalinadee For This Useful Post: | |
Join Date: Jun 2013
Location: Germany
Posts: 1,647
Thanks: 1,255
Thanked 933 Times in 718 Posts
Rep Power:
13
Thanks for the beautiful pictures of your flock.
They all are great birds.
Join Date: Aug 2012
Location: Auckland NZ
Posts: 464
Thanks: 129
Thanked 287 Times in 179 Posts
Rep Power:
15
CooCoo has been adopted. Had a guy call me looking for 'Any hand tame' birds.
My first thoughts were What is this guy up to. Anyway I let him come so we could talk things over. Turned out all good and CooCoo left with him. I understand he has already been introduced to a female and has settled in very well.

Pearl is staying, as nobody has come forward. She is opening up and now moving around quite a bit, even with her butchered flights. She loved the misting I gave all of them out in the aviary the other day. And no longer hiss's at me when I grab her. Moving them back and forth from bird room to aviary means catching them.

Zinny is still giving me grief laying eggs, or at least she may of stopped laying but has not given up attending the 14 dummy ones. I watch carefully to make sure she is spending time out eating. I hope she gives this up soon. I am normally good at beating her, but this time around it has not been consistent and she was laying around the bird room, so gave up and put a nest in to keep her laying where I know and can watch.

Alex I think has stopped copulating on me, and stopped feeding me. Yeh! My thinking is that it was insecurity causing anxiety. But by now he has seen a few birds come and go, which may of helped. Percy an Eclectus was in for a few days, and he likes to be in others faces. Slowed Alex up.

Sophie is doing well enough. I know she is going to be a long job. But she does now step up without a food reward. She does not like being moved via the net back and forth, but gets over it soon enough now. In fact I think she dislike the towel more.
Working trying to teach her to be gentle with her beak, take a lot of trust and I do have a spot on my nose where she was a bit heavy with her beak. She enjoyed a good misting today.

So that leaves my two little trouble guys. They are so close like littles partners in crime. They have stand up beak disagreements all the time, sometimes when they are on someones shoulder. When one gets stuck the other comes and lets me know, they can. Where one is the other is not far away, so when one turns up and the other is not there you know there is a reason.
Indy has to be one very lucky Fid. He came back in with what seemed like a nasal infection and got over that before I took him into the vet. Trapped his for in a door as I closed it. He nearly drowned when he got into the mop bucket with dirty water in it. Lucky for him it was not deep. And I went into the bird room before it was curtains. He has got stuck in a couple of deep boxes. Dropped down behind the wall over twice. Flown outside once. He does not like being handled but will rub into the back of my neck.
Bubbles has had his share of trouble. dropping down into the rubbish bin, getting stuck in deep boxes, and also been down behind the wall over. I nearly crushed him trying to pull the oven out to get to him. Boy does he like his head rubs. Super tame that boy, so much so I had thought he was a female at one point. But seeing him perform I know he is all male.

I still have the female Galah in boarding, and Monstie the 27yr old Rainbow Lorikeet is coming in this weekend.
---
A tribute to my lost ones. RIP.
| | |
| --- | --- |
| The Following 2 Users Say Thank You to clawnz For This Useful Post: | |
Join Date: May 2015
Location: Ontario Canada
Posts: 5,132
Thanks: 1,410
Thanked 656 Times in 569 Posts
Rep Power:
16
Thanks for such an amazing update Clive! So much happening in your bird land wonderland its great to hear about each bird and their lives with you.
---