Join Date: Oct 2009
Location: New Zealand
Posts: 509
Thanks: 0
Thanked 2 Times in 2 Posts
Rep Power:
12
I'm losing hope for Mr Tinkles' safe return :(
---
As most of you will know my beautiful, treasured budgie Mr Tinkles went missing 6 days ago on Monday.
I haven't given up hope yet, but it's fading fast.
With every night I am less and less confident he will be coming back to me.
If he wasn't found by someone, he wouldn't have survived 6 days without food.
My biggest feeling is that someones picked up a little bird, possibly miles away from where he was lost, and someones gone 'oh, a sick little budgie, lets nurse it back to health and take it to the SPCA (where I sometimes work, and they know me)
' or something like that, or they've gone 'oh this budgie is so cute, its tame, it talks, its really pretty...lets keep it!
'
Even if they decide to keep it at least he'd be safe, and thats all that really matters. Of course I miss him so so so much, but I have to face the facts, and if he's safe and healthy, that's fine with me (okay I admit it, I really want him back
).
I go to bed thinking about him every night, my house is just so lonely without him.
Such a little bird has changed my life in such a big way.
He was found almost dead in a petshop, and it was a miracle he survived.
I just hope another miracle can happen, and bring him back safe.
Mr Tinkles made me believe in miracles, and I still do now.
All hope may be fading day by day, but it's not going to be lost!
Thank you for your support all through this tough time, and I just hope all your praying and hope pays off.
Thank you, : )
---
Ella's flock
Join Date: Aug 2009
Location: Florida, USA
Posts: 290
Thanks: 0
Thanked 12 Times in 8 Posts
Rep Power:
11
Oh Ella, this is so sad.
Please don't lose hope.
My nine-year-old cockatiel flew away two years ago this month, and I he never came back. He stayed around the neighborhood for a day or two, but he could never be caught.
Instead of me thinking of it is "he's gone forever", I always tell myself that somebody found him, and he's with a nice family, getting spoiled, eating birdie treats, and loving life.
---
Best Regards from
Nick and the flock:
Lily & Linden - Lineolated Parakeets
| Oscar & Maya - Parrotlets
| Harpo - Quaker
Join Date: Oct 2009
Location: Ottawa Ontario
Posts: 502
Thanks: 0
Thanked 0 Times in 0 Posts
Rep Power:
12
Ella my heart goes out to you.
I also hope he's happy where he is and healthy.
Oh Ella, my heart's breaking for you.
Join Date: Oct 2009
Posts: 392
Thanks: 0
Thanked 1 Time in 1 Post
Rep Power:
0
Ella
Join Date: Oct 2009
Location: Gouda, The Netherlands
Age: 28
Posts: 143
Thanks: 0
Thanked 2 Times in 1 Post
Rep Power:
11
It must be so hard for you..
---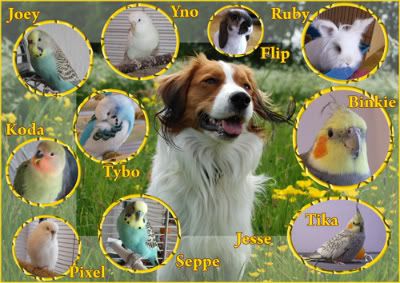 Join Date: Oct 2009
Location: New Zealand
Posts: 509
Thanks: 0
Thanked 2 Times in 2 Posts
Rep Power:
12
Quote:
It must be so hard for you..
It's more than hard, its absolutely heart breaking.
I had him for less than a year, but I loved him like I'd owned him forever.
It's so lonely not coming home and hearing him usual greeting of 'I'm a good boy!' or 'hello pretty'
---
Ella's flock