The next "Allie?"
---
This guy does NOT look like hes in good health, beak and nails are waaayyy too long, and his face sort of reminds me of the pictures of Allie, the tiel that Bailey has on here.
I wish I had money right now....
http://vancouver.en.craigslist.ca/bn...073024973.html
Join Date: Feb 2011
Location: Oshawa, Ontario
Age: 28
Posts: 914
Thanks: 2
Thanked 1 Time in 1 Post
Rep Power:
16
Honestly he looks pretty fine to me, his beak is normal size not overgrown......nails might need a little trim depending on personal preference, the nails being long might be from only using dowel perches, natural branches help keep nails trimmed.

I wouldnt pay any money for that cage though lol it looks pretty beat up!!!
---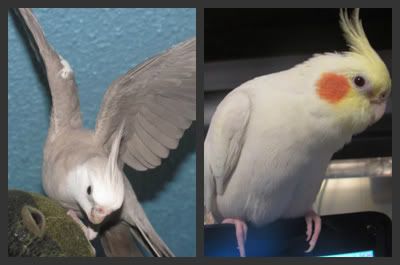 My Tiels
Cupid-Male Whiteface Cinnamon
Aero- Female Cinnamon Lutino
---
Last edited by xoxsarahxox; 06-22-2012 at

10:37 PM

.
In the first picture its overgrown, the one of him head on, its long. and yes, the nails could be from the dowel perches, but they are too long... and just the way his face looks, reminds me.
Join Date: Nov 2011
Location: Edmonton
Posts: 3,259
Thanks: 22
Thanked 362 Times in 298 Posts
Rep Power:
25
Maybe its just the way the pictures are taken then. I dunno
Join Date: Nov 2011
Location: Edmonton
Posts: 3,259
Thanks: 22
Thanked 362 Times in 298 Posts
Rep Power:
25
Join Date: Nov 2011
Location: Edmonton
Posts: 3,259
Thanks: 22
Thanked 362 Times in 298 Posts
Rep Power:
25