Join Date: Dec 2010
Location: UK
Posts: 17,661
Thanks: 1,593
Thanked 2,007 Times in 1,575 Posts
Rep Power:
100
He flew he flew!
---
Yesterday, I got baby Harvey out to feed him and popped him on top of his cage for a moment, he flew right over to me, tried to land on me, failed and flew on to a shelf!!! Then he flew another three times today
I can't believe how much he's come along
---
- Alexandrine parakeets Kona, Peaches, George (missing), Holly (RIP), &
Orange winged Amazon parrot Paulie
Join Date: Sep 2011
Location: south coast UK
Posts: 2,789
Thanks: 68
Thanked 107 Times in 93 Posts
Rep Power:
24
Oh how sweet! His 1st flight.
---
x2
x3
Please like me on Facebook
Kamelina-Kreations
Kamelinajewelery.wix.com/kamelina-kreations
Aww!! I love first flights !!
---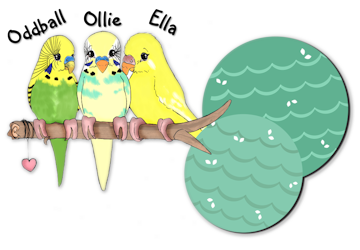 The Outdoor Flock - Sunny, Violet, Harry, Flash, Lime, Coconut, Elvis, Scarlett, Iris and Nala.
The Indoor Flock - Oddball, Ollie and Ella
The Cockatiels - Lucky, Poppy, Luke and Star
The Canaries - Quasi, Modo and Hetty.
The African Grey - Jaz
The Rosella - Ron
The Kakariki - Kiki
The Indian Ringneck - Bertie
The Puppy - Holly
+Aviary Canaries, Quail, Rabbits, Leopard Gecko and Fish.
Join Date: Jul 2011
Location: Minnesota
Posts: 2,434
Thanks: 0
Thanked 0 Times in 0 Posts
Rep Power:
24
Awww! Little Harvey must've been surprised at his new found talent!
---
Kona-Green Quaker
Fred (so far)-Blue Quaker
I'll miss you
, Scully-African Grey
Ruby-Chocolate Labrador
Mylee-Black Toy Poodle
16 fish in a freshwater 38 gallon aquarium
Join Date: Dec 2010
Location: UK
Posts: 17,661
Thanks: 1,593
Thanked 2,007 Times in 1,575 Posts
Rep Power:
100
Yeah haha, with the budgies that I co-parented, they always acted like they didn't need me. But now I can call Harvey and he flies across the room to me. Hopefully gunna be recall training
---
- Alexandrine parakeets Kona, Peaches, George (missing), Holly (RIP), &
Orange winged Amazon parrot Paulie