Parrot rescue
---
Well, I have gone the last two Tuesdays to the parrot rescue here in Maryland. It is a bit if a tiring drive, but I feel great once I am there. They have many, many macaws, even a hyacinth macaw. KC is gorgeous and gentle. I was able to carry her around on my forearm for a bit and two cockatoos also. I think I counted 4 cockatoos, 4 grays, and quite a few Amazons. They have a couple of different pionus (?) and one senegal. Oh, and a galah cockatoo. Several conures, mostly sun conures, male and female electus. Several birds are pluckers, some are dealing with anger issues, but all love the main man that started the rescue. It is actually in his home; has been for over 20 years. They do birthday parties and different activities to raise money for their care. He is now gearing up to visit wounded soldiers at a hospital in Maryland.
Don't know if I can post the name of his site on here, but you can find it through my facebook page (brand new and rather boring).
I am going to go on Tuesdays unless the drive becomes too much. Traffic wasn't bad today at all and the rain held off until I got home.
Maybe I can take pics there later. Not sure if that is permitted since he does raise money thru their pics.
Join Date: Mar 2011
Location: UK
Posts: 2,115
Thanks: 275
Thanked 407 Times in 256 Posts
Rep Power:
25
Wow, sounds wonderful! I am envious of you
.
---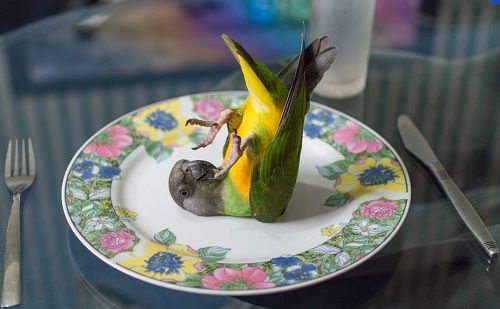 Join Date: Apr 2011
Location: Alberta,Canada
Age: 24
Posts: 2,188
Thanks: 81
Thanked 87 Times in 72 Posts
Rep Power:
25
Wow, I'm jealous I wish there was a parrot rescue near me!


Sent from my iPhone using Tapatalk
---
Icicis- Green cheek conure
Shaylee- Bichon Frise
Well, it is 1 and 1/2 hours each way on a really busy beltway. But, I feel really good when I leave there.
Join Date: Dec 2010
Location: UK
Posts: 17,661
Thanks: 1,593
Thanked 2,007 Times in 1,575 Posts
Rep Power:
100
Sounds awesome! Very jealous of you meeting a hyacinth macaw
---
- Alexandrine parakeets Kona, Peaches, George (missing), Holly (RIP), &
Orange winged Amazon parrot Paulie
Join Date: Nov 2011
Location: Edmonton
Posts: 3,259
Thanks: 22
Thanked 362 Times in 298 Posts
Rep Power:
25
No, I have two that I am working with. If I had been aware of this rescue, I might have considered adopting. He has very rigid adoption rules; basically, the bird has to like you more than him and you have to be at least 30y old and volunteer several hours a week for 6 months.

I love the macaws and cockatoos, but fully understand the time and care you have to put in....no way. Although, there are two smaller cockatoos who are so cute. He has so many Amazons. I have to read up on why they are relinquished so often. They are a nice size parrot, as are the grays.

But, my two need my attention. oh, yeah.
Join Date: Nov 2011
Location: Edmonton
Posts: 3,259
Thanks: 22
Thanked 362 Times in 298 Posts
Rep Power:
25