Join Date: Jun 2012
Posts: 59
Thanks: 3
Thanked 15 Times in 11 Posts
Rep Power:
8
lovebird or tiel ?
---
My birthday is coming up soon and I'm planning to get either a tiel or another lovebird . I'm completely confused as to whether i should get a friend for my peach-faced lovebird Mango or a young tiel. If i was sure that 2 lovebirds would get along right away , i wouldn't think twice about getting another one . But the fact that they might not get along means that I would have to house them separately. This led me to think, why not another kind of bird ?
I have heard that tiels are really friendly , do not make much noise and aren't aggressive. Well noise is not an issue for me as i already have 6 birds at home (4 budgies , an IRN and a lovebird). I haven't owned a tiel in the past , so how are they when compared to a lovebird ?
Join Date: Mar 2011
Location: Somewhere in Canada
Posts: 2,644
Thanks: 51
Thanked 104 Times in 64 Posts
Rep Power:
40
stick with another lovebird. either way you CANNOT house a tiel with a lovebird. you will end up with a killed cockatiel in the worst situation.
lovebirds are more aggressive than tiels who hardly ever defend themselves. since you are looking at caging the birds separately anyways, get a lovebird, you have better chances of them bonding enough to get along. a tiel housed with a lovebird is a deadly combination for the tiel.
best situation, the lovebirds can share a cage. if not two separate cages. however you will not be able to safely house a tiel with a lovebird. they may seem fine for months, then all it takes is one argument and the tiel will be badly injured. or killed. lovebirds have a much more powerful bite. and more attitude.
many of these are the results of lovebird attacks
stick with a lovebird. either way, you have better luck housing this one with Mango. no chance with a tiel.
however, if you WANT a tiel yourself, go for it, but never ever cage them together.
---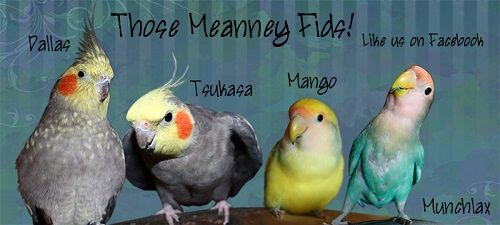 Those Meanney Fids FB Page:
http://www.facebook.com/pages/Those-...284656?fref=ts
Bird Information Photo Gallery:
http://s1282.photobucket.com/user/Me...?sort=3&page=1
All posts and photos of mine posted here are copyrighted by Casey Meanney. They are not to be reposted elsewhere without my permission.
Join Date: Dec 2010
Location: UK
Posts: 17,661
Thanks: 1,593
Thanked 2,007 Times in 1,575 Posts
Rep Power:
100
My lovebirds have literally charged up to the bars of the cage when I've been walking past with my American kestrel, all three of them have had a good snap at him just from me walking past with him! I have to be careful with my three lovies together. They're dad and two sons. They bicker a lot but have never hurt each other badly, however I intend on splitting them up soon because one day I know one of them will push the other too far! It's not worth the risk. Now they've hit sexual maturity they're going nuts! Of course, getting a lovebird buddy for your lovie may not actually work out anyways, and if you were to get the cockatiel you'd still need another cage anyways. Either way, you'll need a new cage. You may need a spare for if something else was to go wrong. My lovies and I think everybody elses are absolutely dreadful when it comes to feet and toes. They'll attack any other birds toes no matter what their size. They believe they're a lot bigger than you think. You could get another lovie though and see how they get on, but it may not work out anyways
---
- Alexandrine parakeets Kona, Peaches, George (missing), Holly (RIP), &
Orange winged Amazon parrot Paulie
Hi Casey... Good to see you back! I think she meant if she had to have a separate cage anyhow she might as well have a different bird... Not house them together... Anyhow Good luck deciding!
Join Date: Jun 2012
Posts: 59
Thanks: 3
Thanked 15 Times in 11 Posts
Rep Power:
8
Yes thank you for clarifying .My whole point is that i'm mostly not going to house them together . If its another lovebird , there might be a chance of them being caged together if they get along. But if they don't then I'll have to get a separate cage which led me to think of getting a different bird altogether.
oh and I'm a 'HE' btw :P
Oops sorry
Join Date: Jun 2012
Posts: 59
Thanks: 3
Thanked 15 Times in 11 Posts
Rep Power:
8
hello !
Yesterday , i went to a pet store to pick up some toys for my birds . They had this amazing 8- month B&G macaw who was so friendly that i ended up scratching his head for over 45 minutes . During the time i actually looked for toys (the big guy just kept calling for me :/ ) , I happened to see this cage in the corner which had a few lineolated parakeets. The people at the store didn't even know what they were called and were selling them for a really reasonable price. The fact that I've never seen them being sold here in Dubai really led to think about buying one. What do you think about these guys ?
These ones weren't hand tamed but didnt freak out when i came close.
Join Date: Dec 2010
Location: UK
Posts: 17,661
Thanks: 1,593
Thanked 2,007 Times in 1,575 Posts
Rep Power:
100
Linnies are wonderful birds! They're very mellow and laid back. I'm sure you'd love one
---
- Alexandrine parakeets Kona, Peaches, George (missing), Holly (RIP), &
Orange winged Amazon parrot Paulie