Join Date: Apr 2012
Location: Ontario, Canada
Posts: 537
Thanks: 0
Thanked 1 Time in 1 Post
Rep Power:
11
Pic Heavy
---
So i thought id post some pictures of phoenix
looking ever so cute, as well as him in his play hut that he loves sooo much basically its a shoe box i cut doors and windows and a sky light and he loves playing in it and some new toys i made today 2 of which were already destroyed but he sure had fun
Enjoy
Note: do not attempt to leave your bird with other family pets they must always be supervised, also if your unsure of the reaction of the animals together be very cautious. My dog is ten years old and is very relaxed she tolerates young children and their tendencies and my bird who enjoys grooming her, not all dogs are like this and should be well thought out before taking that risk. Thanks.
---
---
Last edited by Quakermum; 10-19-2012 at

03:11 PM

.
Join Date: Mar 2011
Location: UK
Posts: 2,115
Thanks: 275
Thanked 407 Times in 256 Posts
Rep Power:
25
oooh la la Phoenix
Love the pics, especially the one of Phoenix and his furry friend
---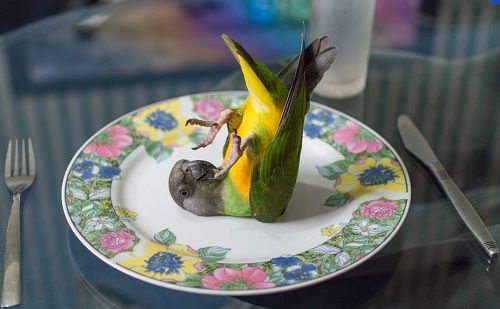 ---
Last edited by tippa; 10-17-2012 at

06:32 PM

.
Join Date: Apr 2012
Location: Ontario, Canada
Posts: 537
Thanks: 0
Thanked 1 Time in 1 Post
Rep Power:
11
Thanks him and princess are bffs
---
Join Date: Sep 2011
Location: south coast UK
Posts: 2,789
Thanks: 68
Thanked 107 Times in 93 Posts
Rep Power:
24
Hi, lovely pics.
Can I just ask if you could add a comment to the one of the dog and bird to say they are well supervised.
This'll meet the requirements of the forum for new and inexperienced members who may be tempted to try this and we all know how it might end.
Also I really think we need a caption competition.
That photo would be a prime candidate!
---
x2
x3
Please like me on Facebook
Kamelina-Kreations
Kamelinajewelery.wix.com/kamelina-kreations