Join Date: Mar 2012
Location: California
Posts: 411
Thanks: 0
Thanked 0 Times in 0 Posts
Rep Power:
10
Should I?
---
So I made the mistake of browsing craigslist pet section again.... I saw a post about 3 baby lovebirds and 1 three month old lovebird. So just out of curiosity I emailed this lady to ask how much she wanted for them and the mutations. She emailed me back with the pictures posted below and said she wants $60 each for the babies and $30 for the older one.
Honestly I'm torn.. I love lovebirds but I hear they are quite the handful. She says they are all hand tame and very cuddly. I would have to buy another cage because I just sold my extra one last month.. I don't know. What would you do?
Here's the links to the videos she sent me as well:
Jade the lovebird taking a bath-
Jade the Lovebird taking a bath! - YouTube
Hand feeding the three babies-
Hand feeding lovebirds - YouTube
I would get them but it also depends on how far they would be from me. I'd concider do I have time for another bird or even three more, Do I have the cape abilitys for caring for them? I'd think of the questions then figure out. but, If you have the time to take them in I'd go for it. but, let the others give you their opinions as well. But, it's more of following your heart.
They are cute tho
Join Date: Mar 2012
Location: California
Posts: 411
Thanks: 0
Thanked 0 Times in 0 Posts
Rep Power:
10
Quote:
I would get them but it also depends on how far they would be from me. I'd concider do I have time for another bird or even three more, Do I have the cape abilitys for caring for them? I'd think of the questions then figure out. but, If you have the time to take them in I'd go for it. but, let the others give you their opinions as well. But, it's more of following your heart.
They are cute tho
Oh I wouldn't be getting all 3!! Just one
I definitely have time now that I'm done traveling.
I'm more worried about the new lovebird not getting along with my cockatiels. I know I can have them out for separate play times but it would be nice to have them all out at once. I guess it just depends on the birds personality. My main issue is the lovebird temperament problems I always hear about.. My husbands step mother had two lovebirds and they started off hand tame and for whatever reason they just snapped and would literally chase you around the house trying to bite you! I don't know..
It would depend on their personality really. Some birds get along with other birds just fine but theres other birds who dont get along with another one. It really depends on how they react and what not.
Join Date: Mar 2011
Location: Somewhere in Canada
Posts: 2,644
Thanks: 51
Thanked 104 Times in 64 Posts
Rep Power:
40
i would be sure of a FEW things. they can be super cute and sweet and intelligent birds....
but ask yourself the following first:
are you willing to tolerate a crazy psychotic monster for a few weeks to months out of the year if your bird winds up being a hen? they get hormonal and nesty usually and they can be VERY aggressive and bite very hard and with little warning. it can make feeding them very hard. even if a female is super sweet when young, once the hormones kick in, they can be very aggressive. some times of the year they are really bad, then other times they are just fine and maybe a bit nippy.
are you willing to get your hand nipped off if yours ends up being very cage aggressive (males tend to just nip, females tend to latch on and not let go, they got a death grip)
lovebirds are very cage territorial and generally do not like other birds or people in their cages and will ferociously defend their space. some birds are worse than others, some arent that bad at all. its a common problem with lovebirds, even when sweet as babies.
are you willing to house the bird in a whole other room if this bird decides it has a deathwish for your cockatiels? lovebirds generally do not do well mixed with other birds and can often try to kill other birds, and especially bite toes if they land on the lovebirds cage, or lovebirds think it is a game to go onto other birds cages and try to grab toes and feathers through the bars. you may have to have a whole separate room for this bird. they CAN kill cockatiels.
are you aware of the loud noises they make? this video here of my cockatiel in another room, you can hear the lovebirds in the room over at their most annoying time lol
Dally Playing With Toby's Toy - YouTube
that in your ear with one on your shoulder will make your ear ring, and they chatter all day. while not LOUD, they are slightly louder than cockatiels, and they hardly ever shut up.
i love lovebirds, but they do come with some serious drawbacks. theyre so active and funny and playful you will never cease to be entertained. they can be so interactive and theyre like a big parrot. they need a fairly large cage because of how active they are.
they are heavy chewers and LOVE paper--so protect important documents and photographs and anything hanging on your walls lol
if you can handle all the possible drawbacks, then its a great choice. just remember, hormones will hit around 6-8 months, and thats when you might see some attitude changes.
not all are monster birds, but most hens are. its just how they are, theyre not mean birds, theyre just aggressive and territorial and maybe a bit crazy
but the upsides have a LOT of good things, its just hard to weigh which end of the spectrum with them.
males can be nippy too but generally are more laid back and gentler than hens. but hens can make excellent pets too, they just require some caution if you get some crazy one like we got with munch!
they are prone to plucking. munch is a self mutilator because of her obsessive compulsive disorder. they are very intelligent and need to have a lot of toys and enjoy moderately difficult foraging toys. they have a MUCH stronger beak than a tiel and can destroy a lot of things. so be sure to have a lot of toys they can chew. they like making noise and chasing things. so bells and balls are fun toys for them.
as for basic bird questions...
space wise, are you able to house another bird, in another room (possibly full time if the lovebird is aggressive enough)?
do you have a lot of time to give to the cockatiels and a lovebird? single lovebirds need a LOT of one on one time. a lot more than a cockatiel. they do need to be handled every day or they can revert.
do you have the finances to care for another bird?
just some thoughts.
if you can, go for it! lovebirds are great birds, but be VERY careful with them. you will be amazed by how cute and intelligent and playful they are.
for the record, my hen is handraised. handfed from the day she was born. shes bold and aggressive and shows no fear of people, yet she has made one of the best improvements and has to be handled differently than the other birds. shes much more intelligent than all of them and we swear shes gonna take over the world... but every day she loves to interact with us, even if she doesnt always want to be hands on.
---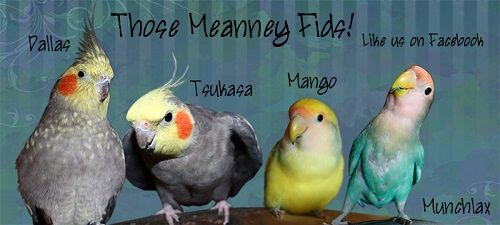 Those Meanney Fids FB Page:
http://www.facebook.com/pages/Those-...284656?fref=ts
Bird Information Photo Gallery:
http://s1282.photobucket.com/user/Me...?sort=3&page=1
All posts and photos of mine posted here are copyrighted by Casey Meanney. They are not to be reposted elsewhere without my permission.
---
Last edited by MeanneyFids; 10-30-2012 at

08:59 PM

.
Join Date: Mar 2012
Location: California
Posts: 411
Thanks: 0
Thanked 0 Times in 0 Posts
Rep Power:
10
Hmm a lot to think about... Honestly I don't think I'll take one of these little guys. We have enough room and financially we can handle it but I think I'll spend a while thinking about it.
I've always wanted a lovebird but I also got to have my two cockatiels.. I could tell my husband wasn't exactly bouncing off the walls when I showed him the lovebird pictures but he did like them. He has his heart set on a GCC.
I think I'll wait and see what pops up next on craigslist
Thanks for the input Casey!!
Join Date: Dec 2010
Location: UK
Posts: 17,661
Thanks: 1,593
Thanked 2,007 Times in 1,575 Posts
Rep Power:
100
While I do agree with everything Casey has said, especially with her Munch, none of my boys have any issues what so ever
Blackjack is extremely sweet and laid back. He runs across the room if you ask him to step up and then bounces on to your finger. His two babies, CJ and Pebbles, who are also boys, work great too. They're very fun to have around but if CJ is in a bad mood then he can, will and does bite for blood. He's always been like that though and that's why I always said before he was DNA'd that he was a she! Picasso, my female who sadly passed away was far more nervous than he was however none of them are hand raised. I was given a lovebird some time back, and I mean a long time back now, who was absolutely gorgeous. Was told it was a male until it started laying eggs
she was extremely nesty, constantly ripping up paper and making as much noise as she can. She was called Pip, because of that high pitched pipping noise they make
if you can handle a lovebird then I think they make great companions and not everybirdy is the same, but on the whole, they can be very difficult birds. However, you have also said you want a green cheek. The problem with those is that you would have the exact same problem that you would with a green cheek as a lovie IMO. They can be extremely cage aggressive when other birds are around and will attack any bird around them they don't like, big or little. They've even chased my others around the room! They can be nasty birds and everybody only ever highlights their good sides. They're fearless! My three green cheeks are very loud, but Perry, my youngest, sounds just like an angry sun conure when he flips out and he will do it all day
everybody told me they were quiet!
---
- Alexandrine parakeets Kona, Peaches, George (missing), Holly (RIP), &
Orange winged Amazon parrot Paulie