Birds... Who needs them!!
---
It is times like this , when I am spending my day wearing fuzzy gloves, taking each slat of my mini blinds between my fingers and wiping the dust off that I wonder why do I have so many birds...lol then I look at them and one gives me a kiss and another wolf whistles at me that I know.... They have no idea what a good looking human is so they love me anyhow...lol they are good for my ego and that is worth cleaning a little dust!! ( or a lot of dust in my case...lol )
Join Date: Mar 2011
Location: UK
Posts: 2,115
Thanks: 275
Thanked 407 Times in 256 Posts
Rep Power:
25
Everyday I clean the bird room, I have dark carpet and I see it covered in dust everyday
. They say green cheeks are not dusty - that is a lie - when look behind their cage there is more dust than Dusty Springfield
.
---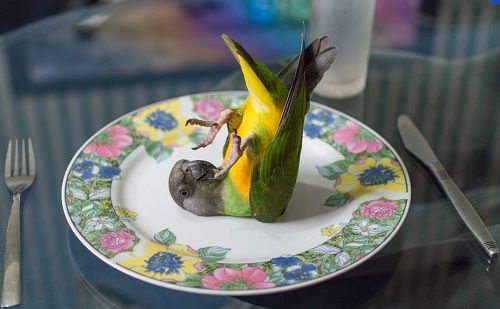 ---
Last edited by tippa; 10-31-2012 at

12:15 PM

.
I have 5 ( very messy ) budgies a parrotlet ( who is the really dusty one) and my conure... I have a rabbit air , air filter and I vacumn almost every day in there... The air filter pulls all the dust into that direction and it settles in big clumps on the walls so I dust that off every week or so... The blinds get left to 3 or 4 times a year as I do dust them with a feather duster weekly.... But some sticks.... I think all birds are dusty, just some more than others!
Join Date: Apr 2011
Location: Alberta,Canada
Age: 25
Posts: 2,188
Thanks: 81
Thanked 87 Times in 72 Posts
Rep Power:
25
My gcc is ridiculous... dust EVERYWHERE!
---
Icicis- Green cheek conure
Shaylee- Bichon Frise
Cant be as dusty as 30 some budgies and 4 tiels. Lol. Dust collects less then a min. 5 min and i wheeze. Lol
---
Instagram @official_budgiebonkers
Join Date: Mar 2011
Location: UK
Posts: 2,115
Thanks: 275
Thanked 407 Times in 256 Posts
Rep Power:
25
Out of the flock the quaker is the dustiest because of his very soft feathers, then the budgies - they're super dusty, lastly the conures and the senegal, they're not as dusty as others but still produce some dust. I have to wear a face mask sometimes to clean up because the dust aggravates my nose nasal cavities.
---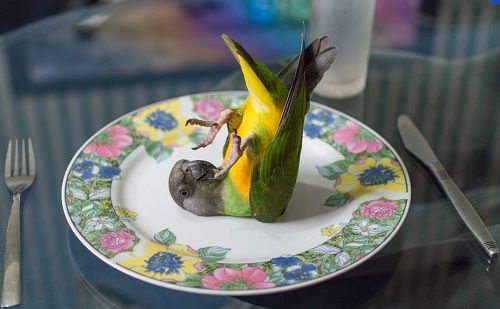 kiwi my green cheek is not to bad but my 4 tiels are pretty bad i think they maybe as bad as dusty my grey
---
I have three - Congo African Grey, Double Yellow Head Amazon and a Red Fronted Macaw. My grey is just a little dust monster. But I am not complaining, they are so worth it. I also think they are great therapy - lol
Join Date: May 2012
Location: Texas
Age: 26
Posts: 306
Thanks: 0
Thanked 13 Times in 9 Posts
Rep Power:
11
I think cockatiels are one of the dustiest parrots...and I have 4 of them! They live in my boyfriend's room and everytime I go over there after cleaning it's like I never cleaned anything! I'm going to have to buy like a million swiffer dusters if I intend to keep up!
---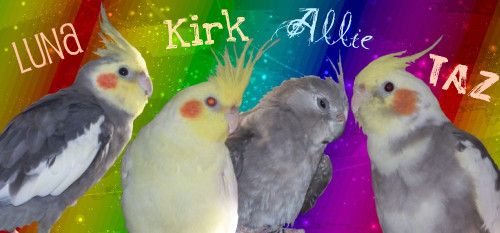 As I dust With a feather duster I am watching it settle back down where I just dusted...errrggg where is my swiffer? I can't find it!
Join Date: Dec 2010
Location: UK
Posts: 17,661
Thanks: 1,593
Thanked 2,007 Times in 1,575 Posts
Rep Power:
100
The cockatiels make quite a bit of dust but being as the majority of them are outside that isn't a problem for me. When the budgies were inside it was terrible! The rest of my flock isn't too bad at all though
---
- Alexandrine parakeets Kona, Peaches, George (missing), Holly (RIP), &
Orange winged Amazon parrot Paulie
Join Date: Nov 2011
Location: Edmonton
Posts: 3,259
Thanks: 22
Thanked 362 Times in 298 Posts
Rep Power:
25
Join Date: Sep 2011
Location: south coast UK
Posts: 2,789
Thanks: 68
Thanked 107 Times in 93 Posts
Rep Power:
24
IRN are not that dusty.
But when I had a too my goodness.
Dustiest bird ever!
---
x2
x3
Please like me on Facebook
Kamelina-Kreations
Kamelinajewelery.wix.com/kamelina-kreations
Join Date: Dec 2010
Location: Ohio, USA
Posts: 5,750
Thanks: 734
Thanked 474 Times in 379 Posts
Rep Power:
43
Apple isn't that dusty. :P I think the dustiest birds I've had are cockatiels.




---
DIGBY
4-year-old male Congo African Grey