Join Date: Aug 2012
Posts: 160
Thanks: 0
Thanked 13 Times in 9 Posts
Rep Power:
8
Question about a rehome that all of a sudden became available
---
i will 99% sure get a senegal and am set to it with my breeder but then all of a sudden a jardine became available near me. But i was just wondering, would it be too big . I always was set on a bird no bigger then a senegal since thats the biggest flighted bird i can provide for in my apt but can a jardine be happy in a similar setting with its bigger size? i will not be able to provide a bigger cage then a cage that a senegal would live in however since i work from home, he will get about 10 hours of out of cage time every day. Basically whenever i get up till whenever i sleep minus the time i am outside or in the gym. does a jardine require that much more space and money to provide for or would a similar setting be enough. personality/termperments/cuddliness wise i think both are very similar and have no differences. Btw out of curiosity are there any difference in male or female?
Join Date: Mar 2011
Location: UK
Posts: 2,115
Thanks: 275
Thanked 407 Times in 256 Posts
Rep Power:
25
This is going to be a tough question to be answered because as I recall no one here has a Jardine. To me I think it is ok for a jardine to be in your apartment - as long as you can provide it with about 3 metres to fly back and forth then is it perfectly fine. I have only ever seen Jardines in videos and to me their personalities/termperments/cuddliness are very much similar to senegals with a added bonus that jardines are good talkers. Jardine will need a bigger size cage than a senegal but for every other expenditure it is the same I reckon. I don't recall seeing Jardines as being popular birds in other forums either, I don't know why this is, I would love to have a jardine if I have plenty of time and more space.
---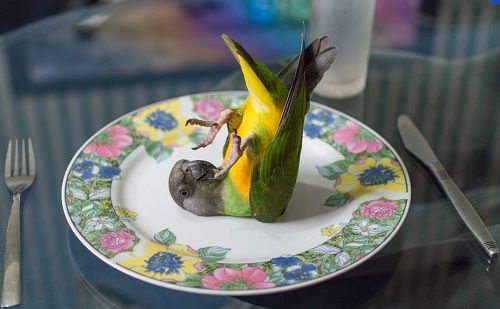 Join Date: Dec 2010
Location: UK
Posts: 17,661
Thanks: 1,593
Thanked 2,007 Times in 1,575 Posts
Rep Power:
100
What Tippa said
if you want it, take it. I tend to regret a lot of things and not taking a bird is definitely one of them!
---
- Alexandrine parakeets Kona, Peaches, George (missing), Holly (RIP), &
Orange winged Amazon parrot Paulie
Join Date: Mar 2012
Location: North West, UK
Age: 34
Posts: 1,077
Thanks: 450
Thanked 311 Times in 215 Posts
Rep Power:
13
Aww they look nice, don't think I've seen much of them. If you think you can handle it then why not?