Join Date: Aug 2012
Posts: 160
Thanks: 0
Thanked 13 Times in 9 Posts
Rep Power:
8
Sennie egg hatched 11/6/2012(Now the treacherous wait)
---
sigh.. 3-4 months i guess before shipped? This sucks. What to do... Planning to slowly buy everything i need.

ps: any recomendation of must have stuff for my sennie? just link away. (toys/food,foraging,cages,playstands,trees... whatever else).
Join Date: Mar 2011
Location: UK
Posts: 2,115
Thanks: 275
Thanked 407 Times in 256 Posts
Rep Power:
25
My senegal loves to chew, get anything/toys that your senegal can chew on he/she will love that. Senegals also are like monkeys, they love hanging upside down, so get some boing perches and anything that he/she can grip on to, to hang like monkeys. Hemp seed to use as treat to train him/her to do tricks. Do lots of baby talk to your senegal beause some senegals can learn to talk pretty well and yours could be one of those
. Senegals rock!
---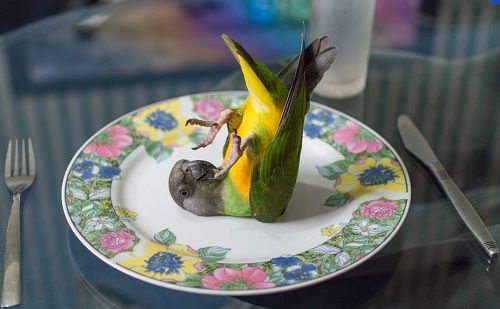 Join Date: Dec 2010
Location: UK
Posts: 17,661
Thanks: 1,593
Thanked 2,007 Times in 1,575 Posts
Rep Power:
100
Congratulations! Shopping is the best part haha
I would make sure you have a nice big cage with plenty of toys at hand, but be sure to only put a couple in when he/she comes home, just so it isn't too over-whelming for them and then slowly build up as they get used to being in your home
For cages, have a look at these ~
http://www.birdscomfort.com/medium_bird_cages.html
For toys/perches/whatever else! ~
http://www.persnicketyparrot.com/
&
http://www.mysafebirdstore.com/
Regarding food/treats, it is completely up to you what you feed your bird. I feed my birds a more natural diet which consists of a chop mix made of tons of veggies of all kinds, rices, lentils, quinoa, pasta, beans of different kinds etc. and then they have Harrison's mash mixed in to it. That's my favourite way of getting them to eat something that is good for them anyways. On top of that they get treats too, like some days they will get a small portion of seeds, nuts and millet sprays a couple of days a week. About 3-4 times a week they get a mix of fruit and berries. I also cook for them different meals and stuff too every other day. It's a surprisingly easy diet because all you have to do it make it up on one day and freeze them in portion sized bags. Easy peasy! I just defrost them and the add a spoon full of the mash
as a treat too, they also really really love nutriberries. They make fantastic foraging treats as well as a nice training treat too. Hemp seeds are usually appreciated when bonding
these are just the things that I do though, other people think differently and it is entirely your choice. In my siggy I have a Facebook group you can join if you want with feeding ideas. I haven't put tons up yet but there's some stuff up already
---
- Alexandrine parakeets Kona, Peaches, George (missing), Holly (RIP), &
Orange winged Amazon parrot Paulie
Join Date: Aug 2012
Posts: 160
Thanks: 0
Thanked 13 Times in 9 Posts
Rep Power:
8
Join Date: Apr 2011
Location: Alberta,Canada
Age: 24
Posts: 2,188
Thanks: 81
Thanked 87 Times in 72 Posts
Rep Power:
25
Take a look at the A&E flight cages
they are great/large and a affordable price
---
Icicis- Green cheek conure
Shaylee- Bichon Frise
3-4 months! But, nir, the wait will be so worth it. And, you have so much time to shop and arrange the cage. Happy for you.
I have an A & E dome top cage for Duke, its amazing! So easy to clean! Also, I would recommend springy toys, like boings, hanging rings, and shredibles.
---
A bird doesn't sing because it has an answer, it sings because it has a song.
- Lou Holtz