Join Date: Oct 2012
Posts: 85
Thanks: 0
Thanked 0 Times in 0 Posts
Rep Power:
8
need ADVICE
---
this lady has a house ful of chichuas and let them tare and eat one of her birds a golfin cockatoo apart and she still has a crestent I want so badly to get that bird out of that house Im so worried about him animal control wont help me I fell so helpless and worried cause thiis lady is trying to get another bird cause she ownes a double cage and one side is empty I swear some people I just hate
---
Umbrella cockatoo lover
Join Date: Mar 2011
Location: Somewhere in Canada
Posts: 2,644
Thanks: 51
Thanked 104 Times in 64 Posts
Rep Power:
40
i would call the ASPCA, if one animal was harmed and she let it happen and did nothing to stop it, and if there is a problem with their care, the ASPCA may be able to help you. look up the ASPCA for your area, you might luck out and have one
---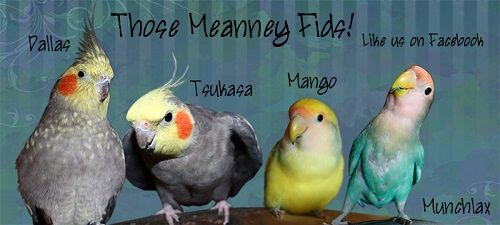 Those Meanney Fids FB Page:
http://www.facebook.com/pages/Those-...284656?fref=ts
Bird Information Photo Gallery:
http://s1282.photobucket.com/user/Me...?sort=3&page=1
All posts and photos of mine posted here are copyrighted by Casey Meanney. They are not to be reposted elsewhere without my permission.
Join Date: Dec 2010
Location: UK
Posts: 17,661
Thanks: 1,593
Thanked 2,007 Times in 1,575 Posts
Rep Power:
100
What Casey said, what bird does she have now?
---
- Alexandrine parakeets Kona, Peaches, George (missing), Holly (RIP), &
Orange winged Amazon parrot Paulie
Join Date: Oct 2012
Posts: 85
Thanks: 0
Thanked 0 Times in 0 Posts
Rep Power:
8
Quote:
what casey said, what bird does she have now?
she has a cresnt cockatoo now its beautiful but scared to death it happened right in front of him a i understand it i dont have a aspca around here i only have an animal control and they said i had to prove it and i cant i wasnt there or i would of stopped it....she tried to get one of my birds from me i laughted told her where to stick it told her to give up her bird she is a bad owner and left it as that im hoping she realizes birds arnt for her and calls me up and gives me the bird i can find it an awesome home thats what i do
---
Umbrella cockatoo lover
Join Date: Dec 2010
Location: Ohio, USA
Posts: 5,750
Thanks: 734
Thanked 474 Times in 379 Posts
Rep Power:
43
This is very sad. I hope things turn out alright.




---
DIGBY
4-year-old male Congo African Grey