Join Date: Oct 2009
Location: New Zealand
Posts: 509
Thanks: 0
Thanked 2 Times in 2 Posts
Rep Power:
12
I have a deformed budgie
---
It seems as though, these days, I can't take a drive without coming across an animal in need.

As you may recall, my last budgie, Mr Tinkles, was saved from a petshop after his tail had been attacked.

Today, I was back at the same petshop. It's an awful, smelly place, with injured birds, dirty water, and overcrowded cages.

The SPCA's on to them, so theres not much more I can do.

But today, I saw a little light green budgie walking across the cage. He was an adult budgie, being sold as a baby! I saw him walk, and noticed his feet bent inwards, and his wing drooped unnaturally.

I called the manager in. It seems as though on every visit I make theres an issue!

So he comes in, and I show him the budgie.

He looks at it, then starts going on about how it'll never be sold, and he's going to have a firm word to the people that sold it to him.

I realise all this bird is to him is a product. It has to be perfect to matter to him, and all he wants it for is the money.

He tells me he's not going to put it down, and I sigh with relief. Then he says he'll shove it in the cage over there, without food or water, and it can die a natural death!!

Well, at that point I made up my mind, and he gave me the budgie for nothing.

Now he's in a cage next to Ziggy, still stressed out.

It's going to take a while to tame him, as he's an adult, but I don't care.

Thats the second budgie I've saved from that awful place, and I'm going to give him the best life I possibly can!

He can perch alright, and he can fly. He eats well, and he doesn't seem to have any mental damage. I think I'll take him for a vet visit, and although it can't be fixed, it's nothing that should alter his quality of life.

Deformities don't matter to me, because I know that he's going to be a great pet!
---
Ella's flock
---
Last edited by Ella; 01-09-2010 at

09:01 PM

.
Such a pretty color! You will have a great friend, you done good.
Join Date: Oct 2009
Location: New South Wales, Australia
Posts: 799
Thanks: 0
Thanked 87 Times in 52 Posts
Rep Power:
27
Aww, poor little guy!
I would have had to take him home too. Congrats on the new fid, I'm sure you'll give him an excellent life despite his splayed feet and droopy wing.
Oh my gosh what an awful excuse for a human being!! GRRR So glad that the SPCA is on them and that you were able to save this poor fellow. I hope he lives out a very happy life with you. He's very cute!
---


Join Date: Oct 2009
Location: New Zealand
Posts: 509
Thanks: 0
Thanked 2 Times in 2 Posts
Rep Power:
12
Thanks guys!

It's amazing, he's an adult budgie, not handraised, but already I can cuddle him and get him on my finger.

I've never had a budgie that likes cuddles or being held, but because of his feet, he prefers to be picked up rather than to perch.

He lets me hold him on his back, and closes his eyes when I scritch him on the back of the neck.

He's almost as cuddly as my conure, Ziggy, and thats saying something!

He's settling in well, and really enjoying the millet spray I got him! I also brought him and Ziggy some cherry's, which they are both loving!

I'm besotted with him already, and it's only been a few hours!
---
Ella's flock
Join Date: Nov 2009
Location: Canada ON.
Age: 24
Posts: 339
Thanks: 0
Thanked 0 Times in 0 Posts
Rep Power:
11
Oh my goodness!
I'm so glad you took him!
Congrats, I hope you can help him become healthy again!
---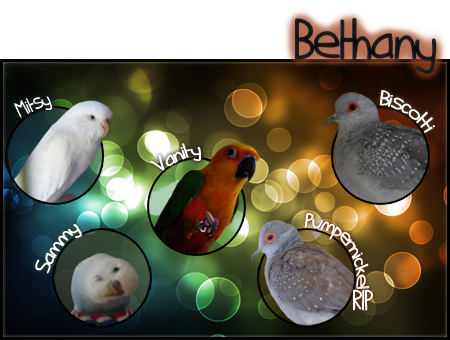 Thanks Becca!
People Use Duct Tape To Fix Everything.. Jesus Used Nails.
Join Date: Nov 2009
Location: Indiana, USA
Posts: 3,142
Thanks: 0
Thanked 2 Times in 2 Posts
Rep Power:
40
You did a wonderful thing, and it appears to be turning out just as wonderful for you. He is beautiful, and I'm happy for you.
Oh how sad. Just put him in a cage with out food & water.
How could anyone?!?! *sniff sniff* I'm so glad you took him hon!
---

Join Date: Oct 2009
Location: Ottawa Ontario
Posts: 502
Thanks: 0
Thanked 0 Times in 0 Posts
Rep Power:
12
He's a cutie Ella. And lucky you found him. Congratulations!