have a bad feeling
---
ok so i placed an add on kijiji about my chicks and i got a reply but i have this strange feeling about this reply here is the reply

hi if u give me a good deal on hand fee cocktail .i buy every month from u.call me farzana
Join Date: Feb 2010
Location: New Hampshire, US
Posts: 57
Thanks: 0
Thanked 0 Times in 0 Posts
Rep Power:
10
While it's possible it's just a language barrier, and that English is tough for them, the way that message is phrased really reminds me of all the bird scams out there... Plus, every month? If not a scam possibly looking for chicks to use as feeders? I used to have pythons... sometimes people would ask me if I fed them birds
Personally, I don't care for that reply and would probably ignore it. Always trust your gut
---
Morgan...Sid..Stew...Sage..Rowan
Hmm... that's kinda shady... unless they own a bird store, there's no reason for them to buy birds every month on a regular basis? I would wait it out, see if they ask again and go from there?




Join Date: Nov 2009
Location: Canada ON.
Age: 24
Posts: 339
Thanks: 0
Thanked 0 Times in 0 Posts
Rep Power:
11
I agree.. I'd wait. It does seem a little weird!
---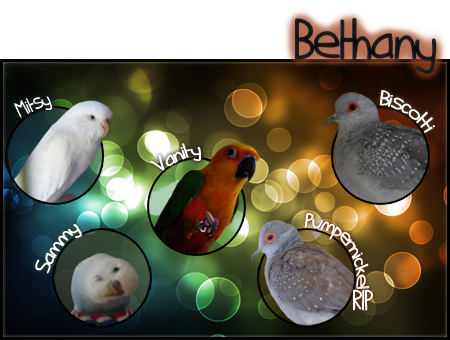 Thanks Becca!
People Use Duct Tape To Fix Everything.. Jesus Used Nails.
You also could flat out ask them why they would want birds every month... sounds to me like he is selling them and making a profit...most likely not giving a flying fig who gets them and how they are treated there.