Night fright
---
Last night the birds had a night fright
First Spike (teil) went crazy, then Icarus (budgie) and than Storm (linnie) I ran and flipped up the front of their cage covers and turned on the lights but they kept going for what seemed like forever.
Once they were still enough I got Spike and Storm out and brought them over to Icarus's cage I opened up Icarus's cage and played with his toy to show him it was safe enough to play.
I then sat down with Spike and Storm until they calmed down enough. When they calmed down I put them back in their cages but kept the light on and the front covers up for a while.
I went and got them fresh water and Spike started calling to me saying hi babe and Jaime Jaime because he was still abit scared and did not want me to leave. Icarus was playing in his cage and Storm was clinging to the side of her cage. She really did not want to go in her cage and flared her tail when I brought her near her cage but I put her in so she could see that there was nothing scary in her cage.
My Dad went outside to investigate and found that a branch fell from one of the trees out side and must of hit the window, it was a really nasty rainy and windy night last night.
After awhile everyone got covered up and the light was turned out (night light was still on) Spike went to bed and so did Icarus but Storm took quite awhile to perch and when she did it was on the perch that was the farthest from her sleeping perch and she stuck her self right up against the bars. Today I seen her back on her sleeping perch at five for a nap.
Here are the damage shots
Spike, gave himself a pretty good clipping losing a flight feather, a secondary feather and a back feather.
Iam alright see I did not even lose one tail feather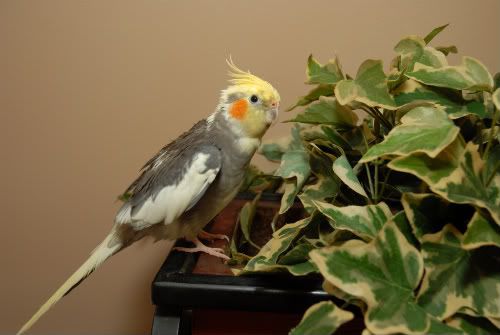 Storm when I got her out of the cage she looked like she had a bump on her head
I rubbed her head and about 10 feather fell out, she then fluffed up and about 5 more came out. She also clipped herself but only lost one flight feather.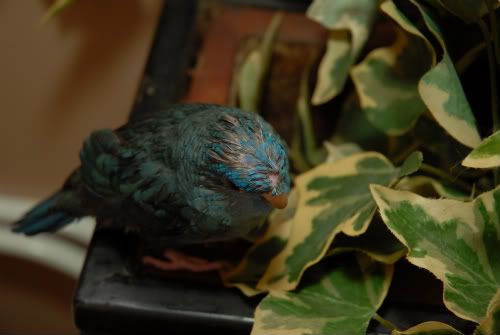 Don't look at me
All better after a bath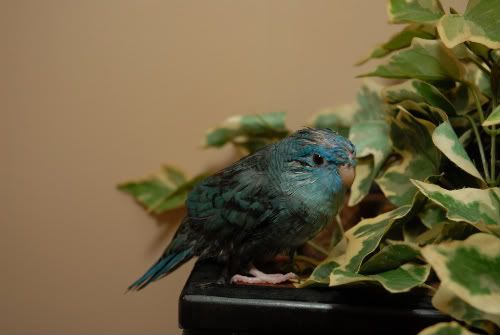 Storm's head does not look so bad when it is dry.
Icarus was find he just got really scared and was shaking quite bad for a while
Look I still got all my feathers
Iam fine really, can I play now?
Iam glad they are ok :love: It was scary for all of us and I cringe when I think of how bad it could of been but luckily it was not.
I know I mentioned it on the linnie forum, but still...
Night frights can be soooo stressful for everyone involved. I'm so happy no one was hurt!
Join Date: Feb 2010
Location: New Hampshire, US
Posts: 57
Thanks: 0
Thanked 0 Times in 0 Posts
Rep Power:
11
I hope tonight is goes better and everyone's bruises heal up quickly
---
Morgan...Sid..Stew...Sage..Rowan
Wow you did have a big scare. I'm glad it all turned out all right. We had the same thing happen a few months back and I took my tiel in to the vet it looked so bad on both her wings. He cleaned her up and she was fine. I had never seen so much blood.
Thanks for posting pics also, your birds look great!
Join Date: Oct 2009
Location: New Zealand
Posts: 509
Thanks: 0
Thanked 2 Times in 2 Posts
Rep Power:
12
Poor birds! Hope their okay
---
Ella's flock