Join Date: Nov 2016
Location: Manchester
Posts: 5
Thanks: 0
Thanked 0 Times in 0 Posts
Rep Power:
0
rid-mite
---
Hi , does anyone know if Rid-mite will be ok to use on my African Grey.. thanks
Join Date: May 2015
Location: Ontario Canada
Posts: 5,133
Thanks: 1,410
Thanked 656 Times in 569 Posts
Rep Power:
16
I've never heard of this product (rid-mite) to treat a bird for mites.
You can probably buy ivermectin for your grey at any pet store where you are located. Just make sure you get the product that is designed for a larger bird like your grey.
If you suspect your bird has mites then you need to do some serious cleaning and sterilizing of its cage and perches and play areas. Throw away any cuttle bones or mineral blocks and buy new ones, I'd steam and clean any chew toys or just buy new ones. The mites are so tiny you will not know they are on toys perches and things in the cage or play area. Once you treat your bird for mites an unclean cage and old toys or perches and cage supplies can be harboring the mites which will only make them return again.
Here's a link to a thread I wrote about what I had to do to clean up my birds cages and assure the mites didn't return after my birds were treated for the illness.
"MITES? OH NO!"
There is this product as well.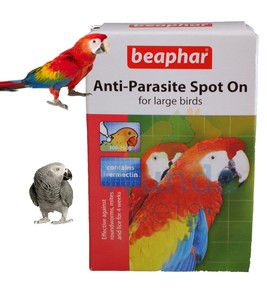 ---