Birds and televisions.
---
For all you members that have lcd or plasma televisions ( or any tv that shows a bright blue screen when it has no signal)... beware of having the tv on with no signal and your bird out flying. Most of the time when the tv has no signal it shows a bright blue screen. I have noticed that my birds do not recognize the screen as being solid when it is this bright ( sort of sky ) blue. They will fly into it full tilt. The 1st time it happened was with my parrotlet and he hit so hard you could see the bird dust imprint of a parrotlet on the tv screen... thankfully he was just shook up. We thought he just miscalculated ... the second time was a budgie... same thing ... flew into it full speed, didn't even try to avoid it... the budgie too was ok , just a little ruffled. That was when we realized the birds did not "see" the screen. We assume it looks like pure blue sky to them... so just an FYI... make sure there is a picture on the tv or it is turned off for the safety of your birdies!!
---
Last edited by ParrotletsRock; 02-07-2012 at

10:58 AM

.
Join Date: Dec 2010
Location: UK
Posts: 17,661
Thanks: 1,593
Thanked 2,007 Times in 1,575 Posts
Rep Power:
100
Thank goodness I never leave mine like that! I've never had a bird fly into the tv! I hope your babies are okay
---
- Alexandrine parakeets Kona, Peaches, George (missing), Holly (RIP), &
Orange winged Amazon parrot Paulie
Good to know - I never would have thought of that! Thanks for sharing, so glad your birds are ok




Join Date: Mar 2011
Location: UK
Posts: 2,115
Thanks: 275
Thanked 407 Times in 256 Posts
Rep Power:
25
Thank you for letting us know.
---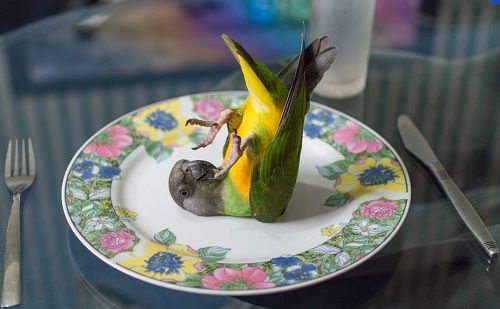 Thanks guys... yes my birds were both fine... but I wouldn't of thought they would be from the smash they made... both of these incidences were last year so all is good.
Join Date: May 2010
Location: Arnold, MO
Age: 75
Posts: 1,997
Thanks: 0
Thanked 0 Times in 0 Posts
Rep Power:
31
How interesting! Never thought of that! Glad your birds are okay!
---
JoAnne, Libby (2/10),Angelina (12/07), and Charley (11/10)
Also owned by Essie,Minnie & Oscar
Join Date: Nov 2010
Location: cape town south africa
Age: 24
Posts: 2,386
Thanks: 24
Thanked 85 Times in 69 Posts
Rep Power:
24
thank you for letting us know
---
i wouldn't of ever thought of this, thanks for letting us know
I didn't think of it...lol...till my birds started hitting it... hubby is bad for turning off his video games but not the TV.