Join Date: Mar 2011
Location: UK
Posts: 2,115
Thanks: 275
Thanked 407 Times in 256 Posts
Rep Power:
25
Who trims your birds nails?
---
Just wondering if you trim your bird's nails youself?
If you take them elsewhere for trimming how much does it cost generally?(if you don't mind me asking
)
Or do you just let your birds take care themselves with pedicure perches and such?
I don't trim my conures and the quaker's nails, they take care of the nails themselves on rough perches and such.
With my senegal I do need to trim his nails myself because his nails are like fishing hooks
. If he climbs onto my hand with untrimmed nails, his nails digs into my skin creating little holes and scratch marks, even caused small amount of bleeding sometimes
, so I have to trim his. Now how about yours?
---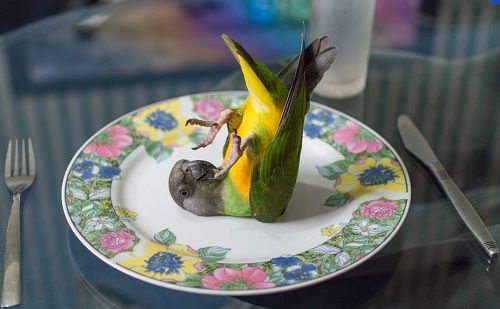 ---
Last edited by tippa; 02-10-2012 at

03:34 PM

.
Join Date: May 2010
Location: Arnold, MO
Age: 75
Posts: 1,997
Thanks: 0
Thanked 0 Times in 0 Posts
Rep Power:
31
I take Libby, my GCC and Charley, my Hahns Macaw, to my bird shop for grooming. They use a dremmel tool (on beak and nails), and do the beak, nails and wings (as needed) for $10 each bird. That's a bargain around here! A vet would charge about $30 each for the same thing. Course, when I'm at my bird shop, I always find a toy or two!
Angelina, my Parrotlet, does her own nails, which is great!
---
JoAnne, Libby (2/10),Angelina (12/07), and Charley (11/10)
Also owned by Essie,Minnie & Oscar
---
Last edited by jodeg; 02-10-2012 at

06:23 PM

.
Join Date: Nov 2011
Location: Edmonton
Posts: 3,259
Thanks: 22
Thanked 362 Times in 298 Posts
Rep Power:
25
I do my own but they seldomly need trimmings
---
Instagram @official_budgiebonkers
I trim all of mine, I don't really trust anybody else to do it
.
Join Date: Apr 2011
Location: Alberta,Canada
Age: 25
Posts: 2,188
Thanks: 81
Thanked 87 Times in 72 Posts
Rep Power:
25
I just use a perch, I've heard since they are so used to perching, if you change their nails there grip changes and may cause them to fall of a perch :0
---
Icicis- Green cheek conure
Shaylee- Bichon Frise
I do it myself, but when I worked at the pet shop, this is what we charged:
Small bird (hand-held, so budgie, lovebird, linnie):
beak - $4
wings - $4
nails - $4
full groom - $10
medium bird (conure, cockatiel, small amazons, small 'toos):
beak - $8
wings - $8
nails - $8
full groom - $20
large bird (greys, large cockatoos, large amazons, macaws):
beak - $12
wings - $12
nails - $12
full groom - $30
The medium and large birds jump up a little more in price, respectively, because the bites are much worse and it takes 2 people to do safely
The shop no longer grooms birds, but while I lived in WPB I did it with my manager as in-home grooming. We would do house calls, we just charged $5 more for each full groom and preferred only full grooms. I would do it here in AZ, but there doesn't seem to be as much of a need for it and I don't have a partner comfortable enough to do it. Gareth holds for my birds, but I don't think he would be comfortable with a big bird lol but anyone in south-western AZ or south-eastern Cali who needs a groom is welcome to PM me and I'll let you know what we can work out? lol! I'll pet sit too!
the cockatiels have perches to take care of theirs,I do most of the med/bigger birds myself. On occasion I have nikos done there is a bird store by my sister that does them for $5, wings for 10, and I forget home much beaks are. Or I can have the bird groomer come to my house and do them.
---
::
x2:
x14
x5
Join Date: Sep 2011
Location: south coast UK
Posts: 2,789
Thanks: 68
Thanked 107 Times in 93 Posts
Rep Power:
24
My Too used to like her nails filed, with an ordinary nail file.
I need to get Bobs done and buy a pedicure perch.
---
x2
x3
Please like me on Facebook
Kamelina-Kreations
Kamelinajewelery.wix.com/kamelina-kreations
Join Date: Nov 2010
Location: cape town south africa
Age: 24
Posts: 2,386
Thanks: 24
Thanked 85 Times in 69 Posts
Rep Power:
24
im scared to have solos nails done because last time they made 2 of his nails bleed
---
I have a dremmel to do my birds nails. Tried it once and caught the blanket. It death me to death and I havent used it again since . lol The store I go to doeseverything for $10 so I go down there if someone needs clipped. I did though learn how to wings and have done my parrotlets by myself.
---
Join Date: Dec 2010
Location: UK
Posts: 17,661
Thanks: 1,593
Thanked 2,007 Times in 1,575 Posts
Rep Power:
100
I went to a vet near Wolverhampton and he did Chewee the kakarikis nails. Blood EVERYWHERE. Since then I do it my self! So much easier. The birds don't like it but it gets done. I even do Chalkie
I HATE doing it though, like I always feel bad for them, so I bought one of those nail trimming perches. You can get one for Duke's size at two by two for like 6.99 I think and they're pretty good. My conures have started using it a lot
---
- Alexandrine parakeets Kona, Peaches, George (missing), Holly (RIP), &
Orange winged Amazon parrot Paulie
I rely on the rough blunting perches for the sharpest points, and have a pro do the rest. It's not that I can't do it, but I'd much rather have Merlin permanently angry with somebody else.
---
Live simply. Love generously. Care deeply. Speak kindly.
And never regret anything that
made you smile
---
Last edited by thepennywhistle; 02-13-2012 at

01:24 PM

.