Join Date: Jun 2012
Posts: 2
Thanks: 0
Thanked 0 Times in 0 Posts
Rep Power:
0
i need help
---
My bird has been very gasey like every 5 secs and her but keeps like pulsing i thought i might be a hernia but im not sure and poop shoots out every once in a while
Join Date: Apr 2011
Location: Alberta,Canada
Age: 24
Posts: 2,188
Thanks: 81
Thanked 87 Times in 72 Posts
Rep Power:
25
take him to the vet ASAP
---
Icicis- Green cheek conure
Shaylee- Bichon Frise
Join Date: Jun 2012
Posts: 2
Thanks: 0
Thanked 0 Times in 0 Posts
Rep Power:
0
i told my mom she will be tomarrow, in the mean time what do u think it is?
Join Date: Nov 2011
Location: Edmonton
Posts: 3,259
Thanks: 22
Thanked 362 Times in 298 Posts
Rep Power:
25
Join Date: Dec 2010
Location: UK
Posts: 17,661
Thanks: 1,593
Thanked 2,007 Times in 1,575 Posts
Rep Power:
100
If they have eaten a lot they could be adjusting their crop?
---
- Alexandrine parakeets Kona, Peaches, George (missing), Holly (RIP), &
Orange winged Amazon parrot Paulie
Join Date: Jul 2011
Location: Minnesota
Posts: 2,434
Thanks: 0
Thanked 0 Times in 0 Posts
Rep Power:
24
I agree with everyone so far. Any new foods? Or has she gotten into any foods bad for her?
---
Kona-Green Quaker
Fred (so far)-Blue Quaker
I'll miss you
, Scully-African Grey
Ruby-Chocolate Labrador
Mylee-Black Toy Poodle
16 fish in a freshwater 38 gallon aquarium
Join Date: Sep 2011
Location: south coast UK
Posts: 2,789
Thanks: 68
Thanked 107 Times in 93 Posts
Rep Power:
24
If you think she may be egg bound hold her over some steam, not scalding hot though.
---
x2
x3
Please like me on Facebook
Kamelina-Kreations
Kamelinajewelery.wix.com/kamelina-kreations
off-topic: I didn't think birds could 'fart'...or is it just an urban legend about alka-seltza and sea gulls?
Obviously I'm not the kind of person to 'try it out' or allow anyone around me to do it.
Join Date: Dec 2011
Location: New Brunswick, Canada
Posts: 107
Thanks: 0
Thanked 4 Times in 3 Posts
Rep Power:
9
Id say a vet visit. I wouldn't wait. A bird is NOT suppose to fart. Either she is egg bound or there is something blocking her from passing her feces. It is not good if they cannot go to the bathroom. Good luck and I hope all is okay.
Join Date: May 2012
Location: Texas
Age: 26
Posts: 306
Thanks: 0
Thanked 13 Times in 9 Posts
Rep Power:
11
Gas in birds is usually a result of some kind of GI infection (and is usually seen as bubbles in poop) or GI upset, your vet will probably want to do a fecal examination and a fecal float, and maybe other tests since gas can also point to more serious diseases. In any case, the bird will need probiotics or antibiotics, or both.
---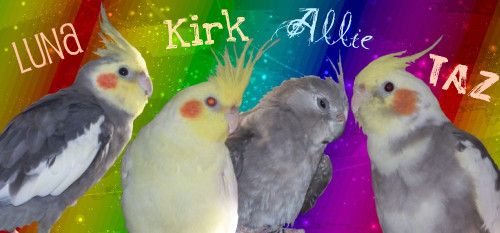 How is he doing? Did your Mom take him to the vet? If so what did the vet say?... Hope all is well!