Join Date: Sep 2011
Posts: 456
Thanks: 0
Thanked 0 Times in 0 Posts
Rep Power:
12
Xandir may be sick
---
Just a short history for those that don't know....

Xandir, 5 month old Congo African Grey, has had a hard life so far. He was fed the recalled Kaytee formula and was really sick. Then he crashed through a window screen and was missing for 4 days.

Well he has not been himself for a few days now. He's not eating as much as I would like and ALL he does when he sees me is beg to be fed. He has an appointment with a vet tomorrow at 1:30. Please keep him in your thoughts.

Kim
awww... will be thinking about him. Hope all goes well. Please keep us updated!
---
Join Date: Feb 2011
Location: Oshawa, Ontario
Age: 28
Posts: 914
Thanks: 2
Thanked 1 Time in 1 Post
Rep Power:
16
Fingers crossed its nothing serious
---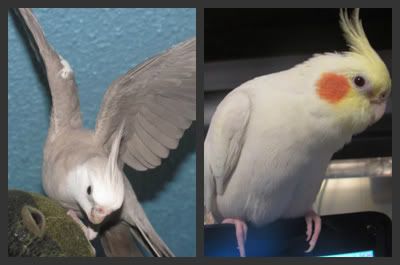 My Tiels
Cupid-Male Whiteface Cinnamon
Aero- Female Cinnamon Lutino
Join Date: Dec 2010
Location: UK
Posts: 17,661
Thanks: 1,593
Thanked 2,007 Times in 1,575 Posts
Rep Power:
100
Oh that poor thing is never lucky
hope he is okay!
---
- Alexandrine parakeets Kona, Peaches, George (missing), Holly (RIP), &
Orange winged Amazon parrot Paulie
Join Date: Nov 2010
Location: cape town south africa
Age: 24
Posts: 2,386
Thanks: 24
Thanked 85 Times in 69 Posts
Rep Power:
24
Crossing fingers for the little guy
---
Join Date: Sep 2011
Location: south coast UK
Posts: 2,789
Thanks: 68
Thanked 107 Times in 93 Posts
Rep Power:
24
Good luck boy.
---
x2
x3
Please like me on Facebook
Kamelina-Kreations
Kamelinajewelery.wix.com/kamelina-kreations
Join Date: Sep 2011
Posts: 456
Thanks: 0
Thanked 0 Times in 0 Posts
Rep Power:
12
Thanks everyone!
We're home now. Nothing much to tell until we get the blood test results. The fecal showed inflammation of the kidney and more "bad" gut bacteria then the Dr. would like to see. She wasn't sure what antibiotic to put him on because of the 2 she would like one is hard on the kidneys and the other is hard on bones/joints and hes a baby still. So she put him on Metronidazole Benz Chicken, lol. Once she gets the blood tests back she will decide what other one to put him on.
Kim
Join Date: Dec 2010
Location: Ohio, USA
Posts: 5,750
Thanks: 734
Thanked 474 Times in 379 Posts
Rep Power:
43
Sorry to hear this. Will keep him in my thoughts and prayers.




---
DIGBY
4-year-old male Congo African Grey
Poor baby!!! I hope they get him all straightened out
---
Join Date: Jul 2011
Location: Minnesota
Posts: 2,434
Thanks: 0
Thanked 0 Times in 0 Posts
Rep Power:
24
He has been lucky so far.. I hope to keep it like that.
---
Kona-Green Quaker
Fred (so far)-Blue Quaker
I'll miss you
, Scully-African Grey
Ruby-Chocolate Labrador
Mylee-Black Toy Poodle
16 fish in a freshwater 38 gallon aquarium