Does Kiwi Have Mites?
---
Well, Its either stress or mites.
I got him a week ago yesterday and ever sence he has been picking his feathers out!
There are four bald spots. One on the inside of his wings, torwards the middle of his back on both sides. Those are the bad ones, like you can almost see skin.
And on either side of his crop he has bald spots that are minor.
We called up a friend of my moms who ownes like 4 Quakers and she said to get a little mite box at the 'Central Wisconsin COuntry Store" to kill mites. So we are doing that tomorow.
Soooo, is it mites? If it is i am going to be so mad!
The only Avian vet near central wisc is suuuuper expencive! Like $75-100 for juust a check up!
And then if he did have mites, more money! Uggh, i hate money. I wish stuff was free...or i just had a lot of money! haha
But yeah, i am praying to God that its not mites.
P.S. his feat and beak are completley fine, his beak has no mite scraches or craters and his feat are normal.
Thanks!
Join Date: Apr 2012
Location: Ontario, Canada
Posts: 537
Thanks: 0
Thanked 1 Time in 1 Post
Rep Power:
11
I would get him to a vet to be sure it could be an internal disease you never know.
I totally get how expensive everything it sucks but it is part of bein a pet owner toys, food, vet appointments it all adds up, but he's worth it
---
I also would get him checked by the vet... he could be plucking because he misses his family ( I am assuming this is the found Quaker parrot??) Or it could be that he has some health problems... either way only a vet check will tell. I am not sure what the mite box is but if it is the mite protectors sold at pet stores do not use them as they are harmful to your birds.
There is a vet in Sheboygan that sees birds... he is not board certified avian , but does specialize in birds and is very good with them. His name is Dr Travis and his # is 920-452-2882. He is a lot cheaper!!
Join Date: Apr 2012
Location: Ontario, Canada
Posts: 537
Thanks: 0
Thanked 1 Time in 1 Post
Rep Power:
11
Oh and don't just get a physical check at the vets get his blood checked too cuz again it could be disease (crossing fingers it's not). Parrotlets rock is right too it could be that he misses his family, the environment change, diet change, boredom, anything can be the cause of plucking.
---
Alright!
Well, why would the Mite Box be harmfull? My moms friend uses it when she takes in parrots that she thinks has mites... Also the "Central Wisconsin COuntry Store" (CWCS) is very trustworthy! I know one of the ladies that works there and i trust her very much, she tells me what she uses (she has like every bird possiable) on her birds from the store and what not to buy from the CWCS. I will check in on the Mite Box before i buy it.
Also, i am buying pellets at the CWCS tomorrow, any cheap, good brands.
ParrotletsRock, thanks, i will give him a call!
Thanks again guys!
The mite boxes are harmful because they are pesticides... they say they are nontoxic , but they are emiting a pesticide vapor that the birds are breathing all the time... you would not spray raid and let your birds breath it... same idea. Here is a link to info on them.
http://birds.about.com/od/birdcages/...protectors.htm
Join Date: Apr 2011
Location: Alberta,Canada
Age: 24
Posts: 2,188
Thanks: 81
Thanked 87 Times in 72 Posts
Rep Power:
25
since you found kiwi, and you dont know how long she has been free outdoors and what diseases she could have picked up.. i would definiatly do a full on vet check-mites-bloodwork-everything,.. especially if you have other birds that could catch something kiwi might have
---
Icicis- Green cheek conure
Shaylee- Bichon Frise
Join Date: Mar 2011
Location: Somewhere in Canada
Posts: 2,644
Thanks: 51
Thanked 104 Times in 64 Posts
Rep Power:
40
the plucking pattern is similar to giardia. you need to do a fecal test on that bird, several times on the first poop of the day each time. a bird lost outside is very likely to catch giardia. giardia is an internal parasite, its a protozoa
http://www.exoticpetvet.net/avian/giardia.html
and
http://www.avianweb.com/giardia.html
trust me, chuck those mite protectors and any petstore mite spray. theyre toxic. ive used them once on some baby starlings i was raising, and all 6 died that night of seizures. trust me, it is a most horrible feeling watching something die and know you cant do anything about it. dont allow that to happen to your parrots.
a vet check is in order
---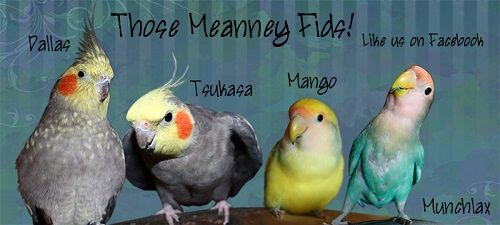 Those Meanney Fids FB Page:
http://www.facebook.com/pages/Those-...284656?fref=ts
Bird Information Photo Gallery:
http://s1282.photobucket.com/user/Me...?sort=3&page=1
All posts and photos of mine posted here are copyrighted by Casey Meanney. They are not to be reposted elsewhere without my permission.
Join Date: Dec 2010
Location: UK
Posts: 17,661
Thanks: 1,593
Thanked 2,007 Times in 1,575 Posts
Rep Power:
100
If you found him then definitely go take him to the vets and get him looked over. He could possibly be stressed of course, but as Casey said the pattern does sound very similar to giardia
I treat all of my birds for mites every six months usually with Ivermectin drops. That should be done anyways but as the others have said being as he was out in the big wide world he could of picked up absolutely anything. It will cost a lot to get everything done at the vet, but if you intend on caring for him and giving him a long happy life then you will want to be sure. Especially as he wasn't plucking before
---
- Alexandrine parakeets Kona, Peaches, George (missing), Holly (RIP), &
Orange winged Amazon parrot Paulie
i will take Kiwi to the vet.
Join Date: May 2012
Location: Texas
Age: 26
Posts: 306
Thanks: 0
Thanked 13 Times in 9 Posts
Rep Power:
11
I agree. Plucking around the crop and beneath the wings..etc. are signs of giardia. Kiwi really needs to be seen by a vet.
---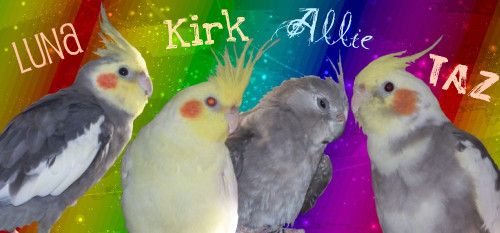 Join Date: Jul 2014
Posts: 29
Thanks: 5
Thanked 2 Times in 2 Posts
Rep Power:
0
I use those little white round boxes on my cages for mites..I have used one now for 7 years on my parrolet. Riley has had no trouble at all very healthly bird.

I also have one on my sun conure. It just helps keep mites away. I don't know if you already have the mites..hope the poor thing don't have them..keep us informed
Join Date: Dec 2010
Location: UK
Posts: 17,661
Thanks: 1,593
Thanked 2,007 Times in 1,575 Posts
Rep Power:
100
Quote:
I use those little white round boxes on my cages for mites..I have used one now for 7 years on my parrolet. Riley has had no trouble at all very healthly bird.

I also have one on my sun conure. It just helps keep mites away. I don't know if you already have the mites..hope the poor thing don't have them..keep us informed
This thread was from 2012 so I assume that the issue has been resolved
---
- Alexandrine parakeets Kona, Peaches, George (missing), Holly (RIP), &
Orange winged Amazon parrot Paulie