No Heat! Help!
---
Hello everyone,

So i just received a frantic call from my roommate saying that the heat in our apartment has stopped working! We were having some major heat problems before- and someone came to fix it today, but apparently this lead to NO HEAT. which is bad, because the high today is 31 degrees. so right now my roommates are in the apartment wearing coats, and I won't be home for several hours (working until 4pm) and even when i get home have no vehicle to use to move them to my parents house which is warmer. The building managment is being called, but in the meantime, any ideas of advice i can give my roommate of simple things she can do for the birds to keep them ok for the next few hours??? i don't have a heated perch, but i think i have one hand warmer in the medicine cabinet.

As some of you may remember i have two birds, wednesday, a cockatiel and zoot, a budgie. i know they are from a climate much warmer than boston!

please any quick advice i can pass along, so that i can feel a little less worried about coming home to two bird icicles??
Join Date: Oct 2009
Location: Newfoundland, Canada
Age: 65
Posts: 340
Thanks: 0
Thanked 0 Times in 0 Posts
Rep Power:
11
Try hot water bottles, and use blankets to cover the cage, leaving a small space for air exchange...
---
Sharon
Linnie...Levi
Budgie...Sadie
Canary...Jake
Yellow Naped Amazon...Frederico...Freddie...Fred
thanks for the advice. I just spoke with my dad, and he is borrowing my cousin's car to get the birds to a warmer house. it may be that the heat is fixed in a matter of hours, but my roommate said that they both looked to be quivering a little, and she didn't know if ti was shivvering, and since i can't be there and see for myself, i just have to get them out of there! i am really glad my dad was able to get a car to use, and i instructed him all the things to do to keep them warm from the house to the car as best as possible. it may turn out to be unneccessary stress for them to be moved like that, but my roommate had to leave the apartment and go to the library because she was too cold and uncomfortable, so i can only imagine what the birds are feeling! i think i will keep them at my parents house for a few days after this to be sure it won't happen again, and also so they don't have the stress of going back all over again the next day. i know two birds who are going to get lots of treats tonight, and deserve after all this to be spoiled rotten.
Oh, I hope they're alright! Sharon has the right idea with warm water bottles and covering the cage - anything to keep heat enclosed in the cage. Birds can handle as low as 50-60 degrees depending on the species.

I hope the move went ok, let us know how things go!




Join Date: Nov 2009
Location: Canada ON.
Age: 24
Posts: 339
Thanks: 0
Thanked 0 Times in 0 Posts
Rep Power:
11
Oh no, I hope they are ok!
Its great that you can move them for the time being!
---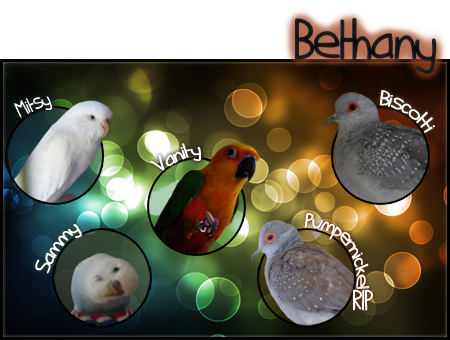 Thanks Becca!
People Use Duct Tape To Fix Everything.. Jesus Used Nails.
Join Date: Oct 2009
Location: Ottawa Ontario
Posts: 502
Thanks: 0
Thanked 0 Times in 0 Posts
Rep Power:
12
We luckily have a gas fireplace, converted from wood. It doesn't use any electricity so a power outage wouldn't matter.
Our furnace is gas too but needs electricity to work.
I hope everything went well. I would worry too.
I can't even bare to leave my babies wet.. we dry them off after their shower and then cover the cage with a blanket and put on the full spectrum light which gives a little heat.
so i just got back to my parents house, and the birds are safe and sound, and seem no worse for wear after what a tough day they had. The heat is back on in my apartment now, but the birds and I are gonna stay here for a day or two and relax and recoup from all that.

when i walked over to the cage wednesday hoped right out onto me. i think she wanted some comfort!

i had planned my dinner tonight around what they would want some of too (haha, i know a lot of people on here do that) so wednesday just shared some of my brown rice and veggies from the curry i made (no curry sauce for her, though for all i know she would have liked it) she ate that all so fast and eagerly it was as if she hadn't been fed for days, there was something frantic about it, and i wonder if that was a reaction from the stress and uncertainty earlier today. she seems calm now though.

Thanks everyone for your comments advice, and concern. seems like they made it through this one allright.
I'm glad they're ok!
Perhaps you should invest in a small bird-safe heater you can put in a small room, say a bathroom, just in case something like this happens again? Better safe than sorry!
Join Date: Oct 2009
Location: Ottawa Ontario
Posts: 502
Thanks: 0
Thanked 0 Times in 0 Posts
Rep Power:
12
Glad to hear they are alright Hannah.
Maybe Wednesday was too stressed to eat until she saw you and the idea of letting her eat with you was obviously a great one!
I never worried about the birds keeping warm in an outage... ( Unless it was very prolonged) . Birds are pretty tough and can take pretty cool temps as long as there is no draft. It is the cold drafts that are the killers.