Join Date: Oct 2012
Location: Toronto, Ontario
Posts: 282
Thanks: 11
Thanked 45 Times in 30 Posts
Rep Power:
8
Shower and bird?
---
I heard that a lot of owners take their birds into the shower with them. Since Sparkle wants to bathe every day, sometimes more than once (she's full of pinnies poor thing), I thought I'd offer the shower to her. However, I'd like to ask for safety issues first. I have one of those suction cup perches that I can set up in the shower. I won't put her directly under the shower itself, but how far away do I put it so she gets some spray? Also, what temp water must it be. I don't want to scold her yet I myself don't want to freeze.

All feedback is appreciated.
---
Join Date: Nov 2011
Location: Edmonton
Posts: 3,259
Thanks: 22
Thanked 362 Times in 298 Posts
Rep Power:
25
Water that you are comfortable in should be ok, as long as you don't like super hot or super warm water.
Put the perch so that part of it is in the stream of the shower and part is completely out. So she can either move in or out of the stream on her own and then she can choose how wet she wants to get and then she can get out of the water if she wants.
That's about it.
Also check the suction cups to make sure they are secure each time... all my suction cup things fall off every now and then.
Join Date: Oct 2012
Location: Toronto, Ontario
Posts: 282
Thanks: 11
Thanked 45 Times in 30 Posts
Rep Power:
8
I personally shower is super hot water. I will brave the cooler temps whit her in there. Will try this and let you know. Thanks!
---
Join Date: Mar 2011
Location: UK
Posts: 2,115
Thanks: 275
Thanked 407 Times in 256 Posts
Rep Power:
25
My green cheeks like to have bath whenever they ready and in their time, i'm not sure if it's good idea to take green cheeks into the shower; if I take my green cheeks in the shower they would all freak out out big time. I have seen birds like amazons that like shower, not so sure about other green cheeks though, but you never know your greenie might love shower. Keep us updated, its interesting
---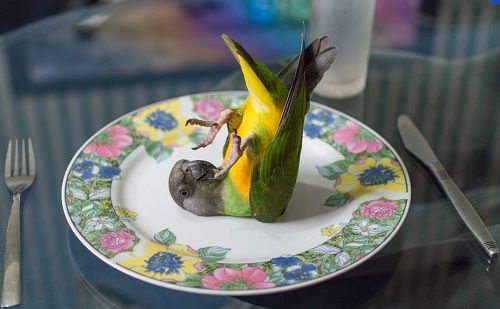 Join Date: Oct 2012
Location: Toronto, Ontario
Posts: 282
Thanks: 11
Thanked 45 Times in 30 Posts
Rep Power:
8
Tippa, I think Sparkle is half fish I swear! She hears water and starts running to it and dumps her head under the faucet. I can't even do dishes without her being locked up. As soon as I take her to a running faucet she jumps down and bathes. And when I giver her the bath dish, she fully submerges her head and surfs under water. As I stated before, I think she is a very strange little one.
---
Join Date: Dec 2010
Location: UK
Posts: 17,661
Thanks: 1,593
Thanked 2,007 Times in 1,575 Posts
Rep Power:
100
My green cheeks all bathe but only on their own terms. I have tried all of them in the shower and it really is up to them if they like it. Sometimes they don't and sometimes they do
---
- Alexandrine parakeets Kona, Peaches, George (missing), Holly (RIP), &
Orange winged Amazon parrot Paulie