Join Date: Jan 2013
Location: Syracuse, NY
Posts: 921
Thanks: 12
Thanked 450 Times in 340 Posts
Rep Power:
10
Problem with Cere
---
Long story short, my Rosey Bourke's wings were stronger than I thought and about 3 days after I brought her home she flew off of my arm once and flew straight into the wall
She has been fine since, but one side of here cere is swollen (one nostril really).
I contacted the breeder and he said just to watch it. I have been dabbing it with a q tip every night with warm water. It seems to be getting better but still looks blocked. I'm afraid that because she is so young that it is never going to open back up and become an issue for her (she is 6 weeks). Instead of standing up, it is pushed in flatly and still a little red.
Any suggestions about how I can help it heal faster? Has anyone every had this issue with a bird?
Here is her "good side"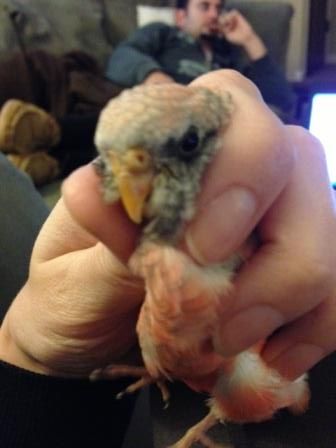 Her swollen side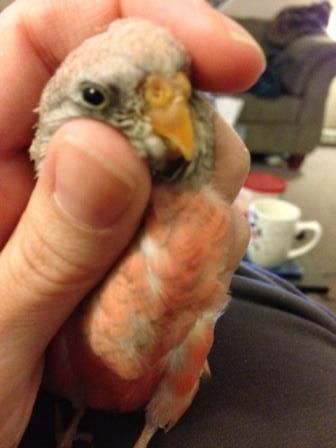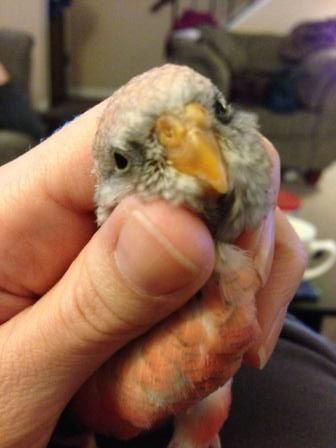 Front view for comparison, see how the left side is smooshed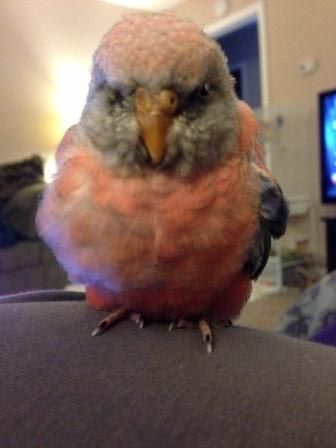 Sorry they're kind of blurry, she won't sit still! :P
---
Last edited by BirdCrazyJill; 02-13-2013 at

07:15 PM

.
Join Date: Dec 2010
Location: UK
Posts: 17,661
Thanks: 1,593
Thanked 2,007 Times in 1,575 Posts
Rep Power:
100
I personally don't think that will pop back out again
it looks a bit smushed. Consult with your avian vet and see if there is anything that can be done for her?
---
- Alexandrine parakeets Kona, Peaches, George (missing), Holly (RIP), &
Orange winged Amazon parrot Paulie
I agree with Daisy, doesnt look too too bad, but I would still give a qualified avian vet a call and ask a bit. I mean its not going to be fatal, so unless the vet says the bird is in immediate danger, I wouldn't take her in yet.

Kilo, my mauve linnie got one of his claws hooked in his left nostril once when itching his head, and tore it, but he breathes just fine, even though it looks funny..
---
A bird doesn't sing because it has an answer, it sings because it has a song.
- Lou Holtz
Doesnt look like it will affect her quality of life, but it also doesnt look like something that will go away fully... she may have a cere that looks a little different permanently