Melon & my son
---
Not sure if I should really put a pic up of my son with our Melon but it's just so cute. He lost both of his front teeth the day before xmas.
And he loves our Conure Melon. They are very close. She will attack me if I try to take her off of him. hahahahah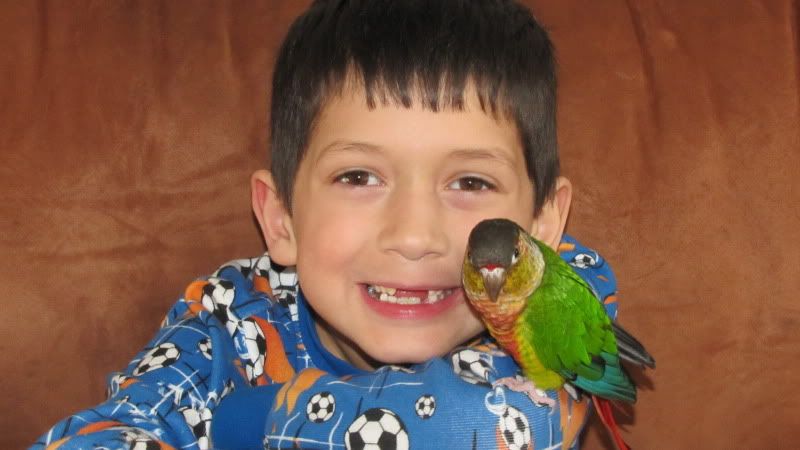 ---

Awwwwww that is too cute! Did he sing the chipmunks song, all I want for Christmas is my two front teeth?
Banned
Join Date: Oct 2009
Location: Newfoundland, Canada
Age: 27
Posts: 435
Thanks: 0
Thanked 0 Times in 0 Posts
Rep Power:
0
Awwe !
They are both totally adorable.
Join Date: Dec 2010
Location: UK
Posts: 17,661
Thanks: 1,593
Thanked 2,007 Times in 1,575 Posts
Rep Power:
100
That is such a cute picture
!!
---
- Alexandrine parakeets Kona, Peaches, George (missing), Holly (RIP), &
Orange winged Amazon parrot Paulie
Join Date: Nov 2009
Location: Indiana, USA
Posts: 3,142
Thanks: 0
Thanked 2 Times in 2 Posts
Rep Power:
40
You son is adorable, and the bird is cute, too.
---

Thanks Shivani for the awesome siggy!
X2
Stanley (bourkes), Roni (senegal), Elisa (lineolated parakeet) and Doug (pacific parrotlet), Daisy (maximilian pionus), Shira (green cheek conure), Ashlynn, (grey), Taylor (princess of wales parakeet), Joelle (quaker), Benny (cockatiel)
Join Date: Dec 2010
Location: Ohio, USA
Posts: 5,750
Thanks: 734
Thanked 474 Times in 379 Posts
Rep Power:
43
Too cute!!!




---
DIGBY
4-year-old male Congo African Grey