Join Date: Jan 2013
Location: Syracuse, NY
Posts: 921
Thanks: 12
Thanked 450 Times in 340 Posts
Rep Power:
10
Feeding time at the zoo :)
---
I was trying to take a video of Muffin doing this silly pacing while she was eating, but then I realized all of the fids were in the cage so I included them too
They love fresh food and water cups!
I have 3 different kinds of food in there (2 different seed blends and 1 pellets) but they all want to eat out of the same dish! you can see how Peanut runs things around here already
Her and Chewy bicker a lot, but no real mean squabbles yet! (she sleeps in her own smaller cage, but they are all let out during the day when we are home
)
Feeding time! - YouTube
| | |
| --- | --- |
| The Following 2 Users Say Thank You to BirdCrazyJill For This Useful Post: | |
Join Date: Dec 2010
Location: UK
Posts: 17,661
Thanks: 1,593
Thanked 2,007 Times in 1,575 Posts
Rep Power:
100
I love Muffin's little dance!
---
- Alexandrine parakeets Kona, Peaches, George (missing), Holly (RIP), &
Orange winged Amazon parrot Paulie
Join Date: Mar 2011
Location: UK
Posts: 2,115
Thanks: 275
Thanked 407 Times in 256 Posts
Rep Power:
25
So cool
---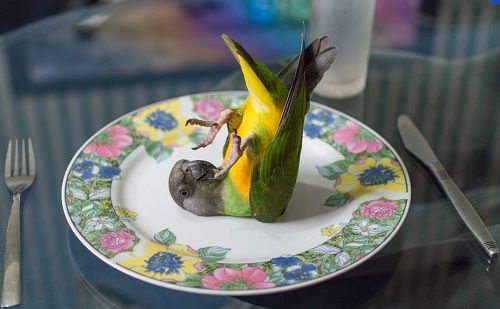 Join Date: Jun 2013
Location: Germany
Posts: 1,647
Thanks: 1,255
Thanked 933 Times in 718 Posts
Rep Power:
14
Thanks for sharing the video, I enjoyed watching.
Join Date: Jan 2013
Location: Syracuse, NY
Posts: 921
Thanks: 12
Thanked 450 Times in 340 Posts
Rep Power:
10