Some of my flock (pic heavy)
---
Decided to take some pics after bath time for the birds. Meeko is the white-face pearl pied tiel, Luna is the lutino pearl tiel, Sophia is the pearl tiel and Gizmo is the lovebird. I have 3 parakeets and 2 more tiels I'll get pics of later. Hope you guys like them.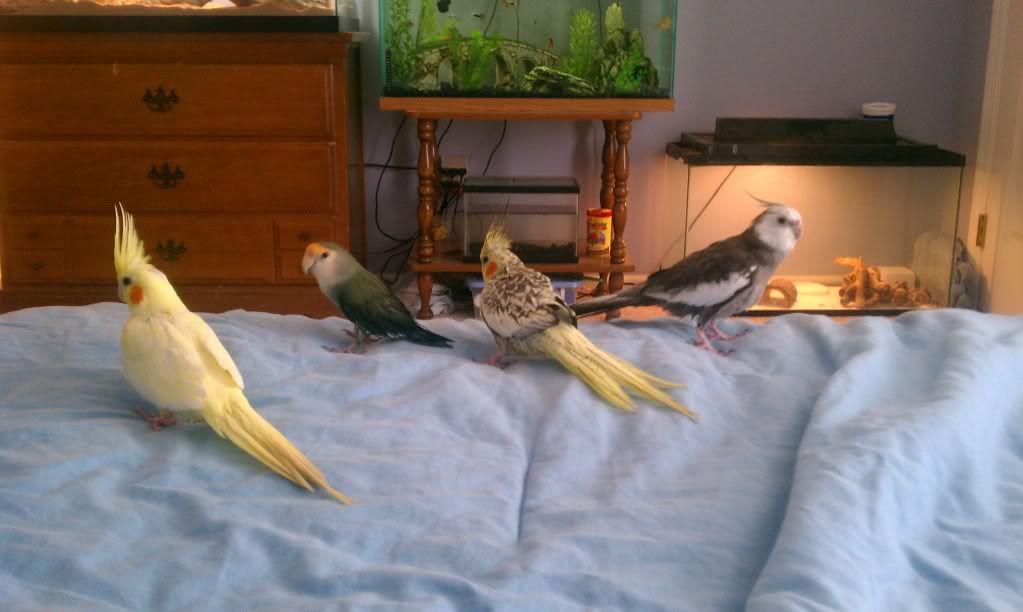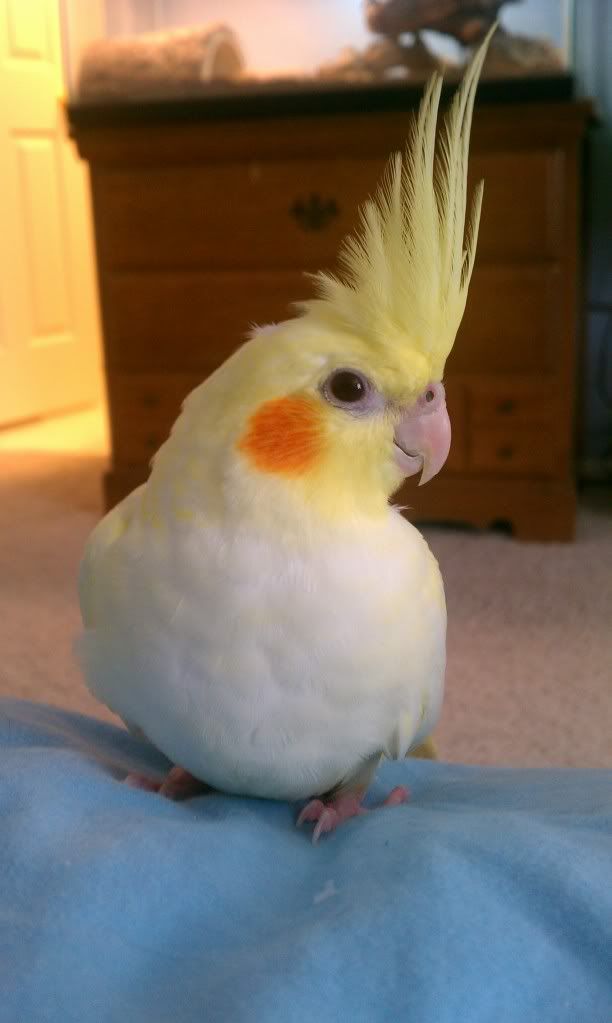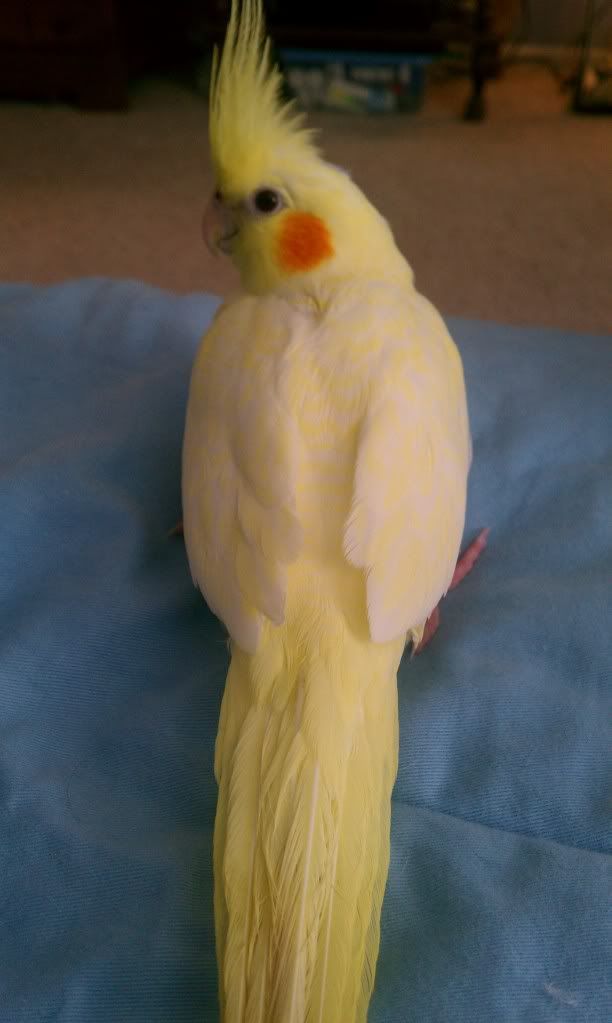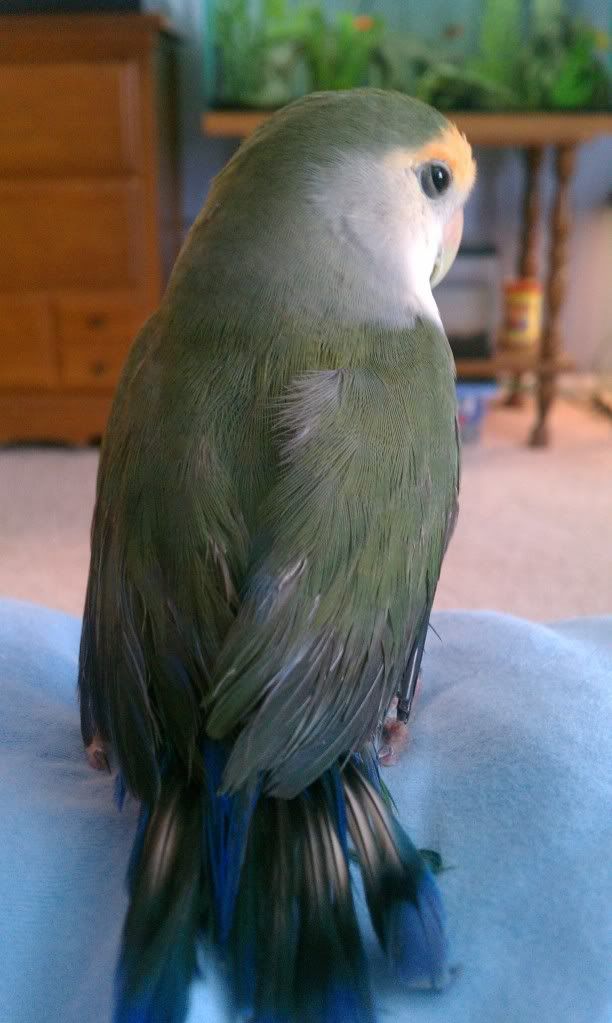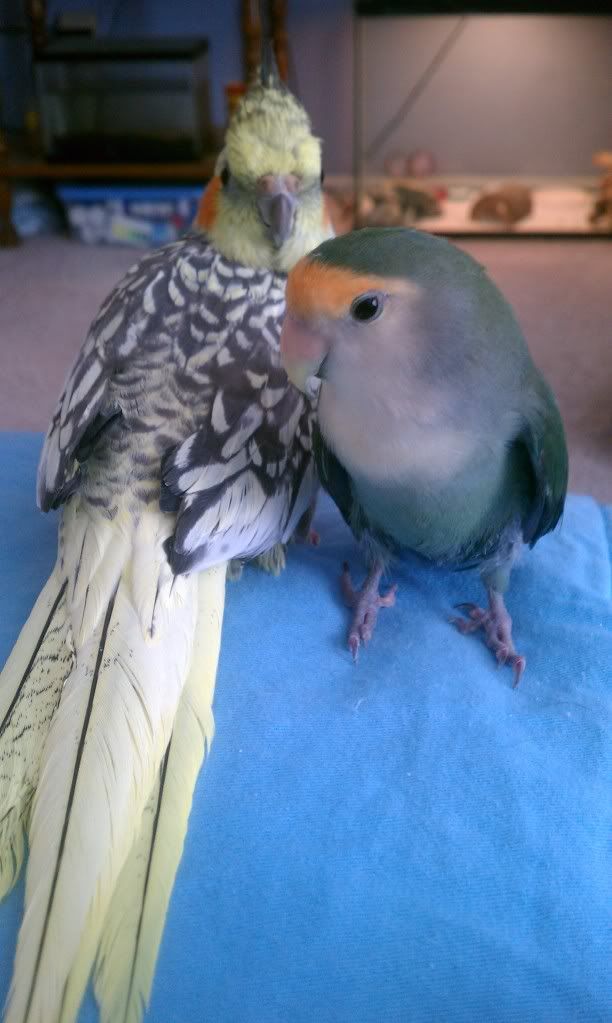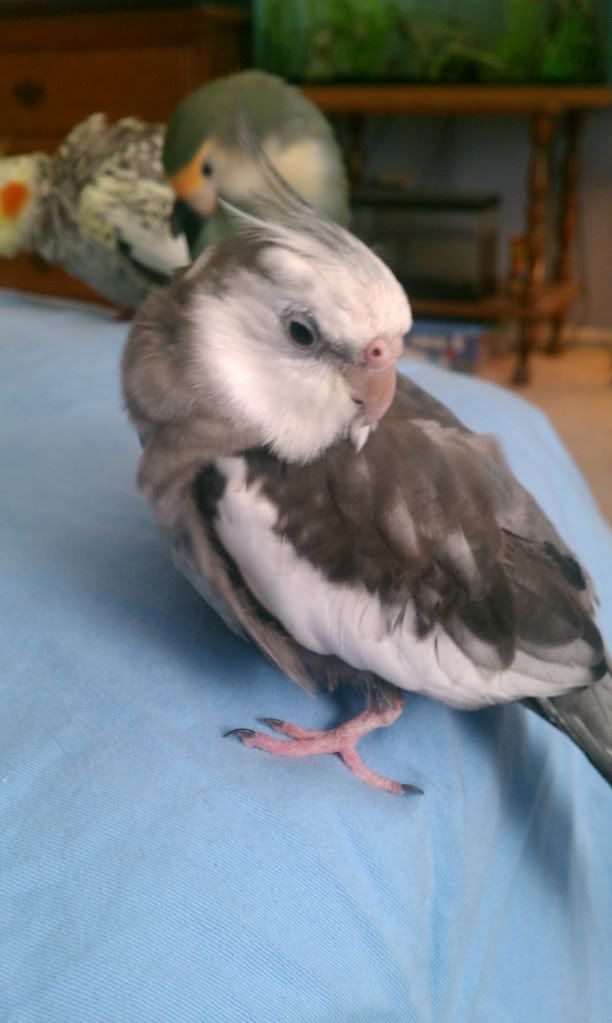 Join Date: Feb 2011
Location: Oshawa, Ontario
Age: 28
Posts: 914
Thanks: 2
Thanked 1 Time in 1 Post
Rep Power:
16
You have some gorgeous birds!! Luna is absolutely stunning
Meeko is adorable too cant wait til my male molts in that gorgeous white face!
---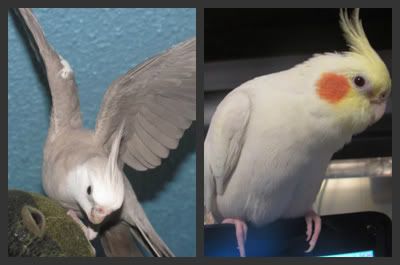 My Tiels
Cupid-Male Whiteface Cinnamon
Aero- Female Cinnamon Lutino
Oh my so gorgeous
---
Thank you DallyTsuka for siggy
Join Date: Feb 2011
Location: welland,ON
Age: 29
Posts: 993
Thanks: 33
Thanked 44 Times in 34 Posts
Rep Power:
15
WOW Ive never seen a lutino thats beautiful kinda like lemon meringue haha what cuties, and I love the colours in your room it feels very tranquil
---
H
Thanks everyone. Luna was a big surprise I got this year from my bonded pair Rafiki (normal gray/pearl/pied male) and Nala (normal gray/pied), but I obviously was missing out on the Lutino trait. I adopted both so knew no background. This was the second clutch I've let them have (have only had 2 in the 2 years I've had them). I got normal grays and pearls the first time and normal grays, pearls, and my little lutino pearl the second time. I've kept one baby from each time. Sophia is from the first clutch. Glad you guys like them.

Thanks for the compliment in my room Jessie. Most of my little zoo is in there (2 bearded dragons, 2 leopard gecko, 2 of 4 fish tanks, a rat, and Gizmo). Haha.
Join Date: Nov 2010
Location: cape town south africa
Age: 24
Posts: 2,386
Thanks: 24
Thanked 85 Times in 69 Posts
Rep Power:
24
beautiful birds , the latino is stunning
---
Join Date: Dec 2010
Location: UK
Posts: 17,661
Thanks: 1,593
Thanked 2,007 Times in 1,575 Posts
Rep Power:
100
they're gorgeous thanks for sharing
---
- Alexandrine parakeets Kona, Peaches, George (missing), Holly (RIP), &
Orange winged Amazon parrot Paulie
Join Date: Feb 2011
Location: Minnesota
Posts: 493
Thanks: 117
Thanked 35 Times in 21 Posts
Rep Power:
11
I love seeing everyone's pics
Thanks for sharing!
---
Comet