Join Date: Mar 2011
Location: UK
Posts: 2,115
Thanks: 275
Thanked 407 Times in 256 Posts
Rep Power:
25
Who Dares Wins!
---
I can never get my Budgies to have a bath but on this occasion I let my Conures have a bath in the Budgies' room. This sure has got the Budgies interested.
Don't worry no one got hurt in this video, the Conures are just chasing the Budgies away because they got a bit cheeky. Even so, please don't not replicate what you see in the video. I know my birds very well and fully trusted them
Enjoy
YouTube - ‪Who Dares Wins!‬‏
---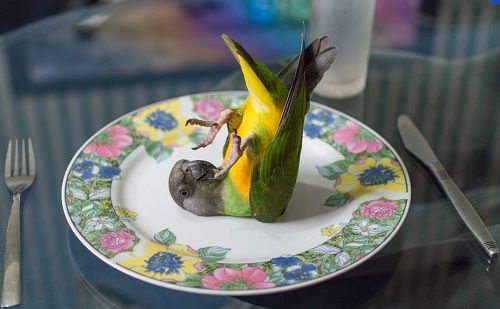 Join Date: Dec 2010
Location: UK
Posts: 17,661
Thanks: 1,593
Thanked 2,007 Times in 1,575 Posts
Rep Power:
100
that's adorable how they're all trying to get in on the bath
---
- Alexandrine parakeets Kona, Peaches, George (missing), Holly (RIP), &
Orange winged Amazon parrot Paulie
Join Date: Feb 2011
Location: welland,ON
Age: 29
Posts: 993
Thanks: 33
Thanked 44 Times in 34 Posts
Rep Power:
15
LOL that blue budgies really persistant he looks like he really wants a bath
---
H
Join Date: Nov 2009
Location: Indiana, USA
Posts: 3,142
Thanks: 0
Thanked 2 Times in 2 Posts
Rep Power:
40
That blue budgie really wanted to bathe! Cute video.
---

Thanks Shivani for the awesome siggy!
X2
Stanley (bourkes), Roni (senegal), Elisa (lineolated parakeet) and Doug (pacific parrotlet), Daisy (maximilian pionus), Shira (green cheek conure), Ashlynn, (grey), Taylor (princess of wales parakeet), Joelle (quaker), Benny (cockatiel)
That is just adorable...nothing better then wet birdies.
---

Join Date: Dec 2010
Location: UK
Posts: 17,661
Thanks: 1,593
Thanked 2,007 Times in 1,575 Posts
Rep Power:
100
the only thing that could be better is the smell! When my birds are wet they smell like wet dog and it aint pretty haha
---
- Alexandrine parakeets Kona, Peaches, George (missing), Holly (RIP), &
Orange winged Amazon parrot Paulie
They were just enjoying getting sprayed with the runoff
aww cute video
---
Join Date: Nov 2010
Location: cape town south africa
Age: 24
Posts: 2,386
Thanks: 24
Thanked 85 Times in 69 Posts
Rep Power:
24
what a cute video
---