Join Date: Jan 2013
Location: Syracuse, NY
Posts: 921
Thanks: 12
Thanked 450 Times in 340 Posts
Rep Power:
10
<3 Muffin <3
---
Well, Muffin is a woman of many flaws, and I feel like I don't give her enough attention on these forums compared to the other two, so here is a thread dedicated to her
We have begun to bond again over this summer, with me being home all day. She is definitely my fiance's bird, she has chosen him as her human, but when he is not around I guess I am good enough for her
We cherish every day with her because we honestly don't know what is possibly going on in that little grey body or how she even functions daily. We don't know her history and can only imagine, but she has such a HUGE personality for such a small animal and she always keeps us on our toes! She loves to get into everything and is definitely very stubborn. She is very loving and you can tell she enjoys our company
Out of all of her features, I think I love her donut ears the most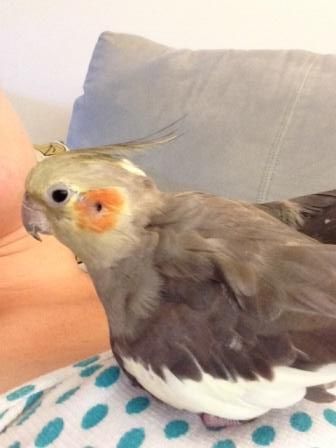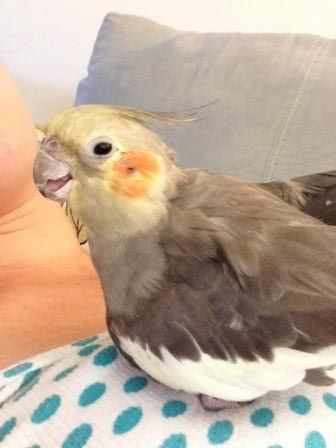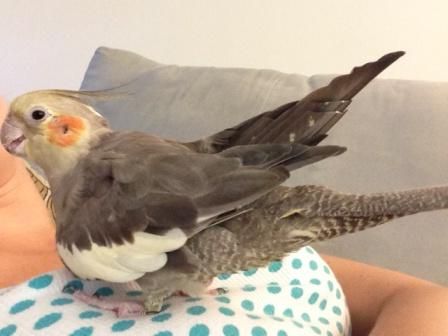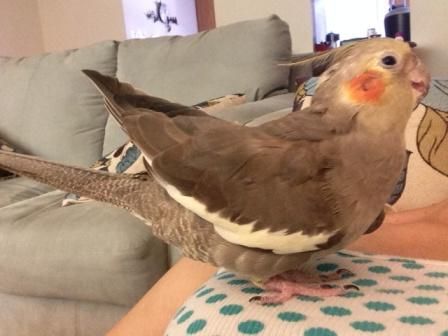 She loves her head rubs!!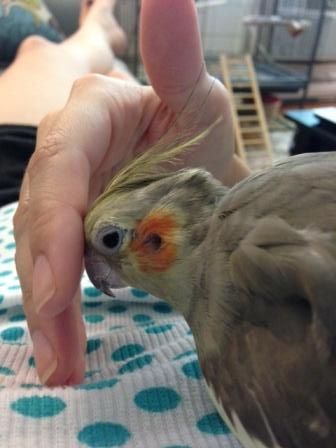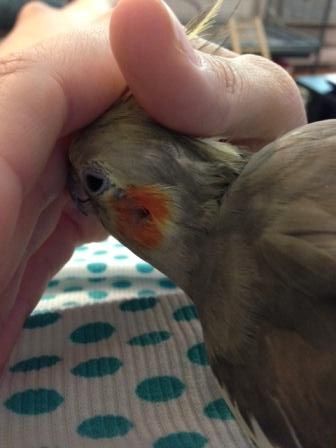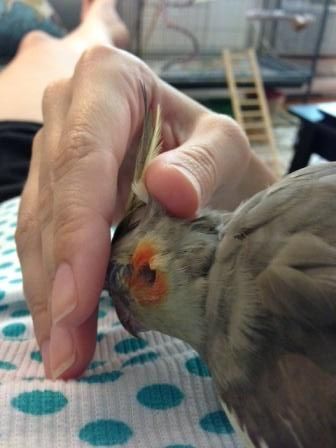 | | |
| --- | --- |
| The Following 2 Users Say Thank You to BirdCrazyJill For This Useful Post: | |
Join Date: Apr 2014
Location: Indiana
Posts: 123
Thanks: 15
Thanked 28 Times in 23 Posts
Rep Power:
6
What is Muffin's back story? I don't remember seeing anything on TC, but there are so many posts it can be hard to keep up.
Join Date: Jan 2013
Location: Syracuse, NY
Posts: 921
Thanks: 12
Thanked 450 Times in 340 Posts
Rep Power:
10
well I got her from a small pet store in May 2013, she was in with 2 others (not like her) and I fell in love with this cinnamon male, but he was already sold. There was a white faced pearl but he was NOT interested in being handled, so I tried her out. They said she was brought in with the other two by some guy, they weren't banded but they were thought to be about 5 months old. So I took home this ratchet little bird with deformed wings, broken tail feathers, and donut ears lol
The second day we had her she looked bad, like she was sick. She ended up laying an egg! and 5 months old seems really young for that. I took her to the vet to get her wings checked out and the vet said she had never seen anything like this before, they felt horrible and bones popped out where they shouldn't. It's weird because she can flap her wings and seems to have full control over them, but can't fly. She just drops like a rock (she's broken a toe in the process of trying, she jumps off the flight cage all the time)
So we don't know if she was born with her wings that way, if it was an early injury like maybe her parents sat on her or something, or if it was another injury that didn't real correctly. She never seems to be in any pain though, which is what we were worried about initially. She also has super low calcium, though, because she lays soft eggs almost all the time. She is a chronic nester. I have tried so many different ways of providing her with calcium but nothing seems to really boost her levels to normal. Who knows what else is going on in that little body.
She has a great personality though and we love her
She is loud and stubborn and pretty much fearless. We joke and say she's probably really like 40 years old lol she is definitely a mystery!
---
Last edited by BirdCrazyJill; 08-30-2014 at

05:34 PM

.
Join Date: Nov 2011
Location: Edmonton
Posts: 3,259
Thanks: 22
Thanked 362 Times in 298 Posts
Rep Power:
25
Join Date: Apr 2014
Location: Indiana
Posts: 123
Thanks: 15
Thanked 28 Times in 23 Posts
Rep Power:
6
Right after I posted here I saw her thread on TC. I like her story. She has found her fit, whatever her past may be. The doughnut ears really are adorable and I'm glad if anything she is fearless and appears not in pain. She really is quite cute, I think you have quite the adorable flock.
(Side note, Scurvy is my Cinnamon and Salty, my white face, I am quite certain is a little "special" as well. I know with certain mutations there is a lot of inbreeding and I am positive he was. I'll post about all his quirky things one day. He does have the bald spot I've heard about inbred White faces though)
---
Last edited by Runnergirl; 08-31-2014 at

12:33 AM

. Reason: adding
Join Date: Jan 2013
Location: Syracuse, NY
Posts: 921
Thanks: 12
Thanked 450 Times in 340 Posts
Rep Power:
10
She has a bald spot too, she is split to pied because she has the big spot on the back of her head. Who knows what else though
Join Date: Jun 2013
Location: Germany
Posts: 1,647
Thanks: 1,255
Thanked 933 Times in 718 Posts
Rep Power:
13
Muffin is adorable, thanks for sharing these nice pictures!
She looks like a real sweetie. Thanks for sharing her story, the pictures and most of all for taking her in.
---
Comet
Scooter
Snowball
Join Date: Dec 2010
Location: UK
Posts: 17,637
Thanks: 1,593
Thanked 2,007 Times in 1,575 Posts
Rep Power:
100
What a cutie. She seems very happy with you
---
- Alexandrine parakeets Holly, George, Koda &
- Crimson rosella Kasumi
Orange winged Amazon parrot Paulie