Join Date: Mar 2011
Location: UK
Posts: 2,115
Thanks: 275
Thanked 407 Times in 256 Posts
Rep Power:
25
aww, delightful to watch
---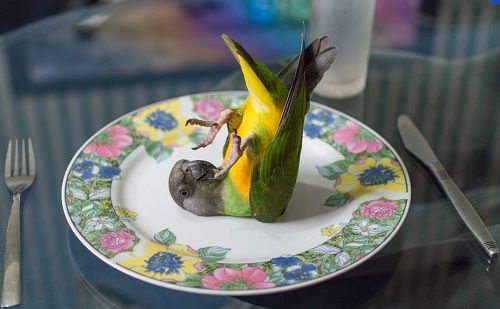 Join Date: Nov 2009
Location: Indiana, USA
Posts: 3,142
Thanks: 0
Thanked 2 Times in 2 Posts
Rep Power:
40
Wow! That was fun to watch. They are great parents. I notice that the babies are not making that incessant begging sound the hand-fed baby tiels make in the bird store. That is interesting to me. I guess they don't feel they need to beg when their parents take such good care of them. They know mom and dad will get to them. When that littlest dinasaur baby turns around, you can see how full its crop is.
It is precious. The babies all look very confident with people, too. You are doing very well with all of them.
---

Thanks Shivani for the awesome siggy!
X2
Stanley (bourkes), Roni (senegal), Elisa (lineolated parakeet) and Doug (pacific parrotlet), Daisy (maximilian pionus), Shira (green cheek conure), Ashlynn, (grey), Taylor (princess of wales parakeet), Joelle (quaker), Benny (cockatiel)
Join Date: Dec 2010
Location: UK
Posts: 17,661
Thanks: 1,593
Thanked 2,007 Times in 1,575 Posts
Rep Power:
100
I didn't realise that the parents were both tame haha! Were they in a breeding cage or something? I think it's wonderful to have such great parents like that (confident around you etc). All of my birds are VERY secretive! Great video
---
- Alexandrine parakeets Kona, Peaches, George (missing), Holly (RIP), &
Orange winged Amazon parrot Paulie
Aww, adorable! I recently hand-fed a dozen baby tiels and it must be so nice to not have them static-crying all the time