New Pics Maybe
---
my hubby is doing Iron on decals for t-shirts and he took theese pics and went to picture It made theese I hope they show up but they are not jpg's so lets see what happens
---
wow they worked
---
Join Date: Jul 2011
Location: Minnesota
Posts: 2,434
Thanks: 0
Thanked 0 Times in 0 Posts
Rep Power:
24
COOL!!!!!
Now you can have your birds wherever you are!
---
Kona-Green Quaker
Fred (so far)-Blue Quaker
I'll miss you
, Scully-African Grey
Ruby-Chocolate Labrador
Mylee-Black Toy Poodle
16 fish in a freshwater 38 gallon aquarium
Join Date: Feb 2011
Location: Oshawa, Ontario
Age: 27
Posts: 914
Thanks: 2
Thanked 1 Time in 1 Post
Rep Power:
15
I love them! especially the last one
---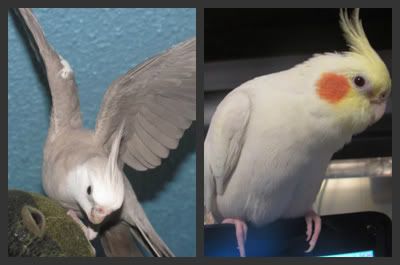 My Tiels
Cupid-Male Whiteface Cinnamon
Aero- Female Cinnamon Lutino
Very nice!!! I love the first one!
---
Loki - always in my heart 11/28/10 - 08/04/11
Apollo and Phoebe "the tiels" hatched in 2009
Aristotle hatched 3/27/2011
Merlin hatched 11/27/11
Picasso hatched 1/31/13
the first and the third one are Cody's baby pics lol see thoose black eyes
and now I have 2 sigs until I can get someone to fix it grrrr I tried but I gave up
---
Join Date: Dec 2010
Location: Denver
Posts: 1,048
Thanks: 0
Thanked 12 Times in 9 Posts
Rep Power:
15
Ok, I changed my mind, I think your sig should be #3. I think Cody looks best in that one.
---
I like number 3 to especially thoose black baby eyes
---
Join Date: Dec 2010
Location: UK
Posts: 17,637
Thanks: 1,593
Thanked 2,007 Times in 1,575 Posts
Rep Power:
99
they're really good
---
- Alexandrine parakeets Holly, George, Koda &
- Crimson rosella Kasumi
Orange winged Amazon parrot Paulie