Join Date: Jan 2013
Location: Syracuse, NY
Posts: 921
Thanks: 12
Thanked 450 Times in 340 Posts
Rep Power:
10
Accident Prone
---
I should have gone with the name "Spook" instead of Chewy (when I was originally deciding between the two!) She is a spaz, she will spook if someone sneezes and flutter across the room (I say flutter because she blows her flight feathers about once a month). Her direction of choice lately is directly across the floor, no matter what part of the room she is in, and straight down the stairs
she always seems to land ok, but yesterday when hubby came home she was startled by the sound of the door and ended up greeting him with her fright at the front door down the stairs. A little while later I noticed this nick on her face
it doesn't seem to be bothering her and wasn't actively bleeding, I have no idea what she even hit it on. Poor girl, I wish she would just settle down. It's almost like she have nervous anxiety or something.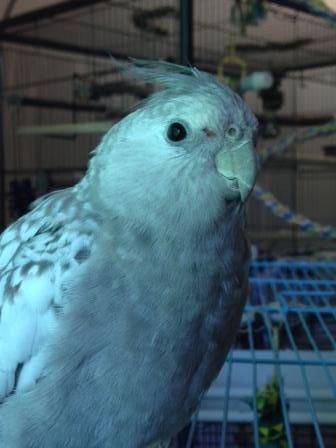 Join Date: Jun 2013
Location: NYC, USA
Posts: 1,058
Thanks: 1,411
Thanked 748 Times in 515 Posts
Rep Power:
12
Oh poor baby. I wonder why is she so flighty? Are cockatiels known for being spooky? I had a ringneck that couldn't fly because she chewed her flight feathers off.
---
Stitch
Pikachu
Thor
Loki
Blaze
Cinder
Sunday
Storm
Sky
Join Date: Jan 2013
Location: Syracuse, NY
Posts: 921
Thanks: 12
Thanked 450 Times in 340 Posts
Rep Power:
10
they are somewhat, but she is almost like an extreme case. she has been like this since she was young, I hope it's not some kind of a neurological issue or anything
Join Date: May 2015
Location: Ontario Canada
Posts: 5,166
Thanks: 1,410
Thanked 656 Times in 569 Posts
Rep Power:
16
I hope she just scratched herself and there is nothing to worry about.
I use to own cockatiels and found them easily spooked if the house is too quiet so I kept a radio on in the room they stayed in the most. I kept an air purifier going so there was lots of white noise to keep them from hearing any bumps or bangs in the house. I think this helped keep them from having night frights which cockatiels are really prone to having.
---
Join Date: Dec 2010
Location: UK
Posts: 17,637
Thanks: 1,593
Thanked 2,007 Times in 1,575 Posts
Rep Power:
100
Some tiels are just like that
As long as you keep her flighted, I'm sure you'll be fine
---
- Alexandrine parakeets Holly, George, Koda &
- Crimson rosella Kasumi
Orange winged Amazon parrot Paulie