Adorable Hyacinths!
---
Found this video of a pair of Hyacinths at the Golden Cockatoo and had to share... they are so cute!!
Hyacinth Macaws Playing at Golden Cockatoo - YouTube
I've gotten to play with a few Hyacinths there, they really are sweet and gentle. Like Goober and other macaws, they are very mouthy. See how when you pet them they just
have
to be gnawing on you?
That's what I try to explain to people about macaws, almost every single macaw I've ever worked with was that way - they
must
gnaw while getting snuggled and they play with their beaks, so chew on ya a lot!
Join Date: Jul 2011
Location: Minnesota
Posts: 2,434
Thanks: 0
Thanked 0 Times in 0 Posts
Rep Power:
24
They did seem to mouth the guy!
---
Kona-Green Quaker
Fred (so far)-Blue Quaker
I'll miss you
, Scully-African Grey
Ruby-Chocolate Labrador
Mylee-Black Toy Poodle
16 fish in a freshwater 38 gallon aquarium
Join Date: Feb 2011
Location: Oshawa, Ontario
Age: 28
Posts: 914
Thanks: 2
Thanked 1 Time in 1 Post
Rep Power:
16
wow they are adorable
so silly! They can gnaw on me anyday!
---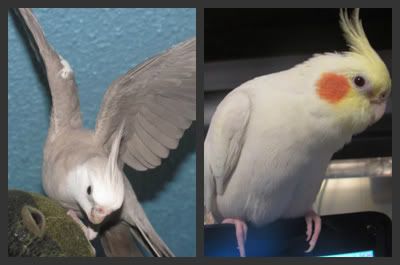 My Tiels
Cupid-Male Whiteface Cinnamon
Aero- Female Cinnamon Lutino
Join Date: Mar 2011
Location: UK
Posts: 2,115
Thanks: 275
Thanked 407 Times in 256 Posts
Rep Power:
25
aww that's lovely. My Senegal does the exact same gnawing. He must be a Hyacinth in a Senegal clothing
. Brilliant video.
---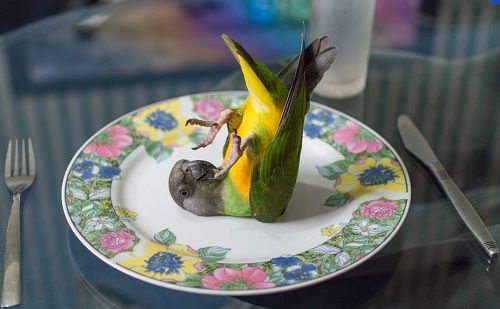 Join Date: Apr 2011
Location: Western Iowa
Age: 53
Posts: 623
Thanks: 0
Thanked 0 Times in 0 Posts
Rep Power:
15
How beautiful!
---
awsome birds , you can send one my way
---
Join Date: Dec 2010
Location: UK
Posts: 17,661
Thanks: 1,593
Thanked 2,007 Times in 1,575 Posts
Rep Power:
100
I MUST have one! Gawwh they're ADORABLE! I love the gnawing things macaws do. A blue and gold macaw was gnawing me even while it was going to sleep
---
- Alexandrine parakeets Kona, Peaches, George (missing), Holly (RIP), &
Orange winged Amazon parrot Paulie