Join Date: Mar 2011
Location: UK
Posts: 2,115
Thanks: 275
Thanked 407 Times in 256 Posts
Rep Power:
25
Pictures of my Maroon Bellied Conure(Tai)
---
Pure Green Cheeked Conure's tail color on the left, pure Maroon Bellied Conure's tail color on the right.
And a bonus photo of my handsome boy Duke(Senegal)
---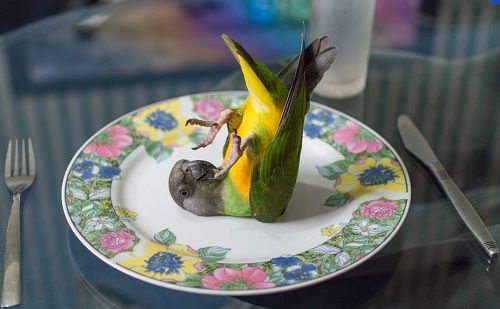 Beautiful pix!!! So what is the difference in appearance between maroon belly and normal gcc?? Mostly just gcc has a darker head and a redder tail??
Join Date: Mar 2011
Location: UK
Posts: 2,115
Thanks: 275
Thanked 407 Times in 256 Posts
Rep Power:
25
The obvious is the redder tail, but I can tell by the body style and slightly different in the size of the beak, slightly different head shape, and the eyes too. The green color is also a bit darker. After living with one for a while I just see these little different details in comparison of the 2 conures( GCC and Maroon Belllied)
---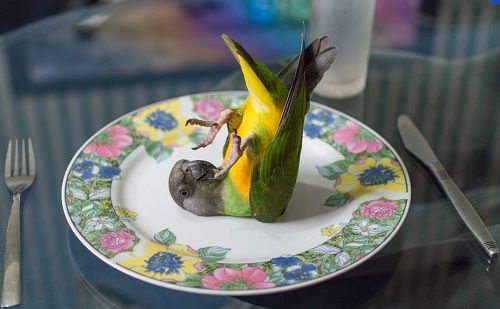 Thanks.. always interested in learning about these guys!
Join Date: Dec 2010
Location: UK
Posts: 17,661
Thanks: 1,593
Thanked 2,007 Times in 1,575 Posts
Rep Power:
100
And the GCC has a black cap haha!
Such cute pictures Tippa! He is actually gorgeous! As are your other fids
---
- Alexandrine parakeets Kona, Peaches, George (missing), Holly (RIP), &
Orange winged Amazon parrot Paulie
Join Date: May 2010
Location: Arnold, MO
Age: 75
Posts: 1,997
Thanks: 0
Thanked 0 Times in 0 Posts
Rep Power:
31
Sweet pics! I also love your signature pic -- a whole bundle of beautiful birdies!
---
JoAnne, Libby (2/10),Angelina (12/07), and Charley (11/10)
Also owned by Essie,Minnie & Oscar
Join Date: Feb 2011
Location: Oshawa, Ontario
Age: 28
Posts: 914
Thanks: 2
Thanked 1 Time in 1 Post
Rep Power:
16
Wow Tai is gorgeous
so is Duke!! and obviously your GCC's are adorable too!!
---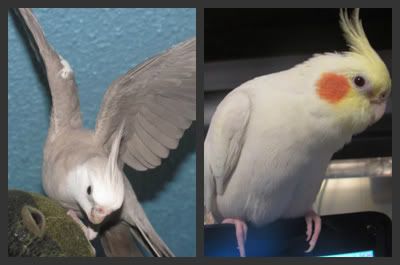 My Tiels
Cupid-Male Whiteface Cinnamon
Aero- Female Cinnamon Lutino
Join Date: Jul 2011
Location: Minnesota
Posts: 2,434
Thanks: 0
Thanked 0 Times in 0 Posts
Rep Power:
24
Tai looks so mischievious there!
---
Kona-Green Quaker
Fred (so far)-Blue Quaker
I'll miss you
, Scully-African Grey
Ruby-Chocolate Labrador
Mylee-Black Toy Poodle
16 fish in a freshwater 38 gallon aquarium
Join Date: Nov 2009
Location: Indiana, USA
Posts: 3,142
Thanks: 0
Thanked 2 Times in 2 Posts
Rep Power:
40
Tippa,
Thanks so much for the posts. I was especially happy to see the comparisons of the tails.
Daisy,
I didn't even notice the head color until you pointed it out. The maroon belly has a greenish/yellowish/brownish head. Quite different from the green cheeks.
Tippa,
That last photograph REALLY showed some differences.
I don't know what my problem was. I have both a green cheek and a senegal myself. However, I was expecting pictures of conures, and for a few seconds I was asking myself, "Which is that, his marron belly or his normal green cheek? Wonder how is lost its tail feathers?"
---

Thanks Shivani for the awesome siggy!
X2
Stanley (bourkes), Roni (senegal), Elisa (lineolated parakeet) and Doug (pacific parrotlet), Daisy (maximilian pionus), Shira (green cheek conure), Ashlynn, (grey), Taylor (princess of wales parakeet), Joelle (quaker), Benny (cockatiel)