Parrotlets New Cage
---
Well you know Ive been debating putting the p'lets together. I didnt think Id be able to do it because I would be able to find a cage. Well I found a great one on cl for $35 and got it yesterday. It was only used a week so its almost brand new! Its not the tallest cage but its super long. I was just to fit almost all their toys in it and they still have tons of room. They love it and I think it looks great. SO here it is...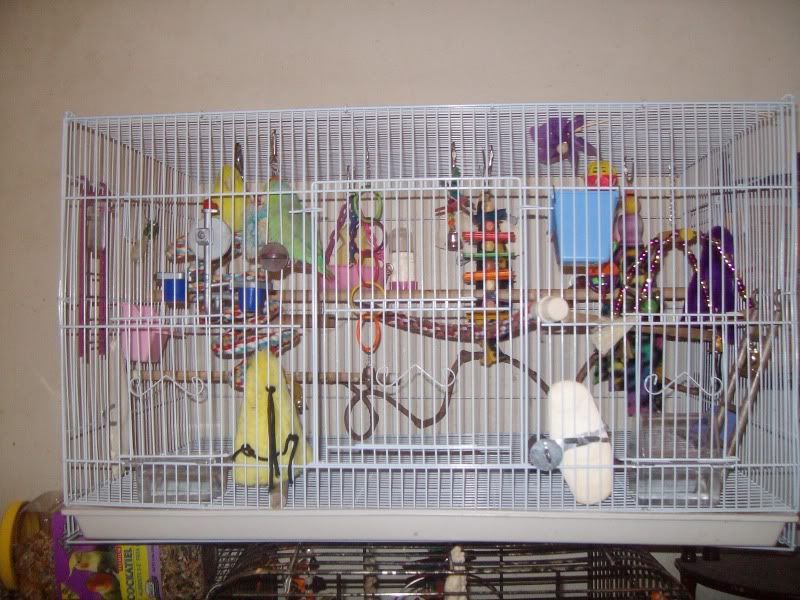 ---
Join Date: Jul 2011
Location: Minnesota
Posts: 2,434
Thanks: 0
Thanked 0 Times in 0 Posts
Rep Power:
24
Those lucky birdies!!!! Looks like bird heaven!
---
Kona-Green Quaker
Fred (so far)-Blue Quaker
I'll miss you
, Scully-African Grey
Ruby-Chocolate Labrador
Mylee-Black Toy Poodle
16 fish in a freshwater 38 gallon aquarium
Join Date: May 2011
Posts: 67
Thanks: 0
Thanked 0 Times in 0 Posts
Rep Power:
10
Love it! Good job spoiling them. SO many toys! Hehe
---
lol my husband is threatening to limit my toy buying. He said you cant even see my birds anymore. I cant go to a store without getting something. I found a new store that only sells home made toys because they dont trust stuff from China. I was in HEAVEN. Their prices were really good too. Of course I had to buy stuff. I sent a pic of the cage to the girl I got it from. She said wow, you werent kidding about the toys. Hehehe!
---
Join Date: Nov 2011
Location: Edmonton
Posts: 3,259
Thanks: 22
Thanked 362 Times in 298 Posts
Rep Power:
25
That looks like my Hermes' cage, I think it's great!
Love your set-up! Unfortunately I couldn't put that many toys in with Hermes or he wouldn't be able to move, LOL.
*edit- finally saw your birds in there.
Looks to be smaller than Hermes' cage though, as his is 18"x18"x32".
---
Last edited by KTyne; 12-03-2011 at

03:19 PM

.
Join Date: Apr 2011
Location: Western Iowa
Age: 53
Posts: 623
Thanks: 0
Thanked 0 Times in 0 Posts
Rep Power:
15
Kayla,
LOL when I took the picture I told my daughter "Lets play find the birds" Yours is longer than mine by 2 inches.
Shivani Its almost the same, mine has a side door too. The size is the same. They love their toys and Daisy is pretty destructive so we go through them.
---
Join Date: Oct 2011
Location: Florence, Alabama
Posts: 336
Thanks: 9
Thanked 6 Times in 2 Posts
Rep Power:
14
I have two of those cages for two separate pairs of my finches. They love it and like you did even with lots of toys and such there's lots of room to play in.
Join Date: Dec 2010
Location: UK
Posts: 17,661
Thanks: 1,593
Thanked 2,007 Times in 1,575 Posts
Rep Power:
100
That is a really cool cage
they look really happy and spoiled hehe
---
- Alexandrine parakeets Kona, Peaches, George (missing), Holly (RIP), &
Orange winged Amazon parrot Paulie