Join Date: Feb 2011
Location: Minnesota
Posts: 493
Thanks: 117
Thanked 35 Times in 21 Posts
Rep Power:
10
Pics of Rio and Elfey
---
As promised, here are some pics of my new pionus Rio and a couple of him with Elfey. Elfey is not too happy about having another pi in the house. I hope that they become friends, but if they don't, it's ok. Rio is so much nicer than Elfey. He comes right to me and loves scritches. Elfey has started biting even more since yesterday and now I'm almost afraid of him. I'm not giving up. I'll just keep trying. They both enjoyed some pizza crust for supper. I'll keep giving Elfey treats and trying to gain his trust.
Rio 065.jpg
Rio 066.jpg
Rio 067.jpg
Rio 068.jpg
---
Comet
Join Date: Dec 2010
Location: UK
Posts: 17,637
Thanks: 1,593
Thanked 2,007 Times in 1,575 Posts
Rep Power:
100
They're both beautiful! Congrats
---
- Alexandrine parakeets Holly, George, Koda &
- Crimson rosella Kasumi
Orange winged Amazon parrot Paulie
Join Date: Feb 2011
Location: Oshawa, Ontario
Age: 28
Posts: 914
Thanks: 2
Thanked 1 Time in 1 Post
Rep Power:
15
Wow they are gorgeous
---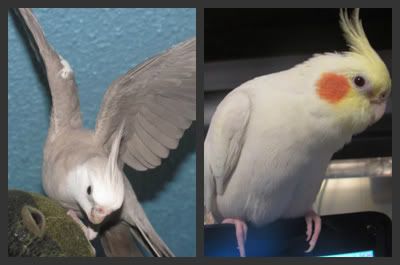 My Tiels
Cupid-Male Whiteface Cinnamon
Aero- Female Cinnamon Lutino
Join Date: Nov 2010
Location: cape town south africa
Age: 24
Posts: 2,386
Thanks: 24
Thanked 85 Times in 69 Posts
Rep Power:
24
they are both stunning
---
Join Date: Sep 2011
Location: south coast UK
Posts: 2,789
Thanks: 68
Thanked 107 Times in 93 Posts
Rep Power:
24
They are so lovely!
You can see Elfey is unhappy!
I'm nervous of Bob since he attacked me the other night.
Its hard trying to show I'm not.
Instead of backing off I spend more time with him.
Its working wonders!
Maybe Elfey needs more time with you?
---
x2
x3
Please like me on Facebook
Kamelina-Kreations
Kamelinajewelery.wix.com/kamelina-kreations
Join Date: Jul 2011
Location: Minnesota
Posts: 2,434
Thanks: 0
Thanked 0 Times in 0 Posts
Rep Power:
24
I love their coloration!
---
Kona-Green Quaker
Fred (so far)-Blue Quaker
I'll miss you
, Scully-African Grey
Ruby-Chocolate Labrador
Mylee-Black Toy Poodle
16 fish in a freshwater 38 gallon aquarium