Meet Duke
---
Duke, my new princess parrot.
From what we gather, hes a red suffusion.
he doesnt look like any POW I've seen, except for
if you google image a princess parrot with red suffusion.
He is a male, he has a very long tail, talks,
whistles, and has bright orange eyes.
Duke has a bit of cage possession issues
(well really I dont blame him, kids used to poke at him,
and stick their fingers in his cage..)
So we are working on him with clicker training, and feeding
him treats through the cage with our hands, so that he learns
we arent trying to invade his space.
Hes really lovely! A very good deal at 200 with his cage!
duke 010.jpg
duke 013.jpg
duke 018.jpg
Join Date: Feb 2011
Location: Oshawa, Ontario
Age: 27
Posts: 914
Thanks: 2
Thanked 1 Time in 1 Post
Rep Power:
15
Wow he is Stunning!!!! Gorgeous colouration
---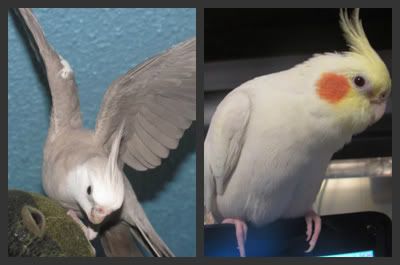 My Tiels
Cupid-Male Whiteface Cinnamon
Aero- Female Cinnamon Lutino
Join Date: Nov 2010
Location: cape town south africa
Age: 23
Posts: 2,386
Thanks: 24
Thanked 85 Times in 69 Posts
Rep Power:
24
he is adorable congrats
---
Join Date: Sep 2011
Location: south coast UK
Posts: 2,789
Thanks: 68
Thanked 107 Times in 93 Posts
Rep Power:
24
He's gorgeous!
---
x2
x3
Please like me on Facebook
Kamelina-Kreations
Kamelinajewelery.wix.com/kamelina-kreations
Join Date: Dec 2010
Location: UK
Posts: 17,637
Thanks: 1,593
Thanked 2,007 Times in 1,575 Posts
Rep Power:
100
I've never seen such a gorgeous POW, and never seen anything quite like him! Congratulations
would love to see/hear more about him!
---
- Alexandrine parakeets Holly, George, Koda &
- Crimson rosella Kasumi
Orange winged Amazon parrot Paulie
Join Date: Oct 2009
Location: New South Wales, Australia
Posts: 799
Thanks: 0
Thanked 87 Times in 52 Posts
Rep Power:
27
Wow, he is gorgeous!!
I plan to get a pair once my Budgies get their new aviary.
Join Date: Aug 2011
Location: Edmonton, AB, Canada
Posts: 1,220
Thanks: 0
Thanked 0 Times in 0 Posts
Rep Power:
18
I've never seen such a beautiful POW!! He is gorgeous!!
---
Missing you always
He is really pretty! Hes even got the reddy pink shot through his wing feathers too.