Moose Singing
---
Moose doesn't sing very often lately - he's molting and I think he's turning into a grumpy old man, we think he turns 10 this summer! The video quality sucks, but I didn't want to move around or he'd stop!
Eery once in a while, he stopped and looked at me, like "hey, help me out!" so you can hear me whistle a pinch and then he gets going. I have NO idea what he's singing - he listens to the radio all day so only he knows what's going on! You can hear Goober in the background too on occasion lol
Awww I love it. Love how Goober has something to say as well. lol
---

Join Date: Nov 2009
Location: Canada ON.
Age: 24
Posts: 339
Thanks: 0
Thanked 0 Times in 0 Posts
Rep Power:
11
aww, thats adorable!
---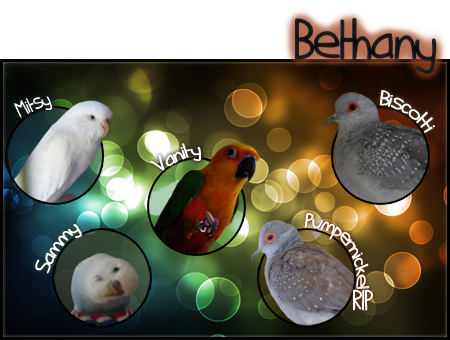 Thanks Becca!
People Use Duct Tape To Fix Everything.. Jesus Used Nails.
Join Date: Oct 2009
Location: New Zealand
Posts: 509
Thanks: 0
Thanked 2 Times in 2 Posts
Rep Power:
12
Thats so sweet! Moose is so cute!

Goober in the background definitely wants the attention on him!
---
Ella's flock